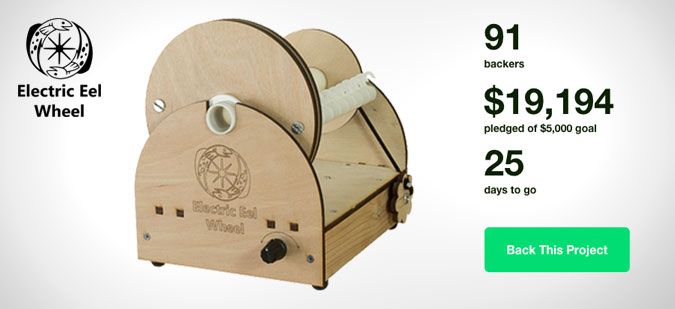 Another Kickstarter success using Ponoko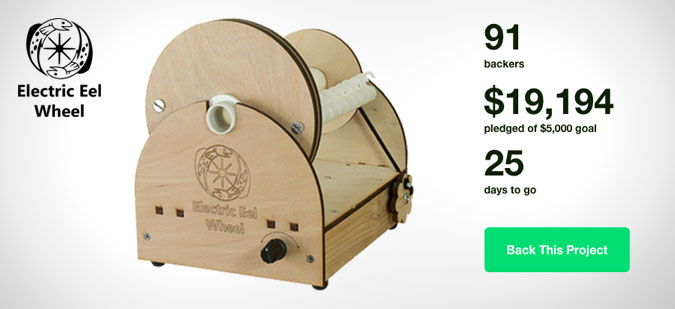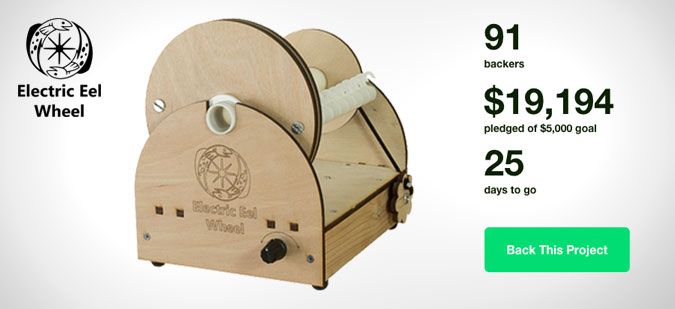 UPDATE: The Electric Eel Wheel has now raised over $40,928! Huge congrats to Maurice & Emily on reaching over 800% of their goal!
Maurice Ribble is the Boston based engineer behind the Electric Eel Wheel – a clever electric spinning wheel that makes it easy to spin the fiber of your choice into yarn.
Maurice's Kickstarter campaign blew past it's $5,000 goal in just three hours – and is on track to break $20,000 in under a week.
The Electric Eel Wheel was already a huge hit in the hobby fiber, spinning, and knitting communities, so it made sense to make the jump to Kickstarter. "I figured this would be a good project for it because nothing like it has been done before" Maurice says, "my wife who's been helping with this project really liked the idea of doing a Kickstarter so that's what really decided it for me."
Traditionally, yarn is spun with a foot powered spinning wheel – a time consuming process that tends to be hard to master. While there are electric alternatives available, quality wheels are costly- with price tags of $800 or more. This gap in the market was part of the inspiration for the Electric Eel Wheel.
Using laser cut parts from Ponoko, Maurice and his wife Emily set out to create their own electric spinning wheel that was affordable, while still being as good or better than the ones currently on the market.

Maurice says using Ponoko made it easy to reduce costs by iterating through different designs. "I was surprised at how much spending some time optimizing the part layout cut my costs." he says  "For me it almost cut my costs by half because I was able to share a lot of edges and use the materials more efficiently."
While this is the fourth commercially available version of the wheel, Maurice was still able to find ways to improve the design and add new innovative features:
"Once I get my hand on the laser cut Ponoko pieces I assemble it and I almost always get ideas on how I might improve it during assembly. When those improvements are getting small I know I'm at the stage where it's good enough."
Maurice credits the research he did, as well as the feedback he got early on as the key to Electric Eel Wheel's explosive success. "I read a lot about how to launch a Kickstarter campaign. Making a good video is important so I spent a lot of time on that." Maurice says, "I shared it with a few close friends to build my confidence and get feedback on what I might tweak."

When we asked Maurice what advice he would give to people just starting out with Kickstarter, he warned entrepreneurs-to-be not to let expansion or addition of new features hurt your project:
"Don't let feature creep hurt your project. First you need to decide when it's good enough to put on Kickstarter. Some of the ideas that come in are good and I do leave my options open, but you need to always consider pros and cons before adding something."
Want to get your hands on your own Electric Eel wheel and start spinning your own yarn? The Electric Eel Wheel is available through Kickstarter at a discounted price, with packages ranging from $149-$209.
Got a great hardware idea of your own? Make and sell it with Ponoko.