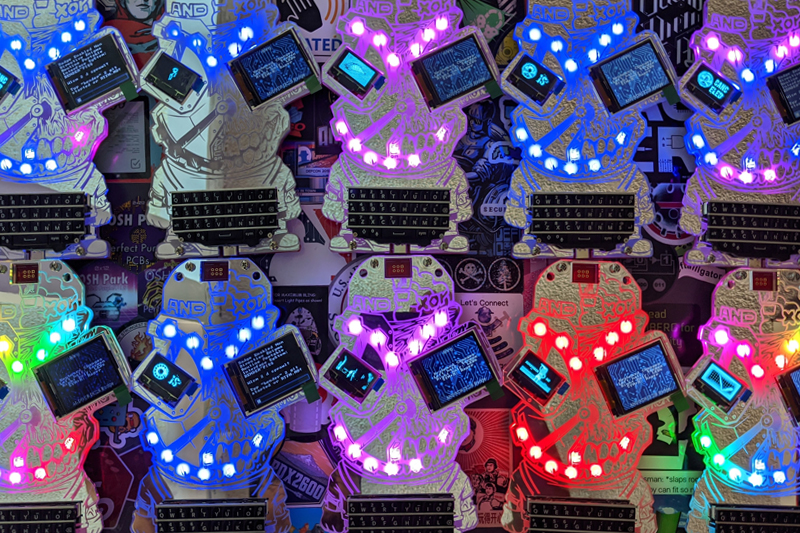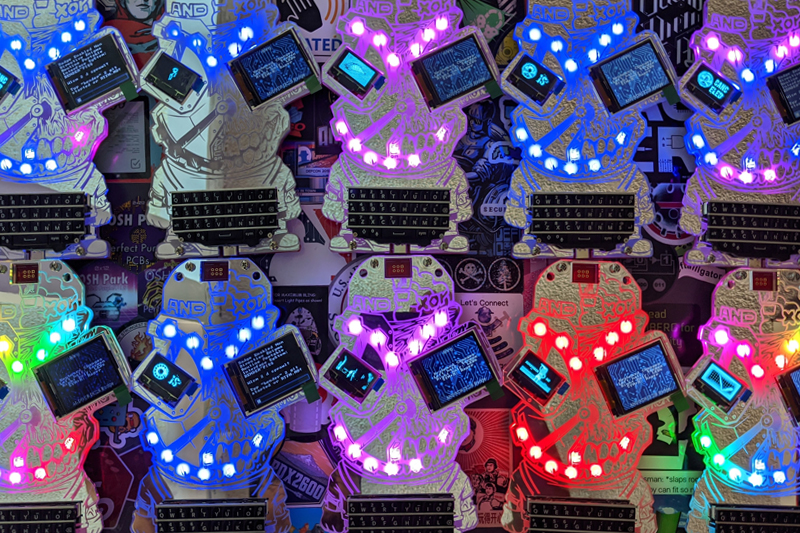 AND!XOR Badges For DEF CON 28 Created An Illuminating Interactive Experience
DEF CON, an annual event typically held in Las Vegas, is one of the largest and most notable hacker conventions. While the term "hacker" can have negative connotations associated with nefarious dealings on the dark web, that's not what DEF CON is all about. It attracts computer security professionals, security researchers, federal law enforcement agencies (FBI, DoD, DHS), journalists, lawyers, students and others with a general interest in software, hardware modification, computer architecture and electronic conference badges.
With everything that happened during 2020, DEF CON organizers knew that the show must go on. So, like every other event that occurred after Q1, DEF CON 28 (DC28) was held virtually.
Even though the 28th annual conference was digital, there were still tangible personal touches in keeping with the event's tradition. There are always conference badges. Not the lame printed paper ones in a plastic sleeve. No way. Rather, these coveted mementos are typically electronic printed circuit board badges, worn with a lanyard, that have blinking LEDs, games or crypto puzzles. Something the DEF CON hacker crowd loves.
In addition to the official DEF CON electronic event badges, there are #badgelife hacker groups such as AND!XOR (composed of Zapp and his crew of six) that have an unofficial match to show off their hardware hacking skills through their own badges.
[Note: Zapp, as he is known, is a handle—a way to separate participants' DEF CON work from real life. Choosing a good handle is the norm at DEF CON, as using a real name is discouraged.]
"Past AND!XOR badges have used limited pallets available in PCB manufacturing (soldermask, copper, silkscreen, etc.) and dithering combined with the electronics themselves to create art," Zapp explains. "Our previous badge had dual touch pads (similar to iPod) on a gas mask. One of our favorite features was the cowboy badge (DC26), where a microchip provided the pupil of an eye while the copper traces from the chip made the eye appear bloodshot." (See them on Hackaday here.)
With its fifth installment for DC28, the AND!XOR team decided to take a new approach. "This was our first year with laser cut parts," Zapp says. "In fact, it was our first project not simply made of PCBs."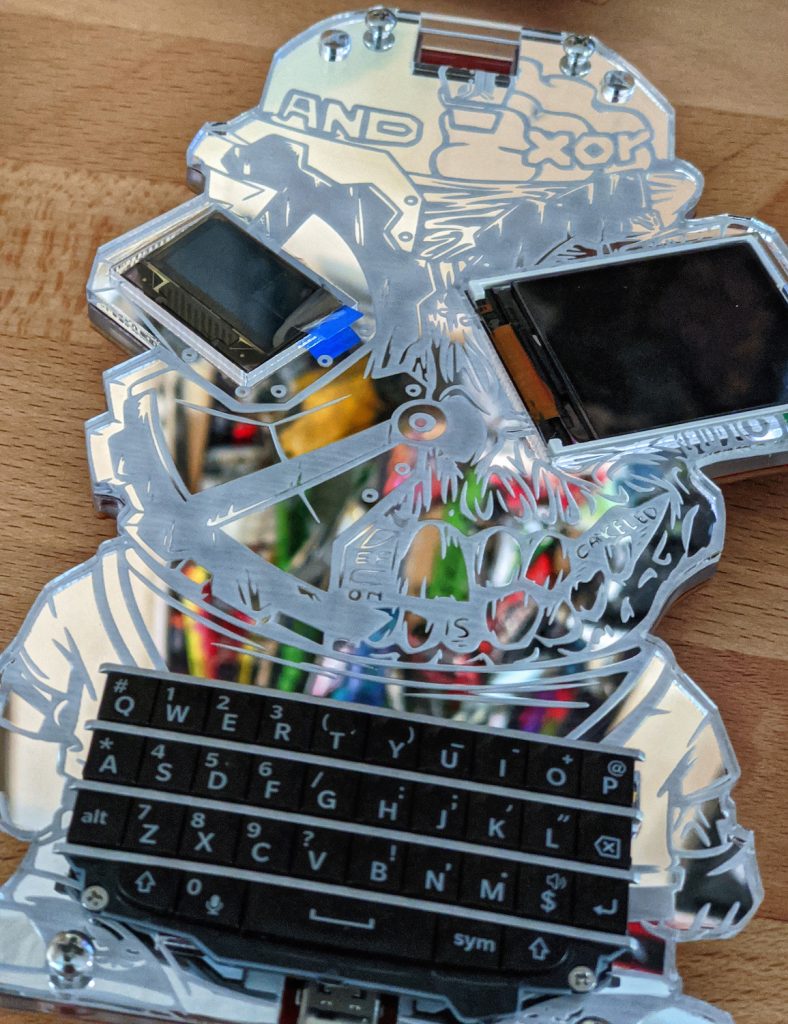 Elevating Electronic Event Badges With Laser Cut Parts
Finding ways to continue to surprise and delight an audience with such high expectations is a tall order, but the AND!XOR team was up for the challenge.
"Our target audience is driven to solve difficult challenges," Zapp says. "Their day jobs are typically in computer security, and they're asked to perform impossible tasks. When we use the term 'hacker,' it is not meant in a derogatory way, but rather it's somebody who thinks about problems orthogonal from everyone else.
"With that in mind, satisfying hundreds of hackers' desire to learn more and solve impossible challenges motivates us to create unique designs and features year after year," he continues. "It's one thing to produce a piece of artwork in mass quantity. It's entirely different to do that running 20,000 lines of code, bespoke challenges and online infrastructure around it to encourage social interaction and gamification."
Sounds pretty incredible. And if you didn't think electronic event badges could be artwork, check out this trailer video to see for yourself (note: explicit language):
The amount of work the AND!XOR team puts into these electronic event badges is remarkable. As with any project of this complexity, there were challenges.
Problem: Determining Key Dimensions
One challenge with most builds is ensuring all the parts fit together properly. "Our design uses a blackberry Q10 keyboard, which we had no official dimensions or datasheet," Zapp says. "Instead, we measured the key dimensions for cutouts then validated on the 3D printer. This gave us a short turnaround while testing the mechanical properties of the badge."
Solution: Prototyping
Being able to iterate designs is a key step in the process, and 3D printers are a good first step before prototyping with laser cutting. But they're not without limitations.
"The 3D printer we used had horrible tolerances as compared to laser cutting and engraving, but it was close enough to satisfy us that the design would work and to put money down on a Ponoko order," Zapp explains.
Problem: Using Aluminum For The Badge Substrate
Originally, the AND!XOR team planned on manufacturing the badges out of metal, and Zapp found Ponoko by searching for "online quotes for aluminum cutting." "Our original plan was to use aluminum," he says, "but weight and sharp edges changed our minds."
Solution: Switching To Mirror Acrylic
Once getting into the Ponoko website, he saw there were significantly more materials to consider. "It was very easy to click through with a single design and experiment with dozens of materials," he says. "We would have never discovered the mirrored acrylic, which we hadn't seen anywhere else let alone considered, if it wasn't so easy to try it out during prototyping."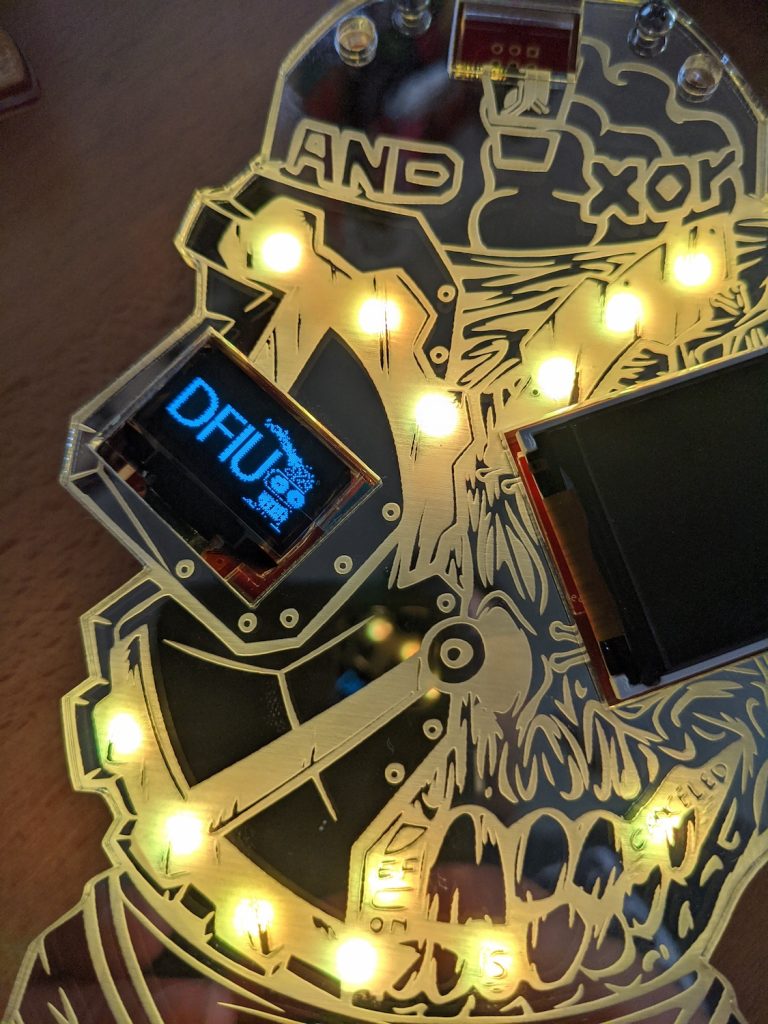 Problem: Confirming Logistics
One of the most challenging parts of completing the DC28 badges was logistics. Conferences have set dates, so having all the parts to allow plenty of time for assembly and distribution is essential. "With COVID, our supply chain was especially challenged," Zapp says.
Solution: Building In Extra Time
To compensate, Zapp and his team built extra time into the schedule. "We added four weeks to our standard lead times," he explains. "Like most years, many parts come from overseas. We utilized two screens from different suppliers in China and Blackberry keyboards from a supplier in Taiwan. We also had to make last minute battery pack purchases from China due to sourcing issues domestically."
When it came to delivery of the laser cut parts, however, timing wasn't as issue. Ponoko laser cuts and ships in as fast as 24 hours. (And if you're in the San Francisco Bay area, same day delivery is available, just so ya know.)
Allowing extra time in the schedule for final delivery was also important. "With DEF CON being completely remote in 2020, we wanted our supporters to have the badges in time for the virtual conference. This meant shipping everything out a week before," Zapp says.
With so many moving parts, it's essential to establish a schedule and stick to it. "Each year's badge project starts about 15 months before the release, meaning we have overlap every year," Zapp explains. "As we are working on production and delivery on one badge, we are building ideas for the next. DEF CON is held in August of each year. By September, we have parts on order to play with and experiment.
"The badge concept typically starts to come together by Thanksgiving, and about the same time firmware development begins," he continues. We order full-size prototype badges in December, fix any flaws then follow up in February. By March, we place orders for long lead items, then place large production orders in May. Firmware freeze occurs in June. Assembly and shipping in July, then DEF CON in August."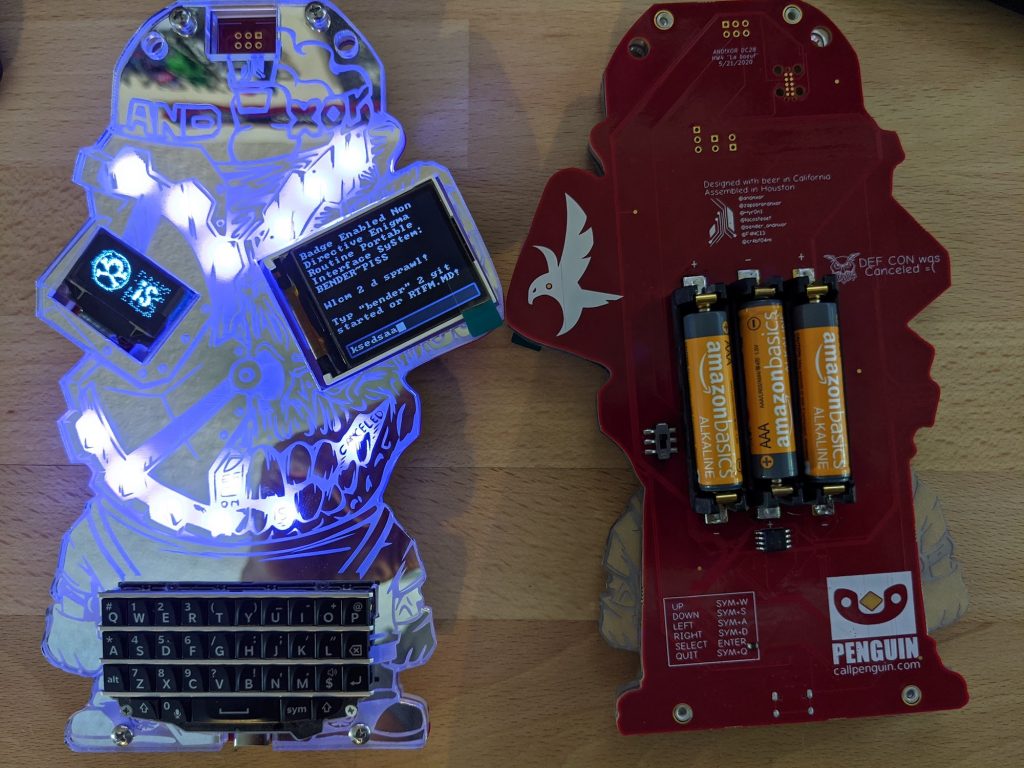 Creating An Interactive Experience
In addition to the educational component of DEF CON, part of the fun of attending are the competitions and contests that are conducted not only by event organizers but also by attendees themselves. Zapp notes that some of the AND!XOR badges are sold to fund the project, but the majority of recipients are doing positive things in the community.
"In some cases, this is learning a new skill or just randomly observing somebody helping," Zapp says. "We also like to set up puzzles and small scavenger hunts that reward a badge. This year was so exciting because we sent badge drops all over the country, and we witnessed local communities developing puzzles and scavenger hunts on their own."
With 30,000+ attendees and only 400 badges available, it definitely takes skill and luck are used to obtain one. "DEF CON attendees enjoy new challenges and competitions," Zapp says. "They value unique items and novel 'hacks.' They find joy in the hunt and experience, not just the end product. Our electronic event badges come with all that. Our team pours our technical expertise not only into the badge and software that comes with it but the online experience as well as the hunt to obtain one. We want to avoid folks collecting them just to resell or simply to own. If they earned it, the badge will more likely carry a memory for them and become a keepsake."
Did all the hard work put in by the AND!XOR team to create exceptional electronic event badges pay off? Check out these posts and you decide: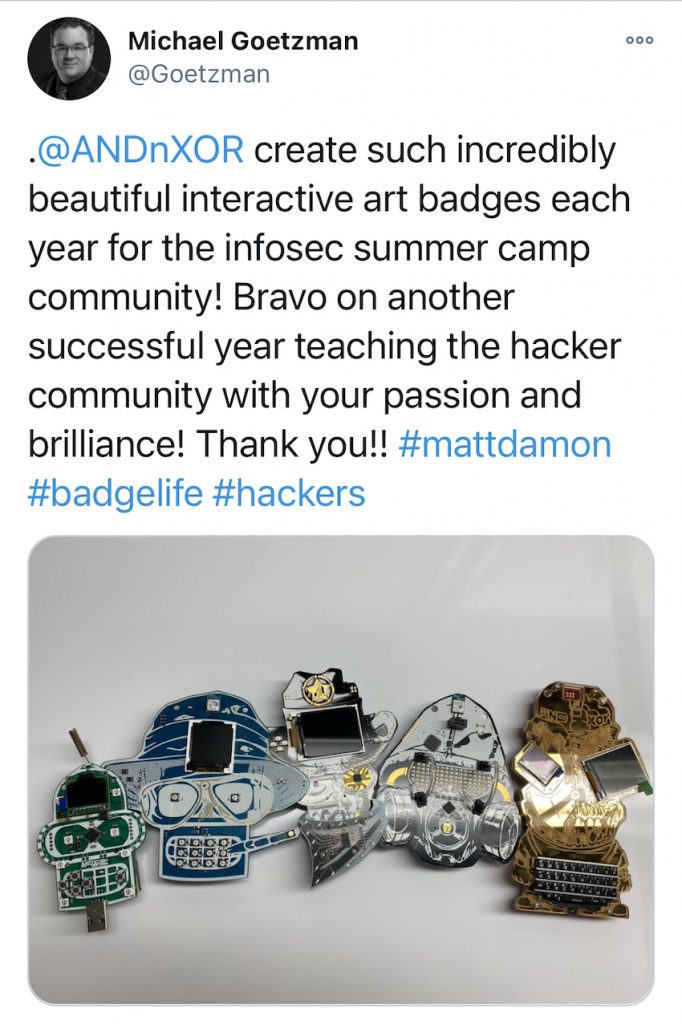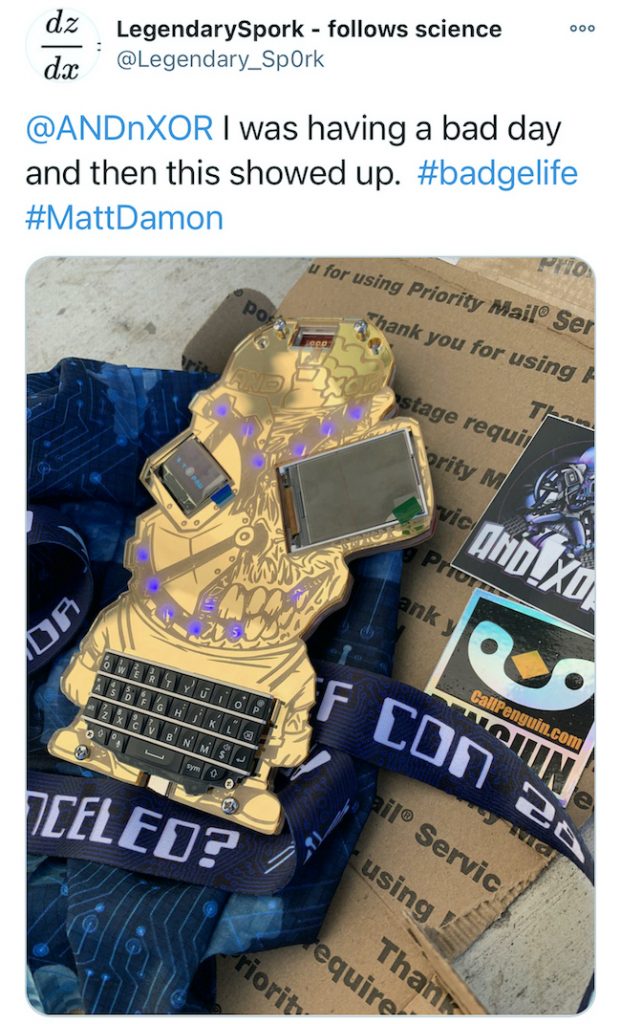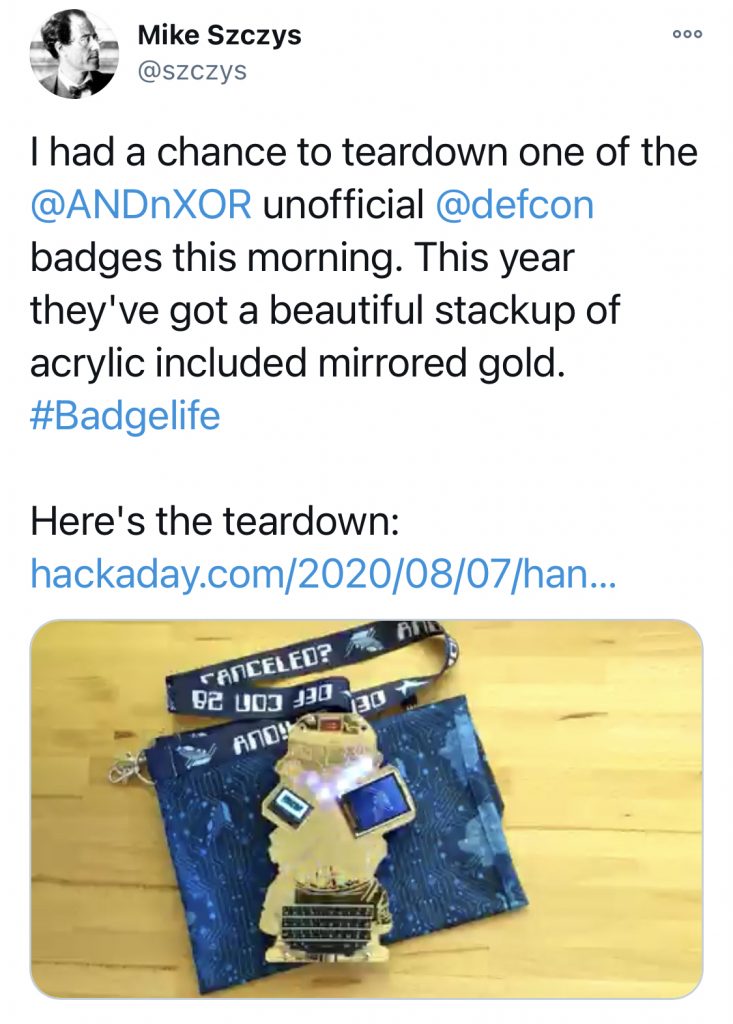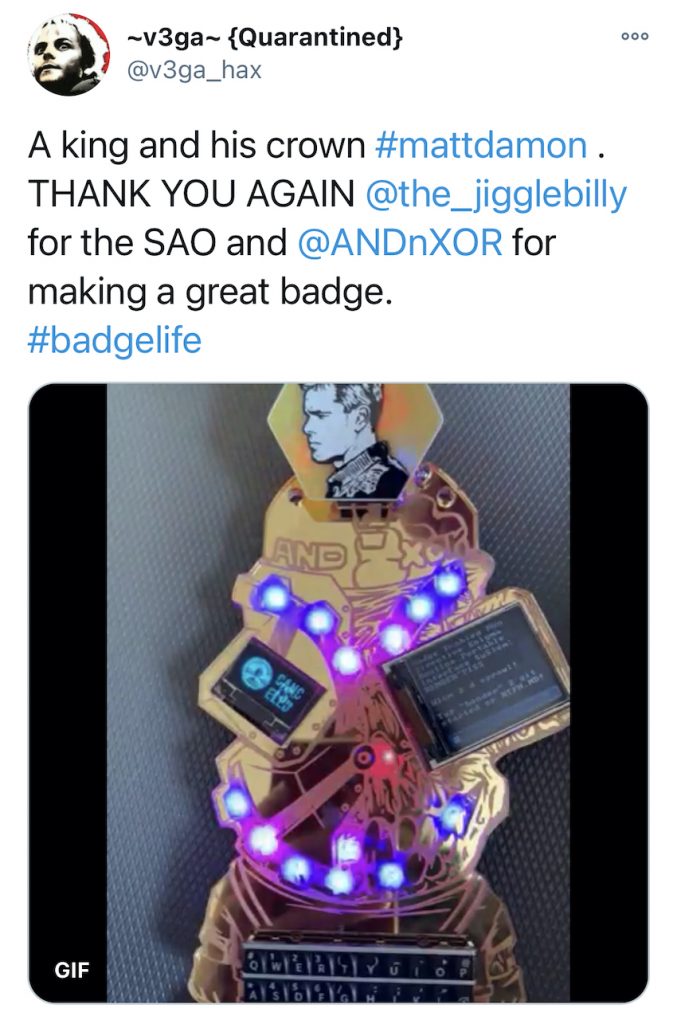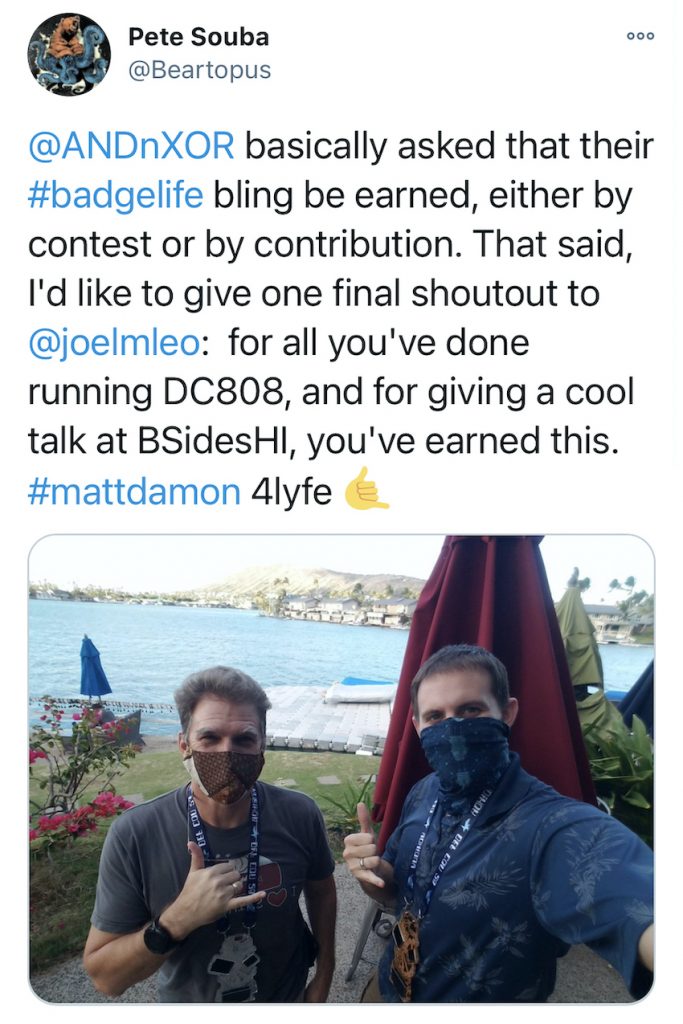 Did you know #badgelife happens beyond the event experience? Here's proof that the right electronic event badges can hang ten on the beach as well as hang on the Christmas tree.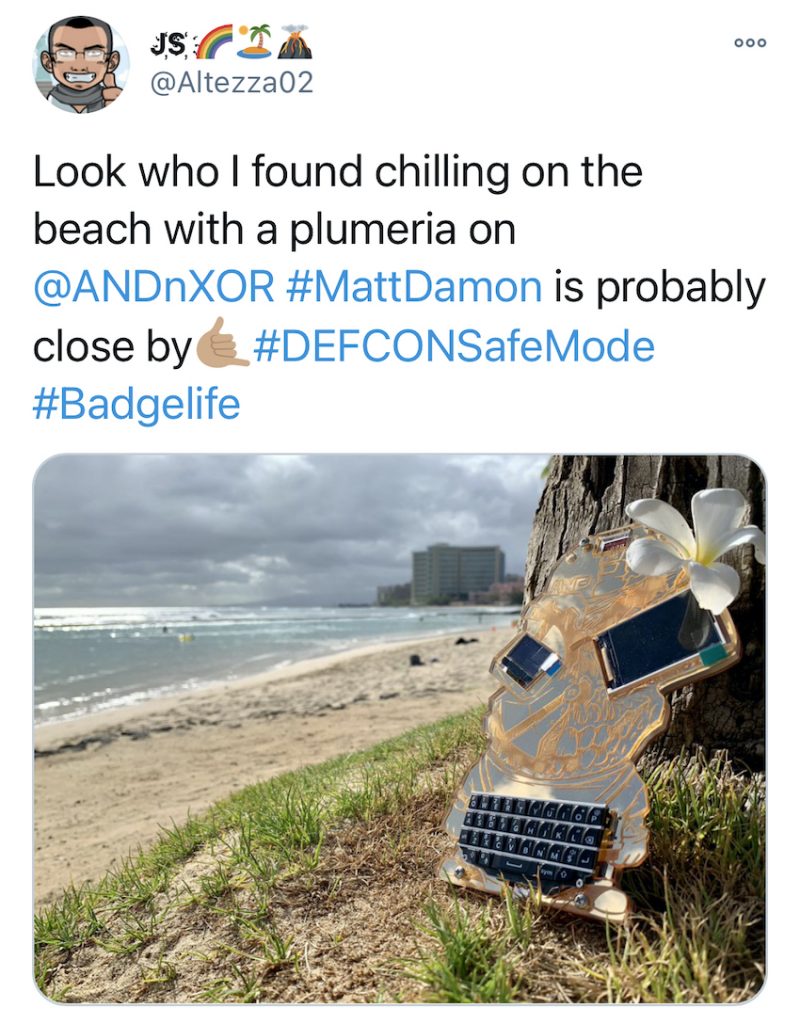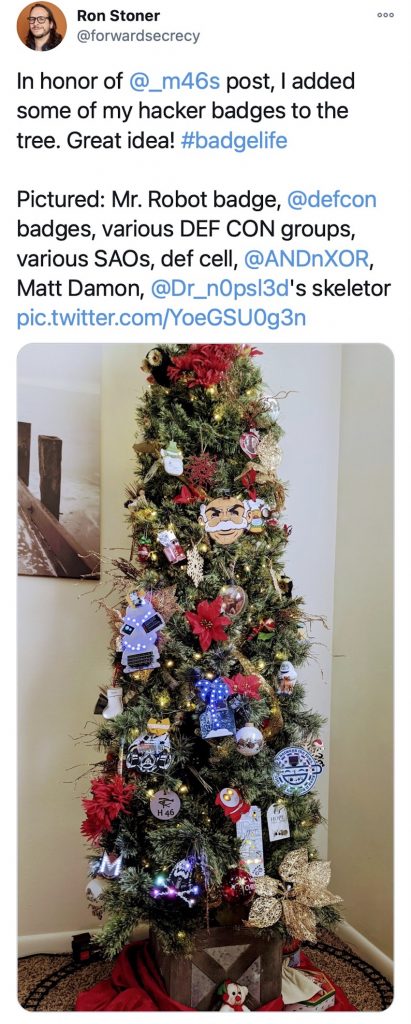 Working With Ponoko
With the complex nature of these electronic event badges, it's clear this isn't Zapp's first build. He's pretty much been making his whole life.
"I've been writing code since I was eight, taught myself C and have a BS in computer science," he says. "Software development, while 1s and 0s, is just another form of making in my opinion. About six years ago, I discovered electronic badges. From there, I wanted to learn hardware development and PCB design to make my own badge. This was the self-motivation I needed to get where I am today."
As his skills increased, so did the intricacy of his designs. When Zapp was figuring out how to manufacture the electronic event badges for DC28, he considered a number of vendors to find the right fit.
"Not surprisingly, everybody wants to do a phone call or email quote, which can take weeks to get what we want," he says. "On top of that, our quantity and long-term business prospects for the manufacturer is too small for them to give us the time of day."
Then he found Ponoko.
The ease of experimenting with new materials made all the difference. He concludes, "The material selection and ease of prototyping then moving to production allowed us to make a bunch of DEFCON attendees extremely happy by creating some kickass electronic event badges."
---

Inspired by what Zapp built for DEF CON 28 and want to make event badges yourself?
Here's how:
1. Upload files to Ponoko to get an instant quote for making and shipping them to you today.
2. Make just 1—or 10,000!