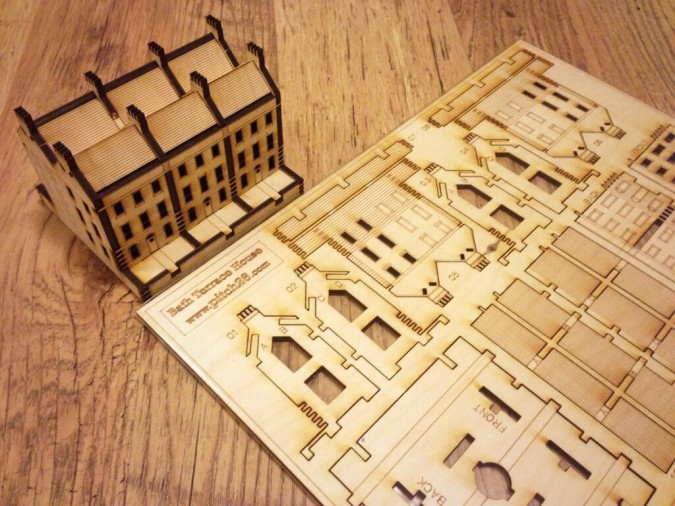 City of Bath Georgian House flat-pack model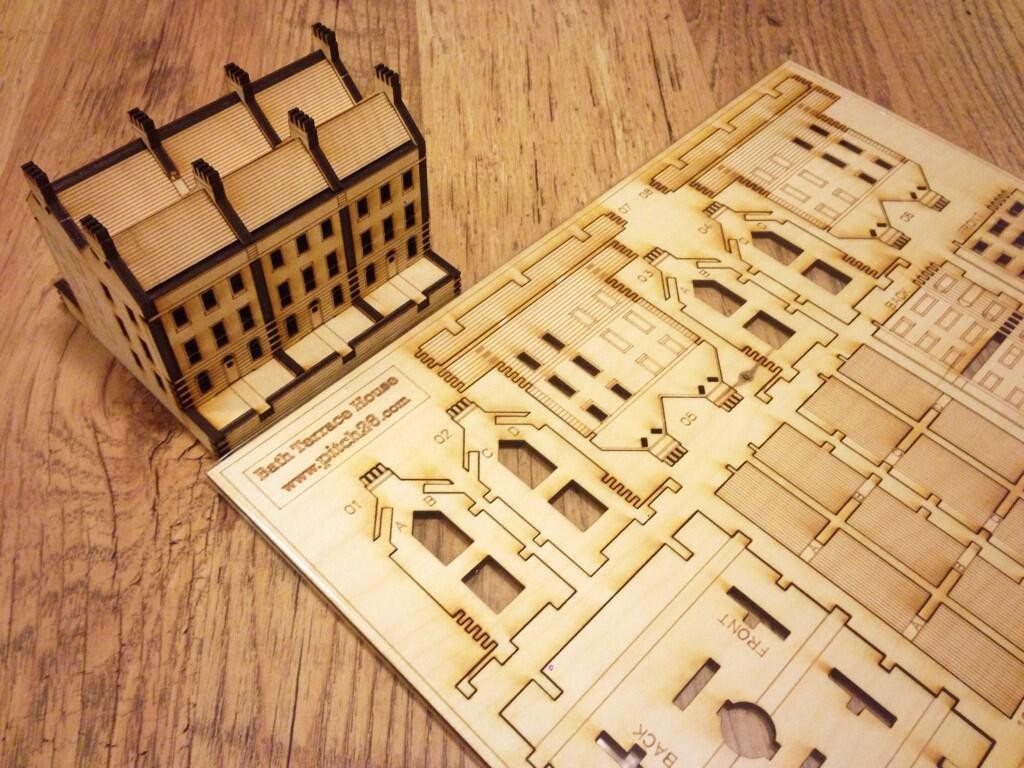 Miniature models of local landmarks are a popular choice when it comes to souvenirs and keepsakes. In this example, the iconic Georgian terrace houses from the city of Bath in the UK are recreated with loving attention to detail.
Available as a flat-pack kit of three neatly stacked cosy homes, you can choose from either 1.5mm card or 3mm poplar ply, and the straightforward assembly process will only take a few minutes.
Ideal for Laser Cutting
Laser cut architectural models are the ideal choice to make use of tab-and-slot construction techniques that allow for quick and easy construction, often holding together without the need for glues or adhesives. Basic elevations of the structure can be traced out in your preferred drawing program (inkscape is a Ponoko favorite) and prepared for laser cutting. Take the guesswork out of designing with interlocking slots using one of several freely available tools and plugins. For a landmark or object with a more sculptural form, 3D models can also be sliced up into panels or interlocking sections that are just right to send to the laser cutter.
Optimise for Production (and add a little extra)
Once you have the profiles and parts that make up your object, arrange them neatly within one of the Ponoko laser cutting templates and add useful notes or assembly tips as etched details. The Ponoko guide to keeping laser cutting costs down contains important information that will save you time and money, so be sure to read through before starting to avoid common (and costly) pitfalls.
It can also be nice to add a little something extra to the assembled model. The Georgian terrace kits by Bob Kann come supplied with a little light to install inside, so that there is a warm welcoming glow that completes the homely feel.
via Bob Kann