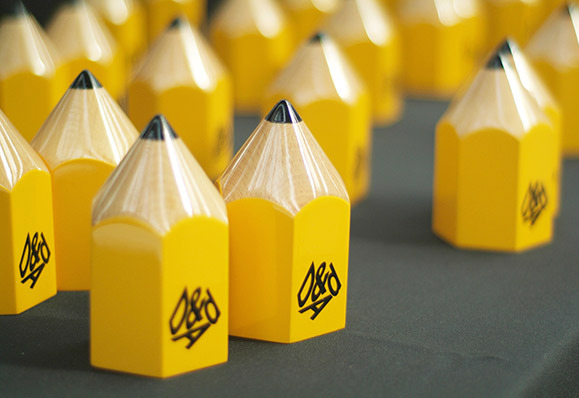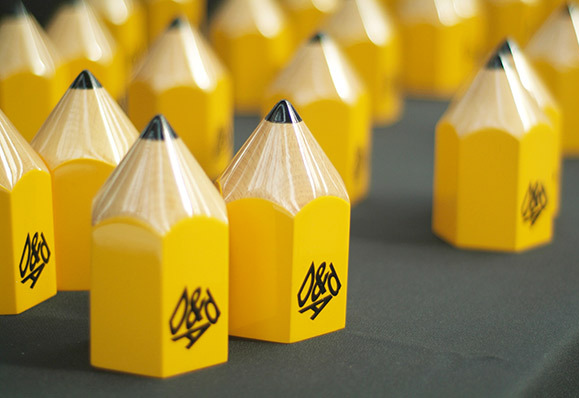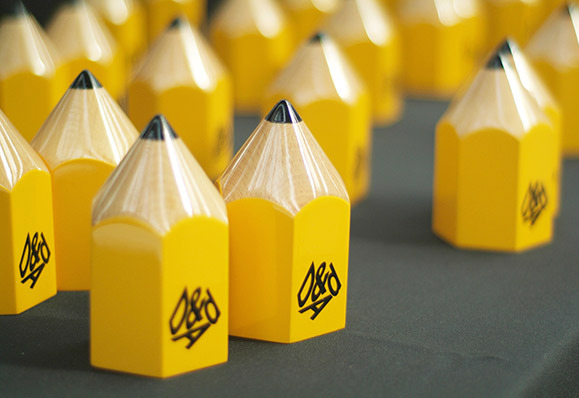 Could something as simple as a pencil shaped award be a benchmark for creativity and beacon for the future of advertising and design? Absolutely.
The D&AD Professional Awards are the ultimate creative accolade, with the best talent from around the world entering the competition and attending the annual event. But to understand the evolution of this prestigious honor, and the globally recognizable pencil that's become its symbol, we must go back to the beginning. Way back, in fact, to 1962.
Giving Pencils (Literally)
In the '60s, there was no Photoshop, Illustrator, InDesign or Dreamweaver. Nope. Back in the day, graphic designers took a pencil to a crisp white sheet of paper. That's where the magic happened.
When the Designers & Art Directors Association of London (as it was named then) recognized outstanding creativity, D&AD winners were presented with actual-size black pencils containing gold and silver leads designed by the Worshipful Company of Goldsmiths. These elegant pencils were packaged in an ebony case designed by Marcello Minale. Problem: The pencil award set was too fragile and too costly to produce. There had to be a better way.
Designing A Symbolic Representation
In 1966, Lou Klein, a newly appointed D&AD committee member, volunteered to design an alternative. Klein was an American who had come to London and, in the words of one industry historian, "Shook up the moribund British advertising and design scene with a splash of U.S. graphic swagger."
Klein took some of this swagger and designed the object of desire—the all-wood black and yellow D&AD Pencil. Since then, some additions have been made to the D&AD Pencil family: the D&AD Wood Pencil (equivalent to bronze), a D&AD Graphite Pencil (equivalent to silver) and a D&AD White Pencil for creativity with a cause.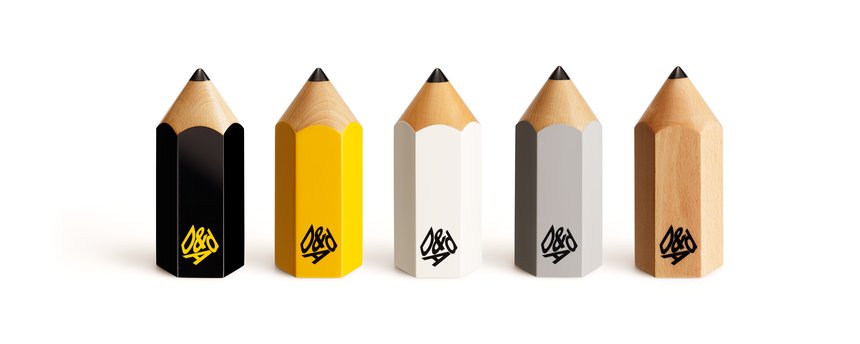 For the last 50+ years, D&AD has been inspiring a community of creative thinkers by celebrating and stimulating the finest in design and advertising. And because D&AD Pencils are never handed out unless the work is good enough, winning one gives recipients massive and eternal bragging rights.
Recreating The Awards Ceremony
The Pencil Award has become so synonymous with D&AD that the organization has started incorporating it into its annual event design. For the May 2016 event, D&AD tasked Hawthorn, a creative technical event production firm, to put the iconic D&AD Pencil back at the heart of the awards event design.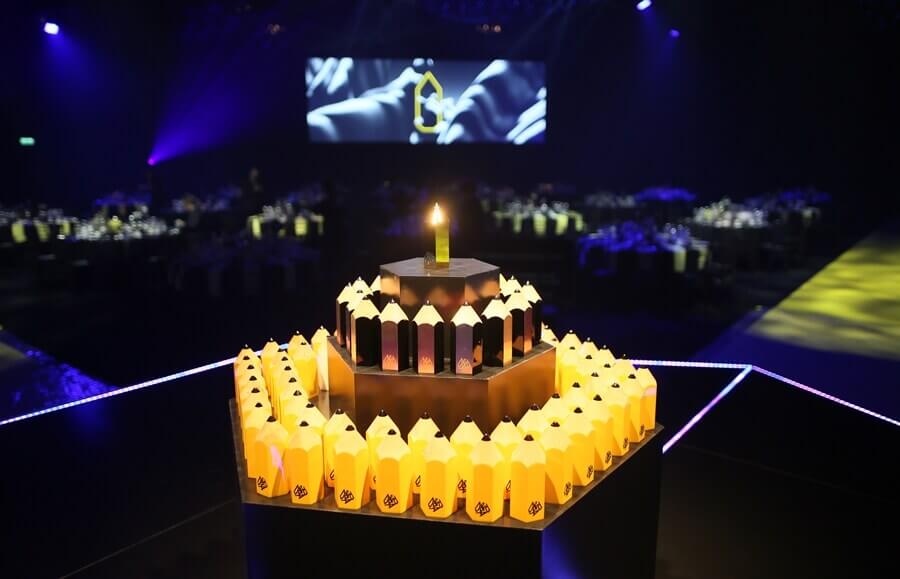 Hawthorn took an "in the round" approach to the event design, according to an Event Industry News story, "taking factors such as guest experience, use of space, entertainment, furniture and set design into consideration." For even more emphasis upon the D&AD Pencil, Hawthorn built an innovative yellow and black hexagonal central stage and awards table to further incorporate the classic pencil shape throughout.
Get all the event details by reading "Hawthorn Place Iconic D&AD Pencil At Heart Of Awards."
Establishing The Foundation In Good Design
So what's the lesson? Awards don't have to be the standard plaques or generic trophies from a catalog. They also don't have to be elaborate. Simplicity can make a huge impact. The D&AD Pencil Award works because it is aligned with the basic fundamentals of design: Picking up a pencil and drawing. Simple as that.
By developing this concept into a larger representation and adding the organization's logo (which is typographically interesting, of course), and voila! An award is born that is different from anything else, aligns with the DNA of the presenting organization and symbolically represents the fundamental creativity of an entire industry—proving that an award you'd truly love to have on your desk actually does exist.