Automake is about combining generative systems with craft knowledge and digital production technologies to create a new way of designing and making objects that blurs the boundaries between maker and consumer, craft and industrial production. Automake was developed as a research project in the Autonomatic research cluster at University College Falmouth that aimed to investigate the potentials of using generative systems to digitally design unique one-off works and produce them using a range of rapid prototyping/manufacturing technologies and CNC equipment.


The term generative system applies to any system in which a few basic rules are repeatedly employed to produce varied, unpredictable and often complex results, with varying degrees of autonomy from the user of the system. Generative systems have been used in many fields in an attempt to model and understand existing natural phenomenon or as a tool to help find solutions to complex problems.
In order to create your own forms using our software you will need to download a 3DVIA player.
To run the software click on the software screenshot below, the software should open automatically in your web browser. However you may get a prompt window to select which application to run the software in. If so, simply choose whichever web browser you used to download the 3DVIA player.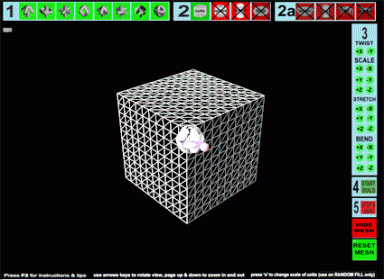 Check out the Gallery to see some examples of the designs generated by users.
via fabaloo