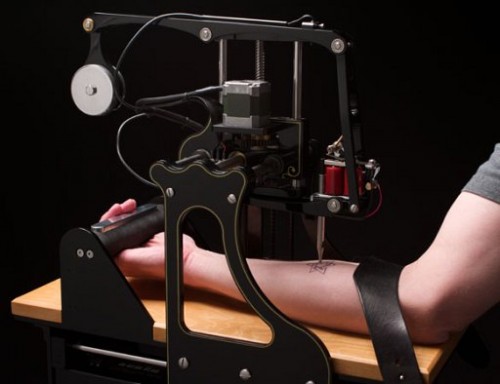 Random ink defines your pathway to salvation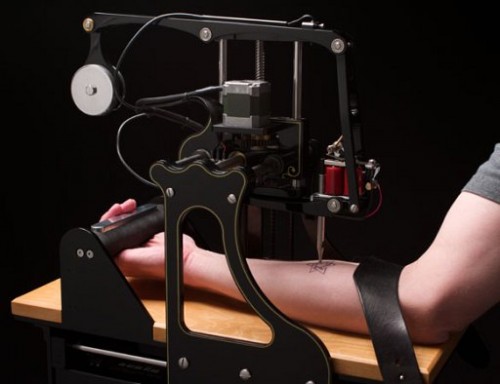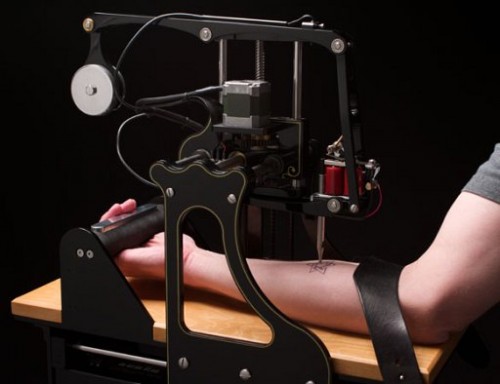 The machinations of Chris Eckert's fertile imagination bring about thought-provoking art installations, where CNC technology is often applied in new and interesting ways. Today we feature the Auto Ink, a tattoo machine controlled via a three axis CNC assembly.
Conceived as a commentary on the way in which religions are chosen for us by circumstance of birth, the device arbitrarily chooses a religion when the operator is in position and proceeds to tattoo the corresponding symbol onto the person's arm.
It is assigned either randomly or through divine intervention, depending on your personal beliefs.
Video of the Auto Ink in action, after the jump.  
The development of this project makes for an interesting tale, and you can follow Chris' progress and reflections on his blog. The first entry is way back in Feb 2010, and the saga continues to this day. It seems as though there is more controversy over the Auto Ink from tattoo enthusiasts than from various religious camps.
With the level of infamy this device is generating, it leaves me eagerly anticipating more of these beautifully crafted CNC sculptures. Already he is hard at work on an automatic writing machine, and it looks awesome.