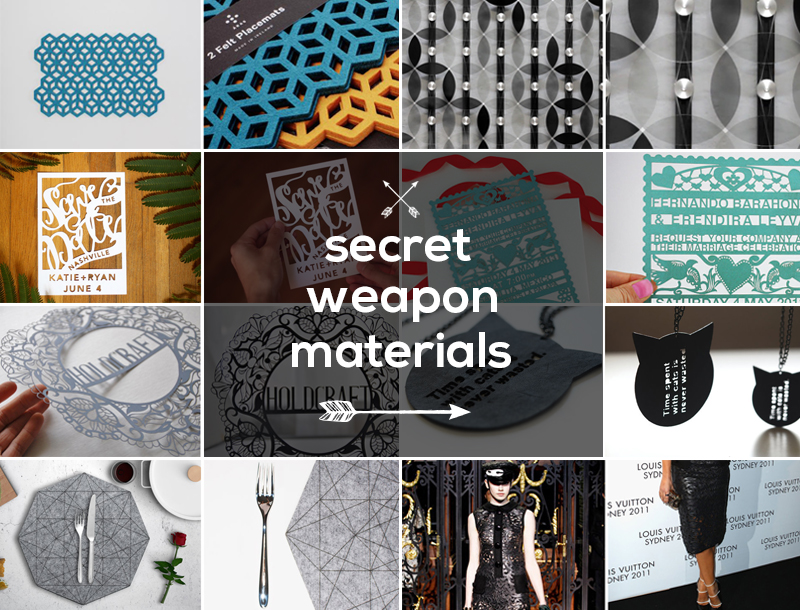 Fire Up Your Imagination For Your Next Laser Cutting Project With These Secret Weapon Materials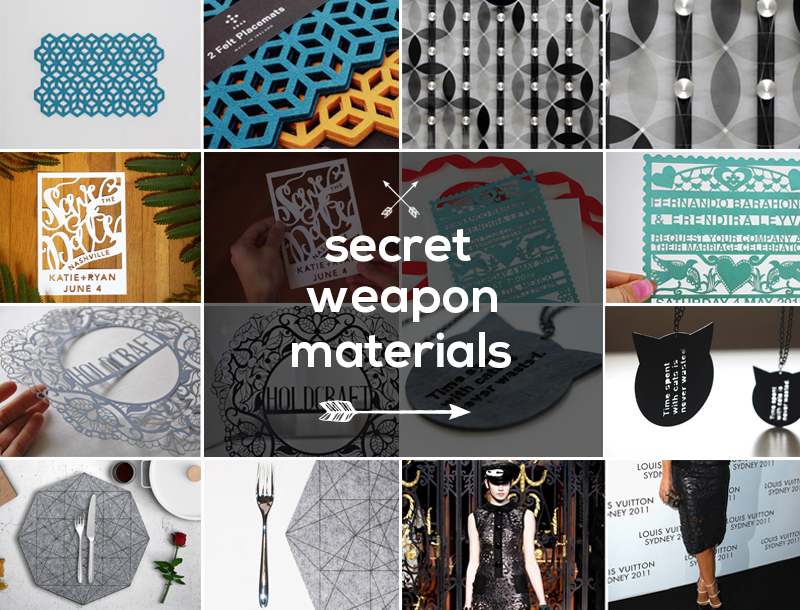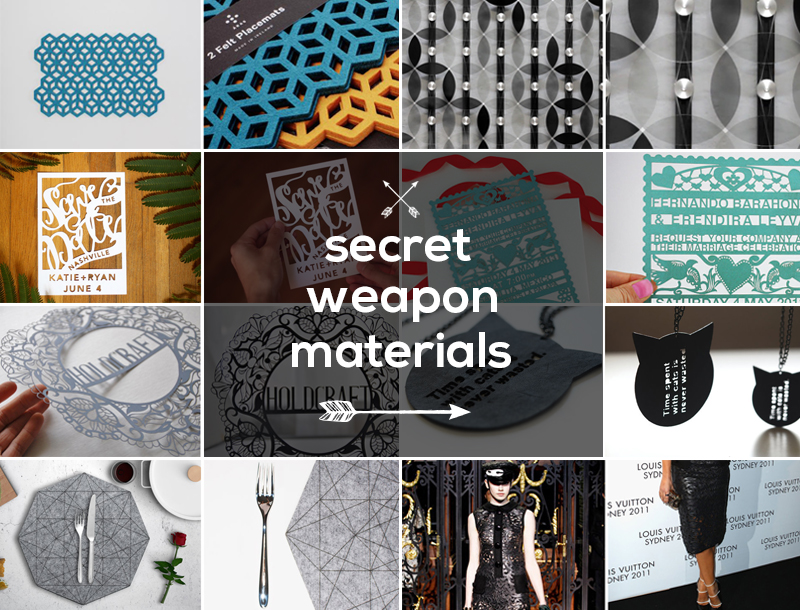 Psssst! Want in on a little secret? There are five laser cutting materials most people don't know about but are so super cool that they'll become your secret weapon for making the most amazing laser cut creations. And if you sell your designs on Etsy or Kickstarter, it's even more critical to add these materials to your arsenal so you can be different from your competitors.
Not being familiar with these hidden gems is understandable, really. The Ponoko Catalog is filled with a wide range of substrates, and we add even more new materials each month. So while classics like acrylic and wood might take up most of the spotlight, we're going to show some love to our fave unsung heroes. We think you'll love them, too.

Top Quality: Precision Details
Colors Available: Black, Ivory, Red
Intricately cut paper has a sophisticated beauty all its own. You could spend hours of your life painstakingly cutting paper by hand. But that's way too much like work for us. Drafting up those little beauties electronically and having endless copies laser cut is so much more efficient—and fun.
Cardstock is super affordable and laser engraves really well, which is why it's typically used for packaging, prototyping, architectural models, decorative arts, collages and crafting. Because it's paper, its 100% recyclable and can be easily joined with glue or tape.
Maker Tip: Use a vector engraving line to create perfect fold lines.
See how these six makers are using cardstock in their laser cut products:
Need a personalized housewarming gift? Frame an ornately laser cut last name like this one from Etsy seller LuccaWorkshop between double pane glass. When it's hung, the contrasting wall color shines through. Perfect for gifting to a loved one for a special occasion or adding to your family heirlooms to pass down for generations.

Sometimes an off-the-shelf greeting card simply won't do. Create a birthday keepsake like these laser cut cards from Etsy seller pogofandango that will be appreciated for years.

Weddings are all about making memories. Start the fanfare with save-the-date cards like these from Etsy seller MakersCompany that guests will surely remember.

Continue the laser cut theme beyond save-the-date cards to also include wedding invitations. These invites from Etsy seller from KatBluStudio feature Papel Picado, a Mexican folk art where cardstock is cut into elaborate designs. What was once only used as decoration can now be custom designed into wedding invitations.

Celebrate the happy couple with personalized laser cut cardstock lovebirds. Check out Etsy seller MayContainGlitterUK for inspiration.

Stationary designers Cutture have a passion for design and architecture that can be seen in the bespoke pieces they create for events. The result is exquisite invitations that people wouldn't want to say no to, plus table decorations and accessories that maintain that excitement throughout the event.


Top Quality: Tactile Appeal
Colors Available: Auburn, Black, Dark Brown, Mocha, Natural Russet, Tan
If you think leather is just for footwear, luggage and handbags, think again. Leather is a versatile material for laser cutting and one that's certainly underused. Working with leather requires skill but is incredibly satisfying, provided you have the right tools. In the last few years, laser cutting has become more and more prolific as a tool for manipulating leather. Now you'll see it featured prominently in crafts, jewelry, wallets, cuffs, belts, placemats and coasters.
Maker Tip: Leather turns brown and powdery when engraved in large areas, so design products with line engraving to produce crisp results.
Get inspired to create laser cut leather products with examples from these four makers:
Contain business cards or other small items in style with laser cut leather cardholders. This one from Etsy seller StAnderswo features a geometric diamond pattern laser cut into the leather.

Time spent with cats is never wasted. We couldn't agree more. Whatever you're passionate about, laser cut jewelry can showcase your message. See what we mean with this cat shaped necklace from Etsy seller ZoraDesign.

If you really want to make a statement with laser cut leather jewelry, check out this symmetrical art nouveau inspired statement necklace from Etsy seller ShopElenaDesigns. It's wearable art.

Laser cut leather can also be turned into high fashion, as illustrated by this Louis Vuitton dress.

Top Quality: Durability + Functionality
Colors Available: Black, White
Delrin may not have the same polish and shine as it's acrylic cousins. But what it lacks in appearance, it more than makes up for in strength and durability.
It possesses high tensile strength, creep resistance and toughness. Delrin also exhibits low moisture absorption. It is chemically resistant to hydrocarbons, solvents and neutral chemicals. These properties along with its fatigue endurance make Delrin ideal for any application where durability is a must: Machine parts, drone components, hardware mounts, washers, gaskets, electronics enclosures, guitar picks and stencils.
Maker Tip: Engraving on Delrin doesn't have as much contrast as acrylic, so use a combination of line and area engraving for the best results.
Need design ideas for making with this durable material? Check out this Hackaday post on how to make anything with using laser cut Delrin.

For musicians, these Delrin guitar picks from Reverb are easy to maneuver, have great dynamic control and are great sounding in the lower mid-range.

In addition to its industrial and musical applications, use Delrin to custom laser cut bokeh filters for stunning photography shots. There is even a set in our showroom you can buy to achieve the beautiful aesthetic quality of the blur produced in the out-of-focus parts of an image created by this lens.


Top Quality: Play With Light
Colors Available: Light Gray
Polarizing film is a super thin, 0.8mm light grey laminate material that has a polarized layer to reduce glare and reflection. It's often used in the making of sunglasses and LCD screens, but its light blocking qualities are also often used in photography and for art installations.
How does polarizing film work? Christopher Frost Photography explains the effects in this tutorial:
You can also see how polarizing filters reduce glare and increase contrast to improve detail and color with this glass squid. The left image is photographed with a polarizing filter and the right image is without.

Maker Tip: Polarizing film has low melting point and must be laser cut with special attention. Simple shapes work best as intricate details tend to melt and be lost. Because the sheet has a tendency to warp as it heats up during the laser cutting process, make sure to allow plenty of space in between the pieces.
For the practical maker, you could laser cut your own sunglasses like industrial designer Kris Pepper on Coroflot.

For the artistic maker, get inspired by Swiss artist Pe Lang who designed this art installation using mini motors that rotate polarized film circles to create a mesmerizing effect.


Top Quality: Color Variety
Colors Available: Black, Blue, Bordeaux, Camouflage, Crystal Blue, Dark Gray, Fire, Gray, Lime, Magenta, Orange, Pink, Turquoise, White
Every spring, fluffy sheep are sheared of their woolen winter coats, some of which ends up being spun into felt. Our 100% merino wool felt is dense yet soft, durable, stable and non-fraying. It has a consistent texture that laser cuts beautifully and ages gracefully. The vibrant colors are non-toxic and UV-resistant, making felt ideal for jewelry, accessories and home décor.
Maker Tip: Felt can have a strong burnt wool smell after cutting, so it's a good idea to laser cut any felt item well in advance of them being used. The smell dissipates with time, and you can speed up the process by cleaning the felt or leaving it in fresh air. Also, the edges scorch and turn brown, which is more noticeable on the lighter colors, so you'll want to design with that in mind.
Get inspired by seeing how these six makers use felt to create their laser cut products:
Etsy seller AmysArtWear's unique take on geometric shapes creates an eye-catching pattern radiating from a heart center with these laser cut felt earrings.

By combining new craft methods with traditional materials, Etsy seller Madimooi makes the laser cut "Prosecco" necklace from two layers of contrasting colored felt.

Etsy seller FeltLabel uses circles to design a distinctive geometric pattern for this statement necklace.

Protect surfaces and keep furniture safe from hot and cold plates or drinks with laser cut felt placemats. Etsy seller MetisDeco uses a diamond pattern for a simple and modern design that adds a hint of distinctive aesthetics to any dining table.

These felt lace wheel coasters from Etsy seller FeltLabel give any space an update with a fresh design suitable for all décor styles.

Retailer Irish Design Shop's laser cut felt placemats have a geometric design that's a bit of an optical illusion. Part honeycomb and part three-dimensional cube, these placemats are a practical yet interesting way to add color to a table setting.

How Will You Put These Secret Weapon Materials To Work?
Fire away! We'd love to hear your design ideas on how you have used these materials or what you'd love to make in the future. Share your plans in the comments below.
Got pics of your creations? We'd love to see them. Mention @Ponoko on Twitter or give us a shout on Facebook.
And if you're ready to make, log in and get to work!