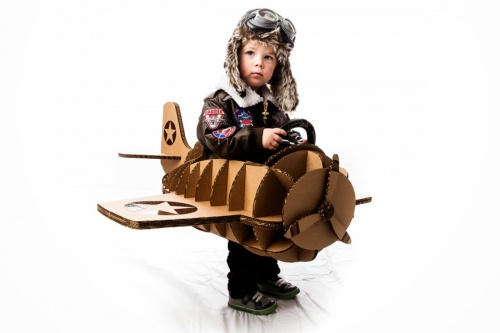 How one dad used Ponoko to make his kid's dreams take flight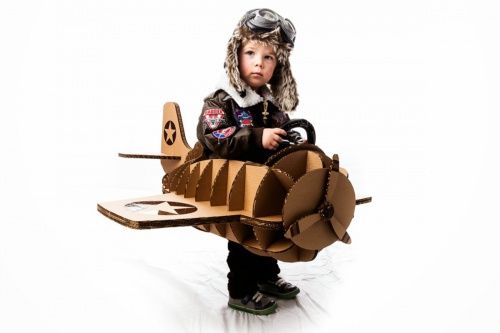 Halloween is approaching once again, and that means creative parents are busy putting together costumes for their eager little Trick or Treaters.
Taking note of his son's 'outsized interest in aviation', SketchUp guru Aidan Chopra set himself the task of building an aeroplane at just the right scale for the diminutive 2½ year old pilot. The outcome – a laser cut cardboard aeroplane costume – looks fantastic, with cartoon-like proportions that give a real sense of comic aviation nostalgia.
Aidan has put together a thorough walkthrough of his design process, including references and explanatory diagrams that take you through each stage of the project in comprehensive detail. We've included a few snippets from the original SketchUp post here, but do be sure to click through to the source for all of the juicy insights.
He began by referencing an enthusiast's model of a WWII era fighter plane, and squished the proportions until it looked both fun and wearable. Having decided on laser cut cardboard for the final construction, Aidan then explored using Ponoko to produce the components… and that was where things really became interesting.
By taking time to plan out which materials to use, what sheet sizes and the relevant Ponoko requirements, he could then proceed with modeling the plane so that both construction and laser cutting costs were optimised.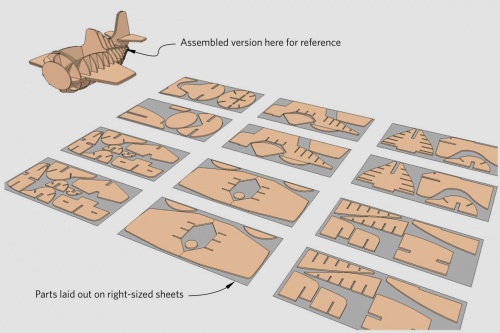 The plane is constructed from 58 laser cut parts, of which 32 are unique. It took a little patience to work out how to best fit these onto the Ponoko P3 laser cutting template for double-layered corrugated cardboard, but the effort quite literally paid off by reducing cutting time.
"I'd discovered that it's significantly cheaper to produce two copies of the same cutting file than it is to make two different sheets. Good thing, because it turns out that most of my airplane parts are symmetrical; they're mirrored copies that exist in pairs."
A lot of thought went in to each stage of the design process; from considering the scale and proportions appropriate for a child pilot, the material thickness and template sizes in the Ponoko Personal Factory, through to the inclusion of nodes on the slotted sections so that all the components fit together and hold in place securely.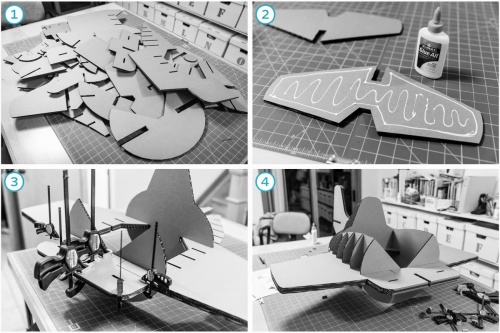 The accuracy of the cutting was astounding. I've never laser cut anything; I expected the pieces to look good, but the quality of what I got made me alternate between grinning and literally giggling. For a person who spent hundreds of hours in architecture school hacking away at cardboard, foam core, basswood and plexiglass with an X-Acto knife, the extravagant expense of laser cutting instantly justified itself. I was hooked.
What a fantastic success story for a first-time Ponoko user. Why did he start off with a project as complex as this? It all may make a little more sense when you consider Aidan's background. Having moved on from architecture, he became a master of the modeling program SketchUp. That's no idle boast – some users may find him familiar as the author of the SketchUp for Dummies book series. Aidan's guest post on SparkFun is both informative and entertaining, so click through if you'd like to hear the full story.