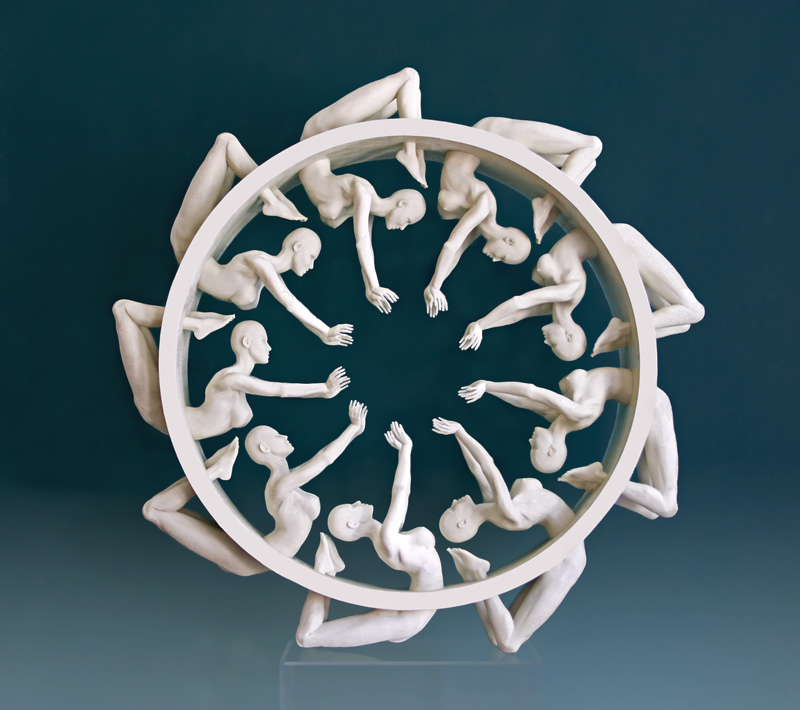 Selections from the RAPID 2011 art gallery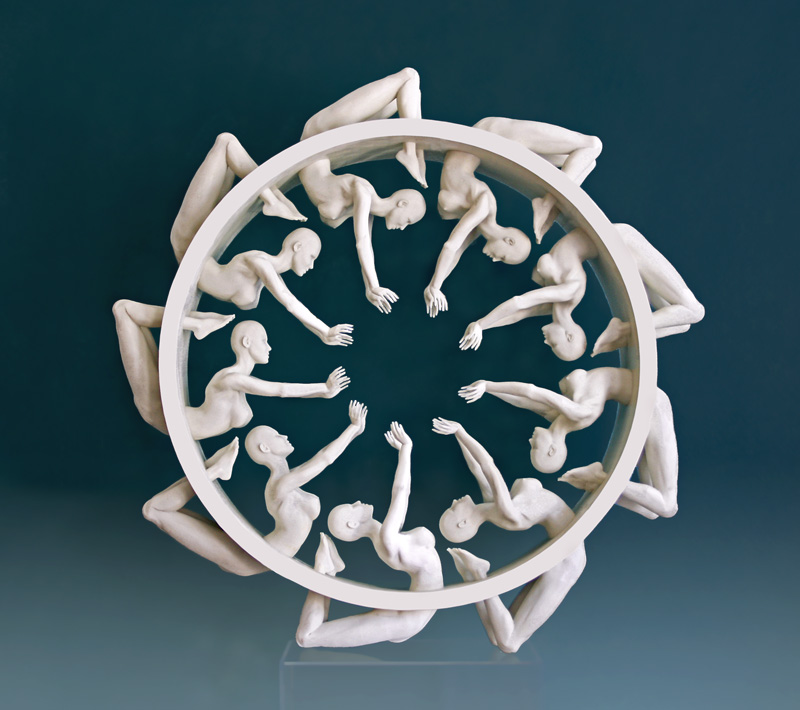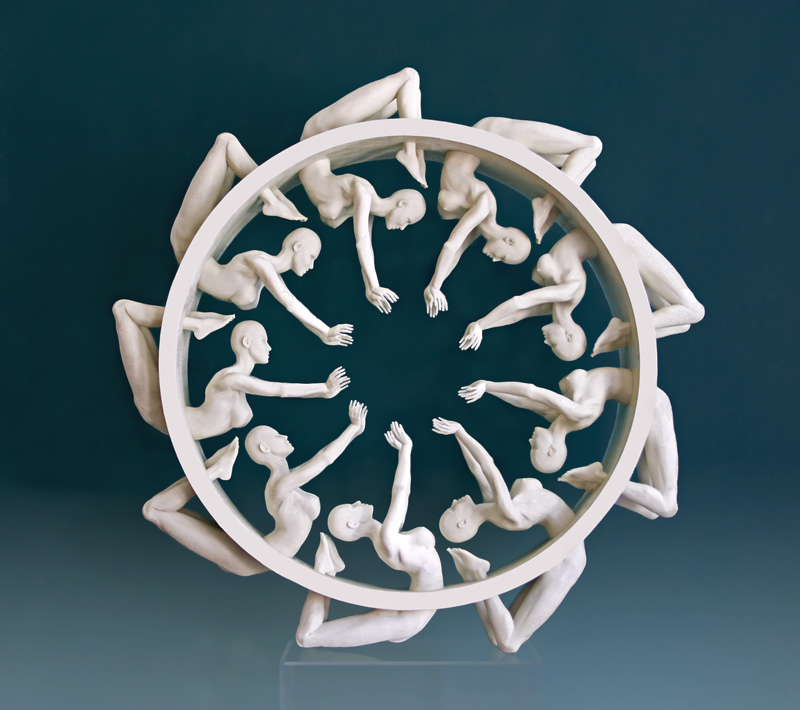 The Circle of Life by Mary Hale Visser
Artist Mary Hale Visser created the figure in this sculpture with a 3D modeling program. The figures were 3D printed in glass powder and resin and joined together. Visser is an art professor and Vice President of Ars Mathematica.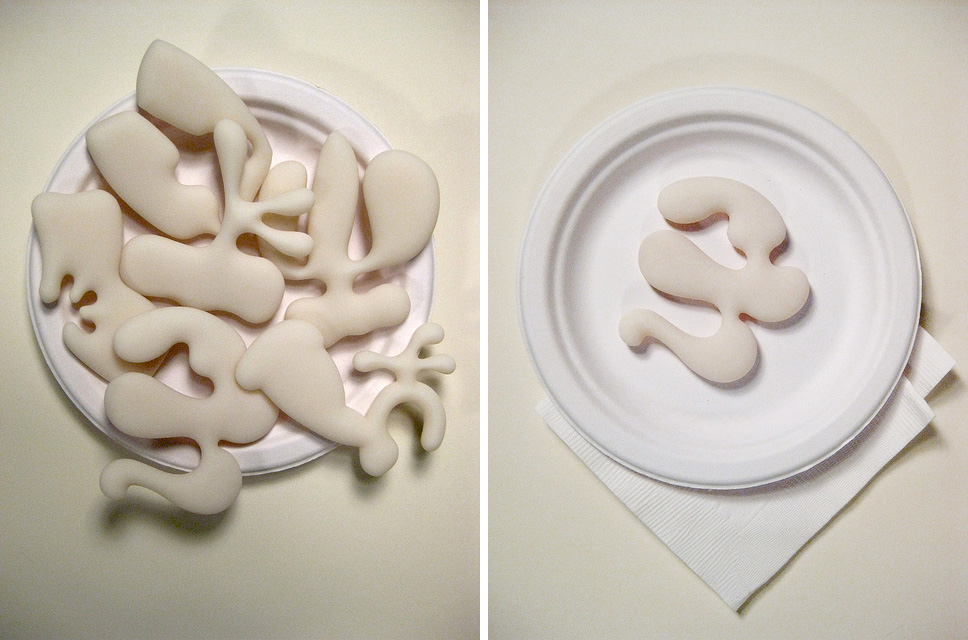 Six Servings by Brad Ford Smith
Brad Ford Smith is an artist and conservator trained in painting and printmaking. He began translating his abstract, fluid form imagery into 3D printed sculptures in 2009 when he participated in the SculptCAD Rapid Artists Project.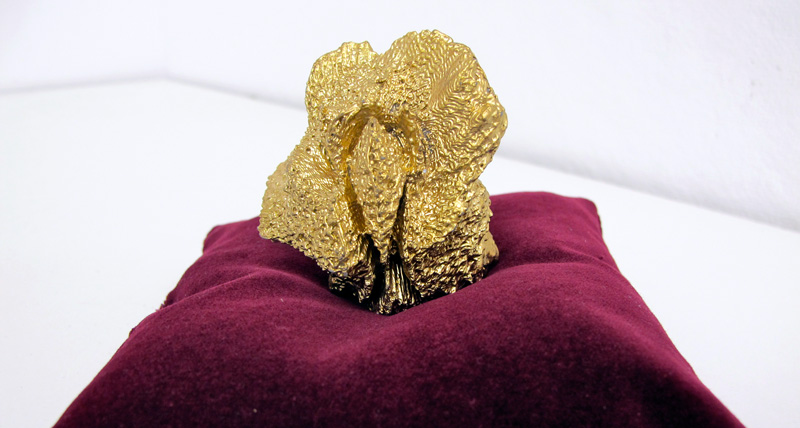 Golden Milk Nuggets by Fran Flaherty
Fran Flaherty is an artist working in 3D scanning and 3D printing. The work pictured above is a 3D print of digitally scanned breast milk in a petri dish.
(This is the second instance I've come across breast milk used in art and design. You can see a ring that was actually created with breast milk in the third image of this post.)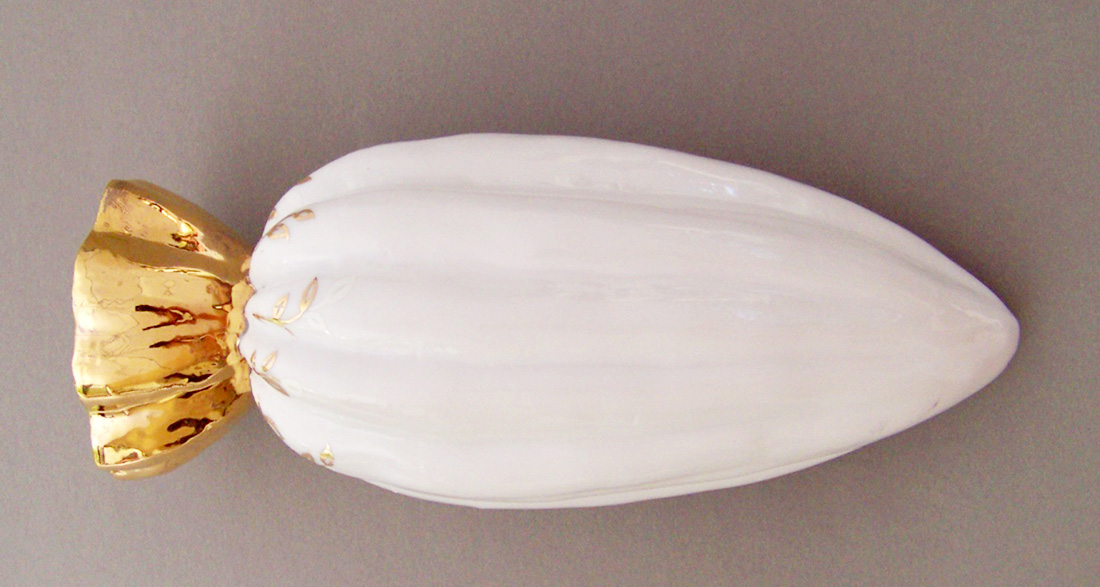 Natura XI by Anna Holcombe
This slipcast porcelain sculpture by Anna Holcombe was made possible by a hand held 3D scanner which the artist used to scan fruits, vegetables, and seed pods. 3D prints of these scans were used to create the molds for the final artworks.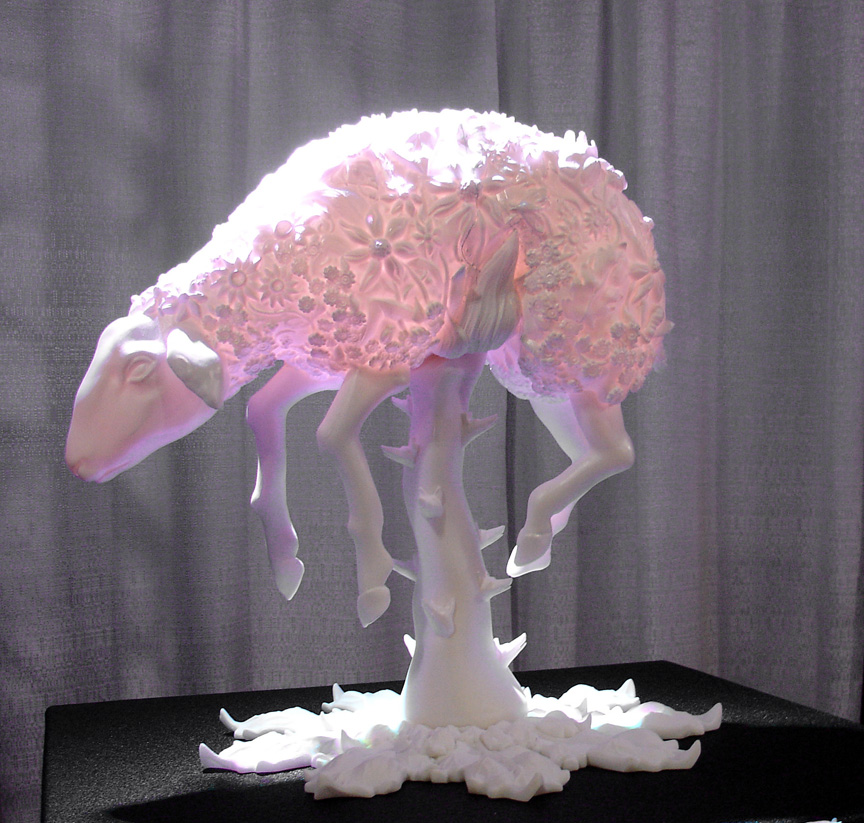 The Gentle Cibotium Barometz by Heather Gorham
This 3D printed sculpture by Heather Gorham is the artist's interpretation of the legend of the Vegetable Lamb, a fabled plant that had lambs for blooms. According to the tale, the lambs could feed on the surrounding plants as it grew. The lamb would eventually either free itself by chewing its own stalk or shrivel up an die — if they weren't first devoured by wolves.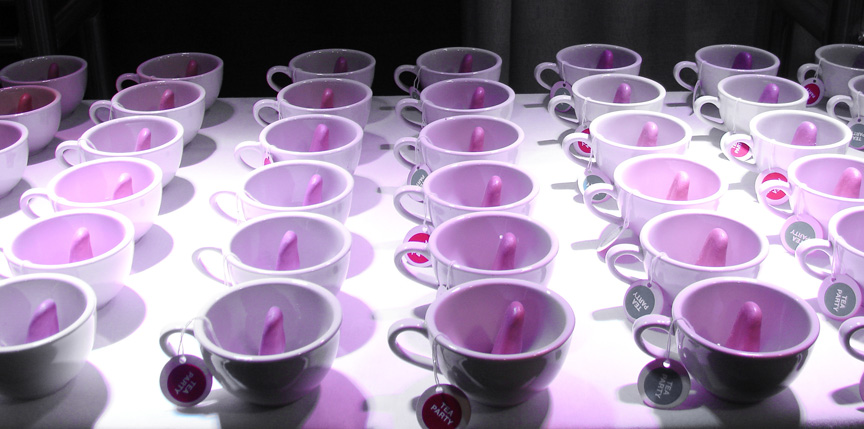 The Tongues are Wagging by Mark Grote
Inside each of these 56 teacups is a wagging tongue, representing the 56 Tea Party Caucus members in the US Congress. Mark Grote often utilizes found objects from the local environment. "These influences," says the artist "keep my art fresh and keep me off balance, which translates to the art."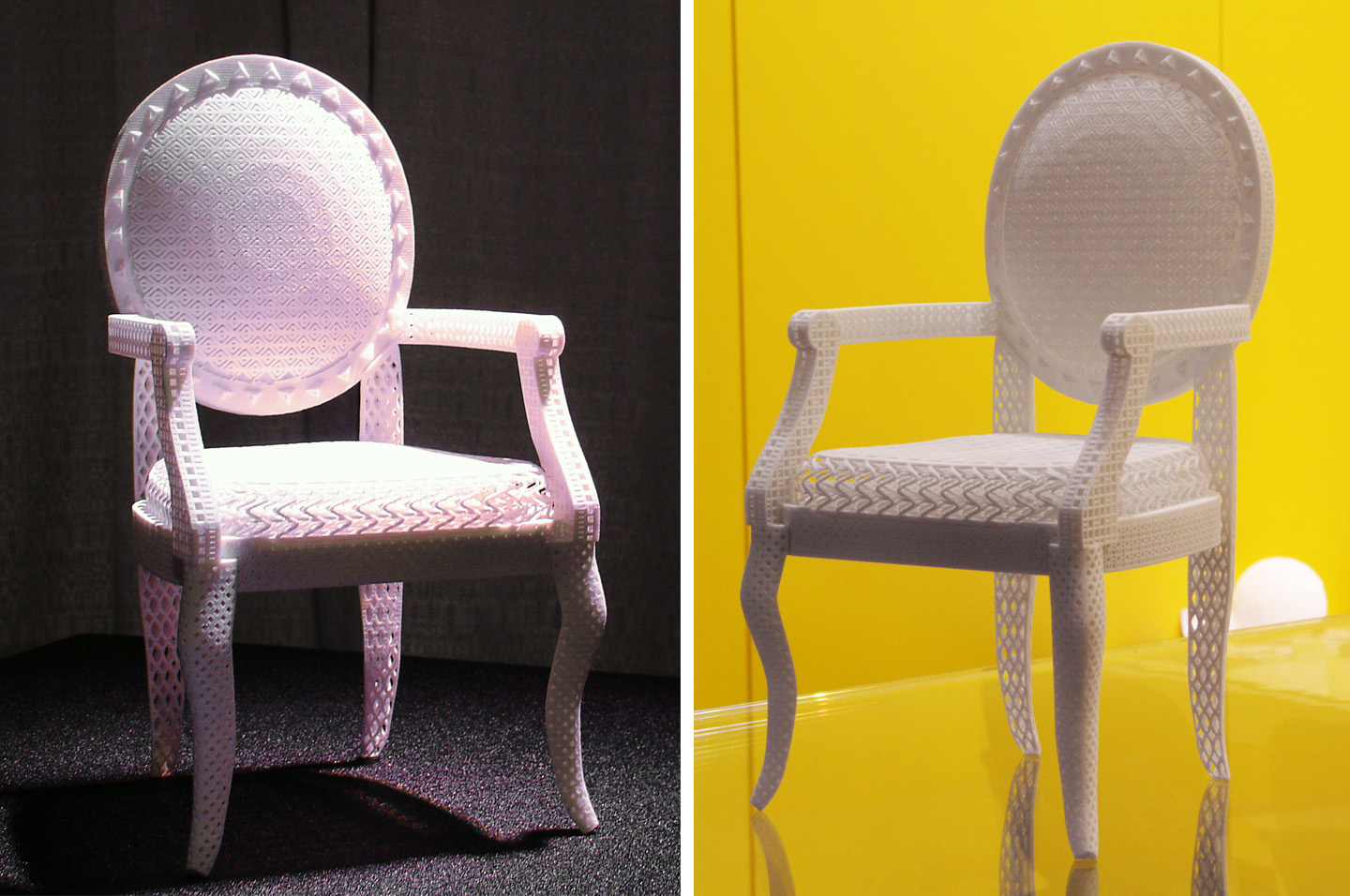 Chair by David Schäfer
David Schäfer of NetFabb created this impressive 3D printed chair using the netfabb Selective Space Structures (3S) software.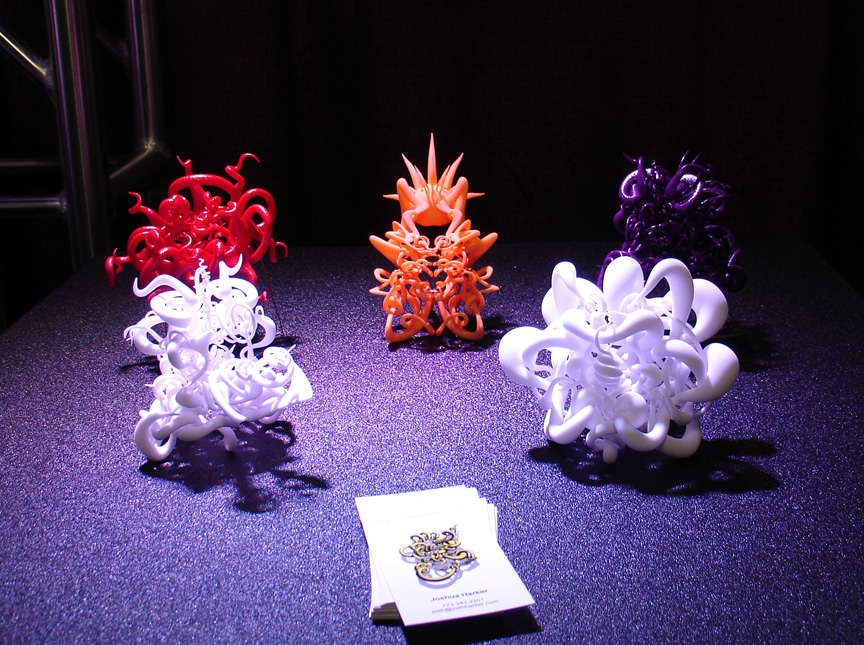 several works by Joshua Harker
Inspired by surreal automatism, the work of artist Joshua Harker is "a quest for originality in the most literal sense." He works in a variety of 3D printed materials as well as cast metals.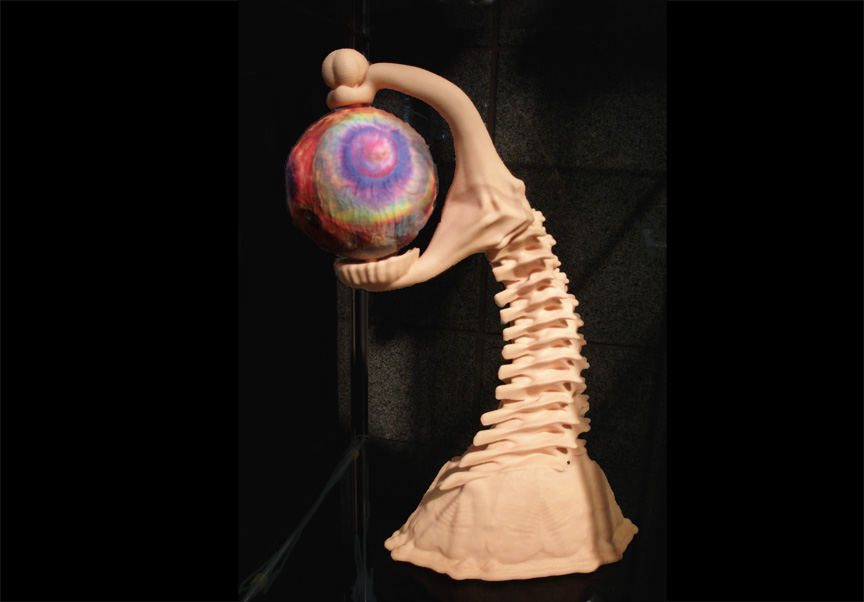 A Souvenir of Our Universe for Visitors by Andrew Werby
For this piece, artist Andrew Werby used the 3D haptic tool to combine scans of natural objects with NASA data from exploration satellites to create a 3D printed piece in the "juxtamorph" style he and other artists established in the 1980s.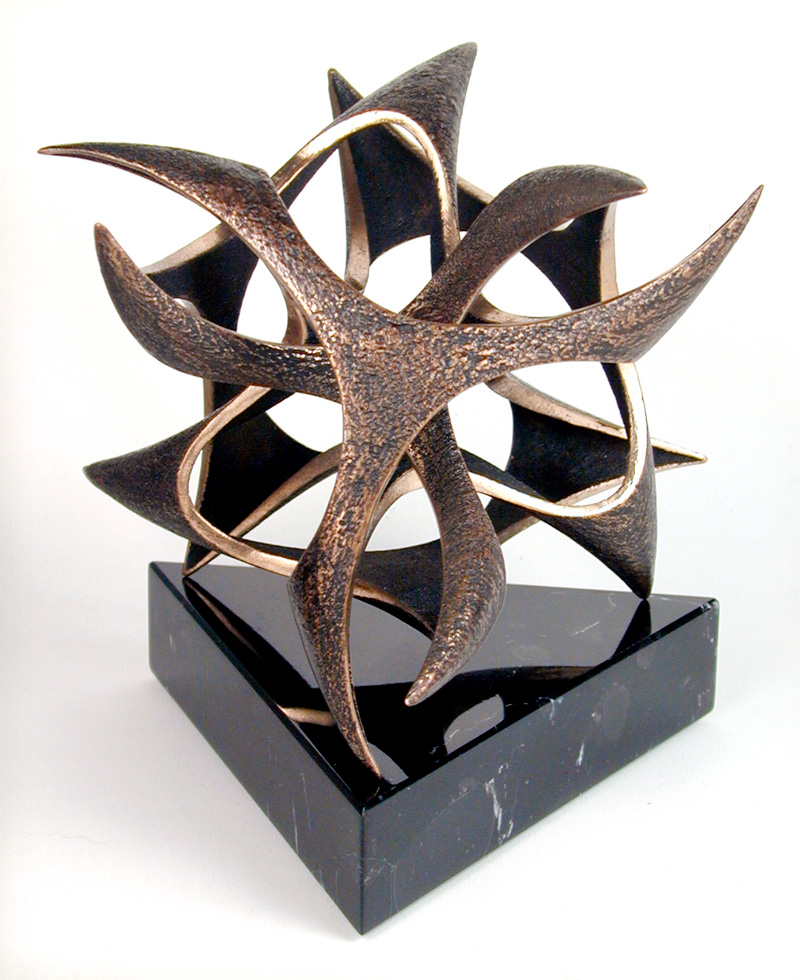 Three Bronzes by Bathsheba Grossman
The sculptures of Bathsheba Grossman seem to have their own internal physics; as if what you see is just a frozen moment of the forms rotating and twisting around each other. Grossman's primary medium is 3D printed metal.
You can watch an interview below of Ms. Grossman at RAPID 2011 discussing her work. "My involvement with 3D printing is a lifetime commitment."

For more art works exploring the potential of 3D scanning and 3D printing, take a look through the RAPID 2011 art e-gallery.