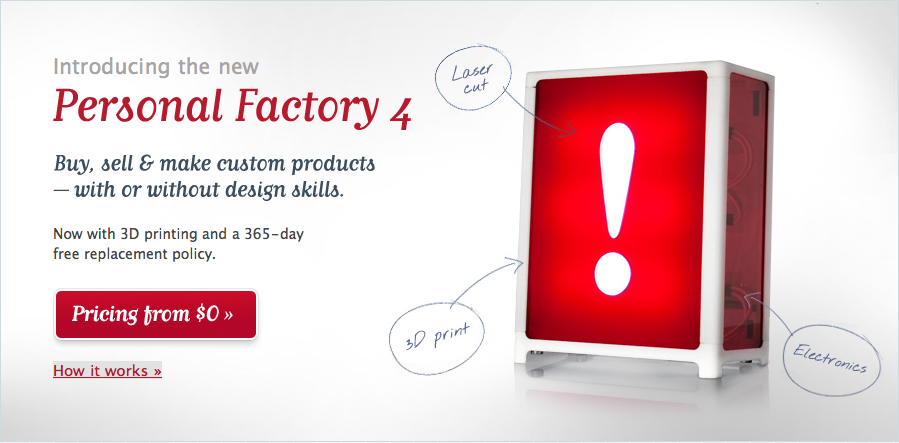 announcing the Ponoko + CloudFab partnership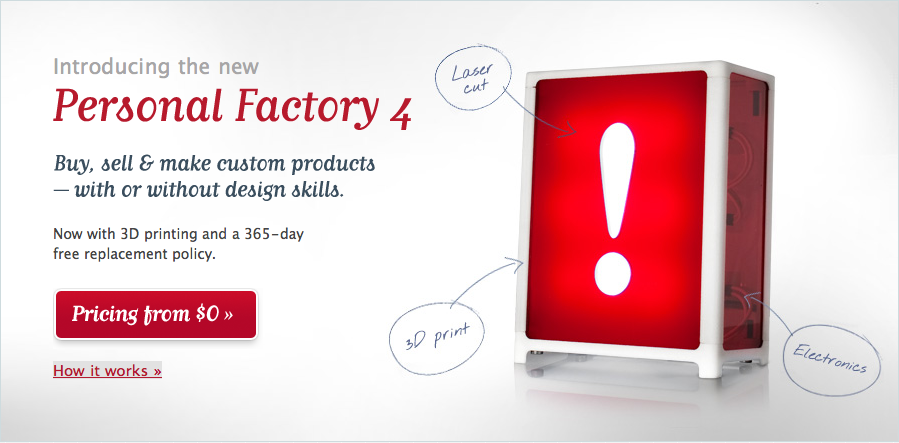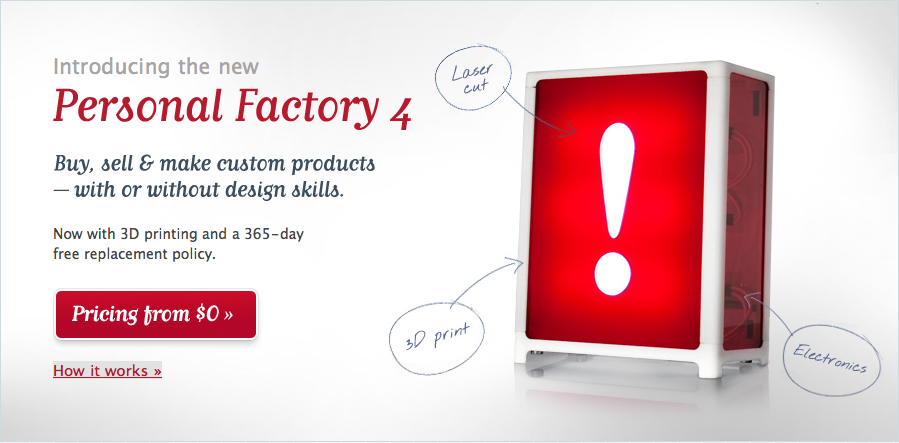 Ponoko is bringing the power of product design to the masses. We began in 2007 by offering laser-cutting and earlier this year added electronics to the mix. Today we are elated to announce that the new Ponoko Personal Factory 4 offers 3D printing!!
CloudFab has joined our global digital making network, giving Ponoko customers the ability to create 3D printed designs. All with no set up fees, no minimum orders, and a free 365-day replacement policy.
We've added five new 3D printable materials to our materials catalog including durable white plastic, superfine plastic, rainbow color ceramic, stainless steel, and gold plated stainless steel.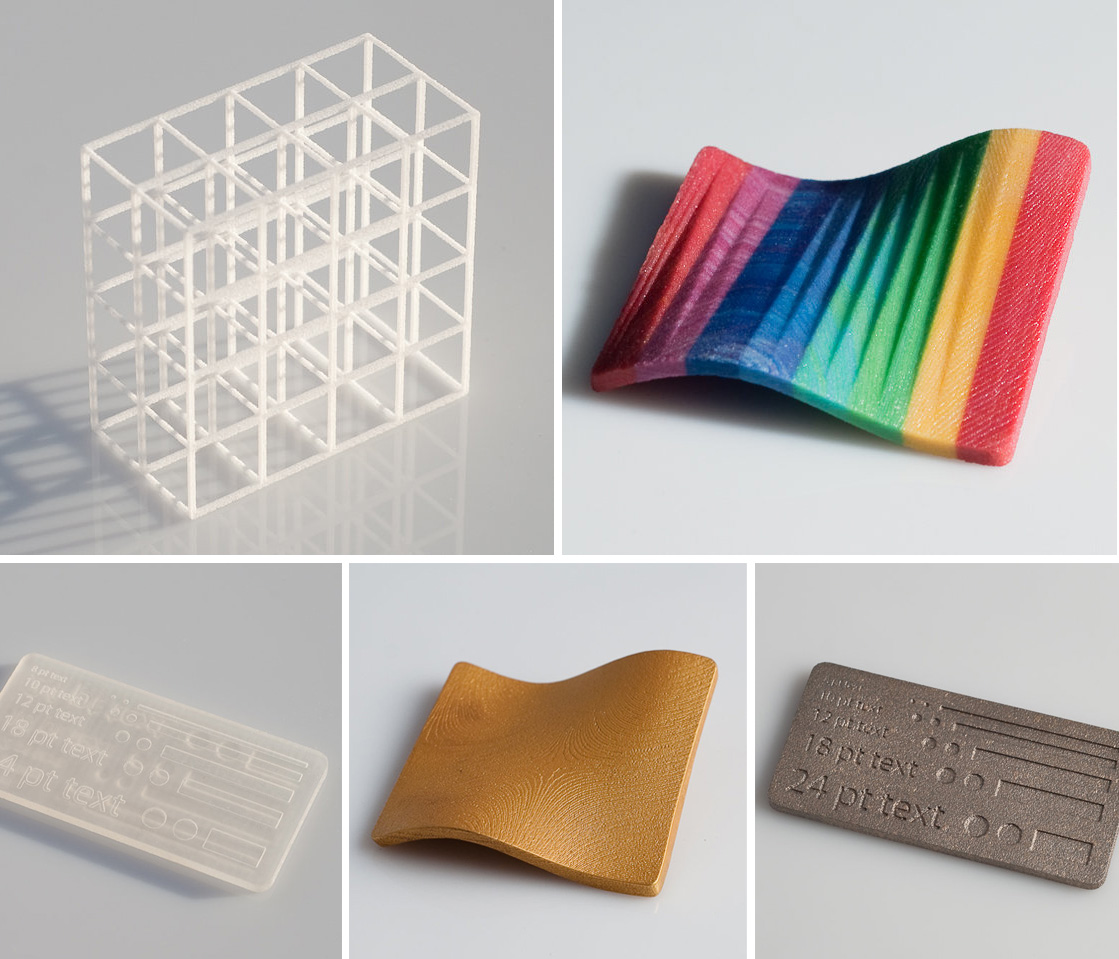 Ponoko Personal Factory 4 will auto price, auto check, and auto fix your 3D designs. We've also got 5 new starter kits for 3D modeling softwares: Alibre, Autodesk 3ds Max, Blender, Google SketchUp, and Solidworks!
"Everyone has had a product idea at some point, and Personal Factory 4 gives them a place to make it real," says Dave ten Have, Ponoko's CEO. Nick Pinkston, founder of CloudFab, adds "[This is] making it easier than ever to turn all sorts of ideas into real things over the Internet."
To give you just a glimpse of what's possible, take a look at the box lamp shown below and on our new homepage: laser-cutting for flat surfaces, 3D printing for rounded and complex shapes, and electronics hardware to "bring everything to life," as ten Have says.
The ! Exclamation Lamp is available as a free download in the showroom so you can customize your own. And we absolutely cannot wait to see what new ideas and designs you'll come up with combining our 2D and 3D digital making technologies.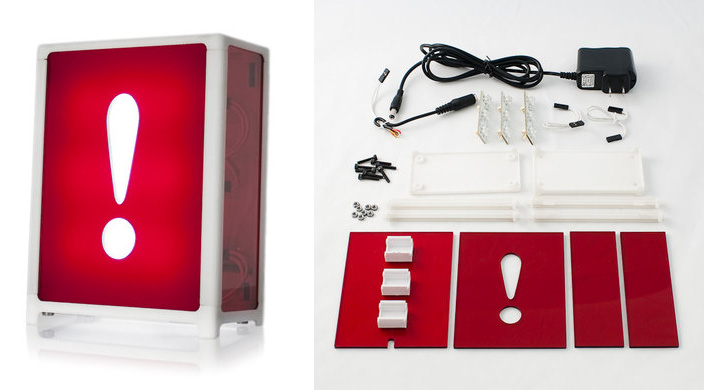 All Personal Factory 4 features are LIVE NOW and available from the Ponoko U.S. hub, and we will be rolling PF4 out to the rest of our worldwide network throughout 2011.
The Ponoko personal making system is available as an online subscription in two pricing formats: FREE and PRIME. Free is just what it says. You pay no subscription fees; you only pay for the projects you make. A Prime account is $39 per month and includes lower pricing, faster delivery and a design quality check before you commit to your custom order.
We set out to create the world's easiest making system where anyone could buy, sell, and make custom designs with the click of a mouse. Personal Factory 4 is another evolution in Ponoko's vision of a digital factory in every home, business and school, powered by its personal making system.
"If you can imagine it, you can make it," says ten Have.

So what are you waiting for? Jump to Ponoko.com and check it out!