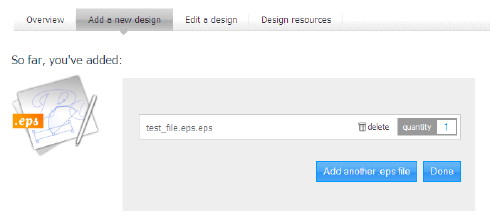 A step-by-step guide
Use this step-by-step guide to help you price your designs, change materials and reorder files you've made before.
Adding and changing materials
Here's what to do if you want to make, say,  one design file from two materials.
1. Add your first design file. Here's the screen you'll see.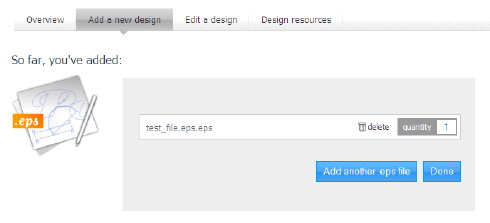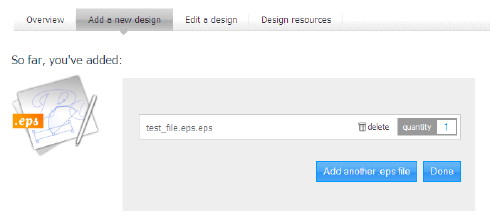 2. Click 'Add another .eps file' (or 'Add another .svg file').
3. Now you can upload a duplicate of your original file (you'll need one file uploaded for each material you want to use). Click 'Done' and you'll see this screen:
4. Now you can choose a material for either or both of your files: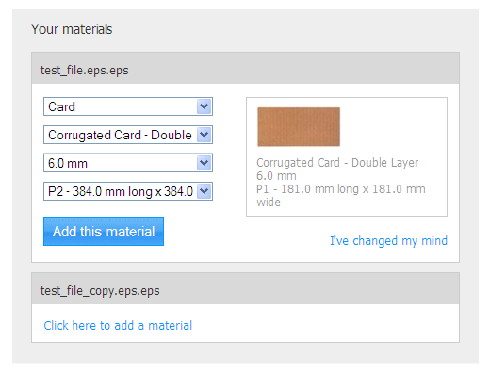 You'll see making and material costs listed as soon as you confirm the new material. Assess the costs and use the 'Change' button to try a different material type or thickness if you want to.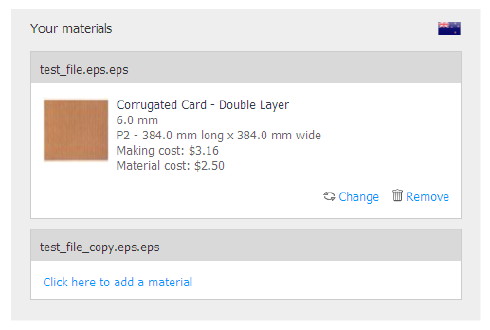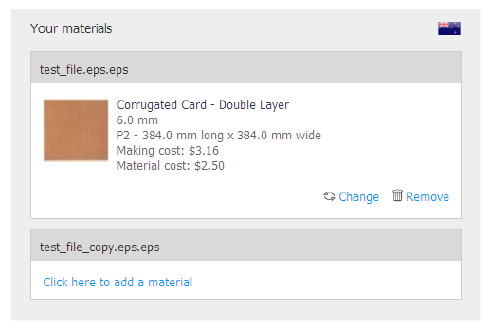 5. Now add a material to your second file: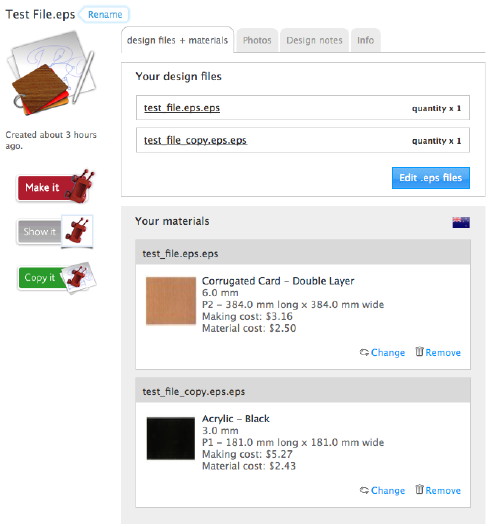 Other changes you can make to your file(s)
There are a few things you can adjust once you've chosen your materials:
1. You can rename your design set. Run your mouse over the title at the top left of the screen and click on it to edit.
2. You can change the number of copies of an individual design file you want made, or swap a file you've uploaded for another one. To do this, click 'Edit .eps files'. Any design files you replace are changed instantly – and the pricing information updated. If you adjust the number of times individual files are to be made, you'll need to click 'Save' to confirm the change.
Copying a design set
Once you've placed an order for a design set, all its settings will be locked until it has been made and shipped. You can, however, copy a design set. (Look for the 'Copy it' button shown on the screen below.) Use this function to adjust your original designs without affecting the ones currently in production. You can choose to copy the files on their own or the attached materials as well.

The quicket way to make only selected files from a design set
If there are any files in your design set you don't wish to make, all you need to do is remove the materials those files. When you click to make, you'll see your order only includes files that have materials applied.
This function has a range of uses. Let's say you only want to remake one of three files you originally uploaded. Just  copy the set, remove the materials from the files you don't want, and click 'Make it'.
Got a question?
Please get in touch if you have a question about pricing and choosing materials.  Either leave a comment here or contact us.