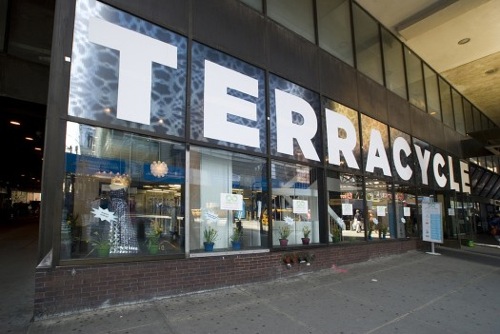 9,367,838 People Collecting Trash to Turn into Products.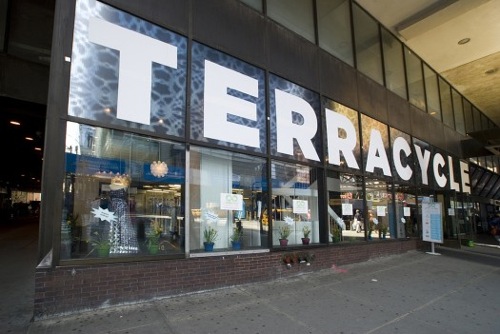 TerraCycle makes affordable, eco-friendly products from a wide range of different non-recyclable waste materials. With over 50 products available at major retailers like Walmart, Target, The Home Depot, OfficeMax, Petco and Whole Foods Market, TerraCycle is one of the fastest growing eco-friendly manufacturers in the world. Their hope is to eliminate the idea of waste by finding innovative, unique uses for materials others deem garbage.
Situated the corner of 8th Avenue and 41st Street at the Port Authority Bus Terminal in the heart of Midtown Manhattan, The TerraCycle 'Green Up' Shop was officially launched March 27th and will run through early May. The shop will feature TerraCycle's full line of over 100 products literally made from common waste materials such as chip bags, food wrappers, yogurt cups, glue bottles and writing instruments. In honor of the 40th Anniversary of Earth Day, the space is being transformed into what could be one of largest, most eclectic collections of sustainable, responsible products and companies.
Founded in 2001 by a 19 year old Princeton University freshman named Tom Szaky, TerraCycle started as an organic fertilizer company and has grown into a multi-category, eco-friendly powerhouse. Tom's dream was to find way a new, more responsible way of doing doing business that would be good for the planet, good for people and good for the bottom line!
TerraCycle also runs free national collection programs that pay non-profits and schools TerraCycle has exclusive partnerships with major CPG companies such as Kraft Foods, Frito Lay (Pepsi), Stonyfield Farm, Mars Wrigley and many more. The partnerships create free collection programs that pay schools and non-profits nationwide to collect used packaging such as drink pouches, energy bar wrappers, yogurt cups, cookie wrappers, chip bags and more! The collected materials are upcycled into affordable, high quality products ranging from tote bags and purses to shower curtains and kites. In addition, TerraCycle works with these partners to find innovative uses for all of their waste streams and, by making products from these various waste streams, TerraCycle prevents 1000's of tons of waste from going to landfills.
via PSFK