The Pollen Pendant is hanging lamp that is designed to be totally unique. By wrapping and weaving the material of choice around this pollen shaped structure, the user is able to provide their own personal touch to this modern design, a simple and effective realization of mass customisation, or possibly more correctly 'mass individualization' as per Lionel Dean of Future Factories.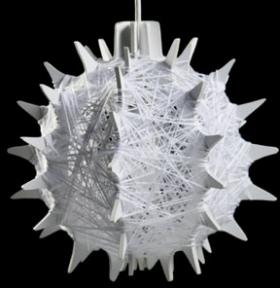 The ability to control the color, texture and material of this lamp makes this piece ideal for the truly creative. The piece shown above was created using white acrylic yarn.
This lamp includes:
.Matching white canopy (4-3/4″ X 3/4″)
.Mounting hardware
.Porcelain candelabra bulb socket
.Wire for direct wiring
.53″ adjustable cord
.A ball of white acrylic yarn and assembly instructions will also be included (to get you started)
The overall diameter of the Pollen Pendant is 15″ (318mm)
Designed by Relative Design aka Zach Thomas & Corey Daniels is available from their Ponoko Store but is also one of the first Ponoko designs now selling direct from bricks and mortar (as opposed to clicks and orders) stores such as Velocity Art and Design.
An inspiration for all Ponokosters to get their designs out into the design loving public..