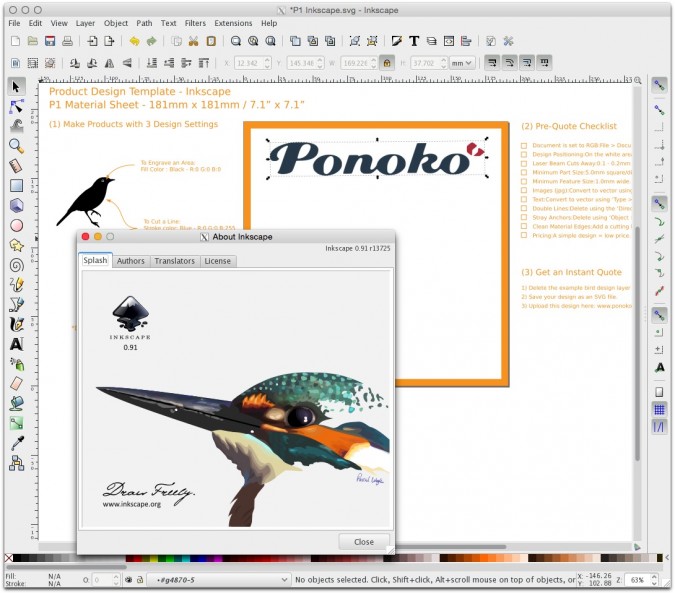 Long-awaited updates make Inkscape better than ever for laser cutting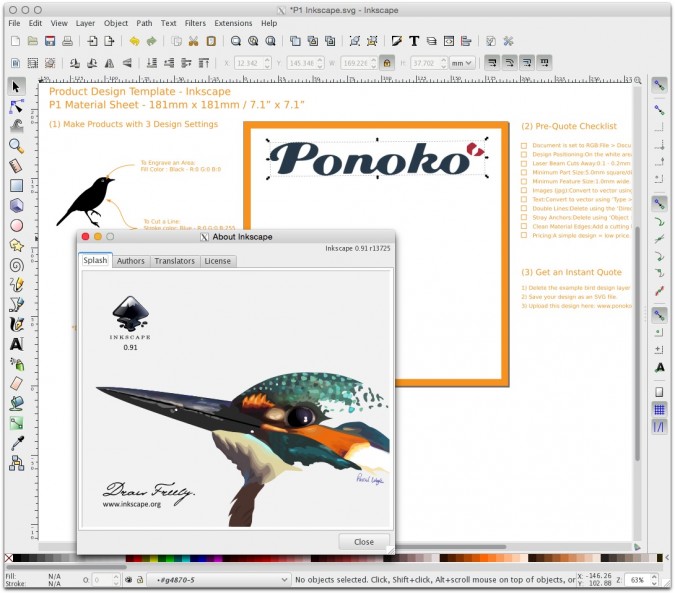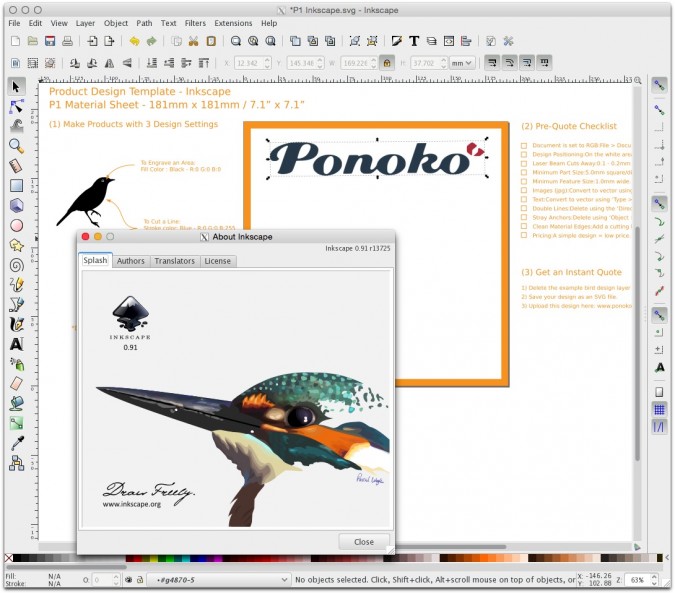 Inkscape users have been on the edge of their seats for some time now, waiting for the feature set of  this exceptional free design program to catch up with some of its more costly competitors.
With Inkscape 0.91, the first major release since August 2010, a ton of fixes and features have been introduced… and we are excited. For a full list of the new features you can check out the release notes, but we've picked out a few that are relevant to Ponoko makers:
Measurement tool – The Measurement tool is a new feature for the artist to measure the elements in their drawing. To use the measurement tool, simply choose the tool, click anywhere on the drawing and drag the ruler out. The measurement tool will live-update with measurements of length and angles as you pass over objects in your drawing.
Trace Bitmap – Trace bitmap preview updates live and is resizable.
Select Same – a new feature that allows an artist to select objects that have the same properties as the currently selected object. For example, you could select an object that has a fill of blue. Then, using the new feature select all other objects in the drawing with a fill set to that same shade of blue.
OpenMP multithreading – No idea what this is but it makes Inkscape substantially faster.
New & Improved Guides – Including quick toggling of guides, changing the color of a guide & labelling guides.
Improvements to Text toolbar – Text toolbar shows full list of font style variants for that font (used to be just bold, italic and normal. Hooray for extrabold and hairline fonts!
Improvements to node editing – The tool control bar for the Node Tool features a new dropdown to insert new nodes on the selected segments.
New Layers panel – Reorder your layers by simply dragging and dropping them.
Sounding good so far? For budget-conscious professionals and makers not using Inkscape yet, consider the difference a seriously capable (and free!) software such as Inkscape can make as an alternative to, for example, the Adobe move towards subscription pricing. Don't forget about Ponoko's handy free Inkscape Starter Kit, a valuable resource that can really help to save time and money.
Watch the following clip for a neat overview of Inkscape's new features and let us know how you go with the new updates in the comments below.
Discover more: Inkscape 0.91 release notes