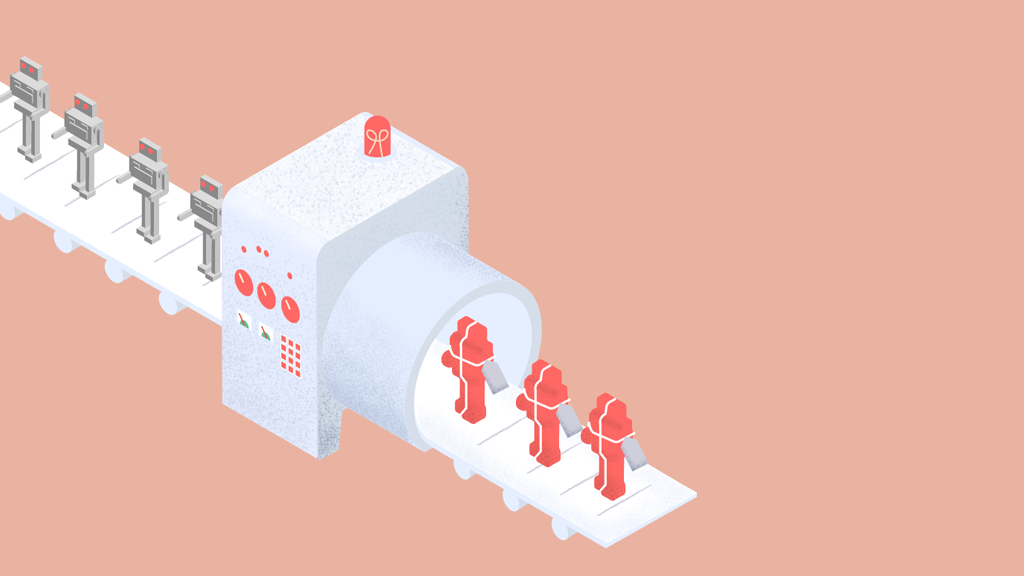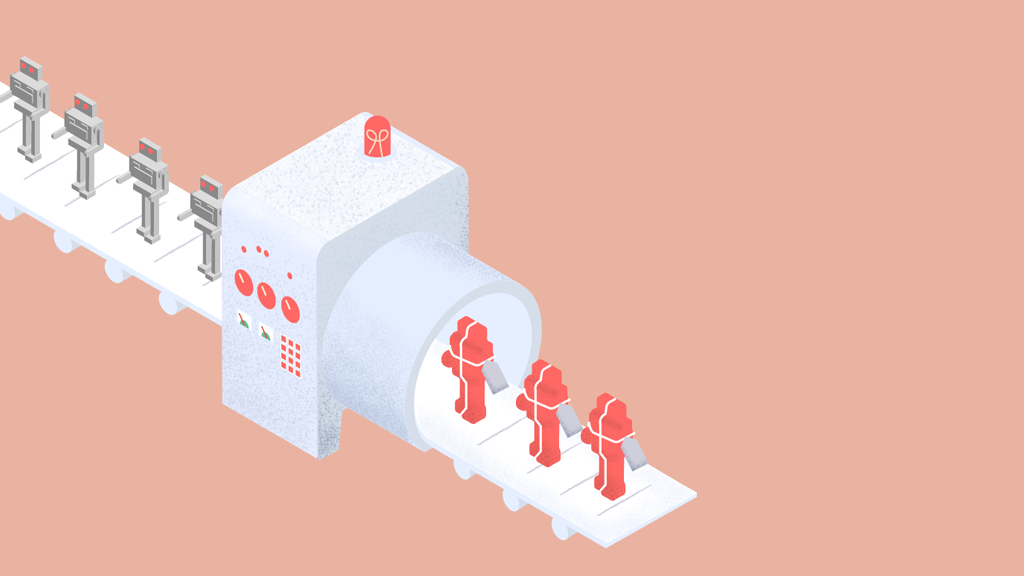 How To Make, Package And Price Laser Cut Products For The Biggest Sales Season Of The Year
Let's face it: Getting a product designed, made and promoted to sell for the holiday season is no small task. There are lots of details. And to have the greatest chance of success, you don't want to wait until the last minute!
That's why last month we kicked off a four-part holiday sales series to help you work through the process step-by-step. Just follow along so that no matter what kind of products you make—anything from electronics enclosures to jewelry to intricately cut holiday cards—you'll be ready for the biggest show in retail.
Preparing For Holiday Sales: Your Four-Part Plan
Whether you're new to selling your laser-cut products or an established maker who wants to increase your sales volume, this four-part series will guide you through the process to ensure you meet all deadlines and are totally prepared for holiday sales success.
Here's how the plan is structured:
Part 1: August – Ideation, design and prototyping
Part 2: September – Making, packaging and pricing
Part 3: October – Promotion begins
Part 4: November – Promotion increases based on what's working
At the beginning of each month, we're publishing the parts according to the schedule above and give you goals within each step to make the process easy—and fun. Let's continue with Part 2!
Your September Goals For Holiday Sales Success
In Part 1, we covered ideation, design, digital prototyping and physical prototyping. If you missed it, read all about it here. But don't skip these steps if you're just getting started. They're critical to your overall success! Instead, adjust your timeline (and put in some extra work) to get caught up.
Moving on to September, this month is all about getting your products ready for when holiday sales start in October. This is broken down into three goals:
Making
Turn your most successful prototype from Part 1 into your final product using your fave material. Then get market feedback.
Packaging
Design and make packaging that not only protects your product but also appeals to buyers while showcasing your brand.
Pricing
Determine your final pricing model so you can make the most profit while selling at expected market prices.
Let's look at each of these goals in more detail.
September Goal 1: Making With The Final Design And Material Choice
In Part 1, we brainstormed ideas on what kind of product we could make and sell for the holiday sales season. After doing some Google research, we wanted to explore the idea of simple Christmas decorations such as snowflakes because we know there is a lot of demand for them plus it's not too competitive to get a high ranking and lots of traffic.
After sketching out some initial designs and then digitizing them using our fave digital design program, we determined that a geometric interpretation of a snowflake would not only be better for laser cutting but it would also be different to many other designs already on the market.
After quoting a number of different options, simplifying our design and then prototyping it in cardboard, we were able to finalize the design. And with the $2 material samples, we were able to confirm our material of choice: Bamboo.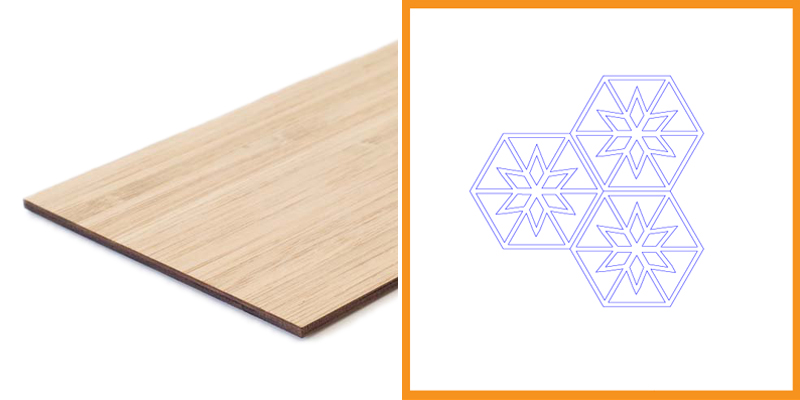 Make Initial Product Samples
Before committing to a large order, it's important to get some sample product in hand so users can test it out and provide feedback—and you can make any necessary changes.
To get started, we laid out the example snowflake design onto a P1 design template (the smallest material sheet size) and placed the order: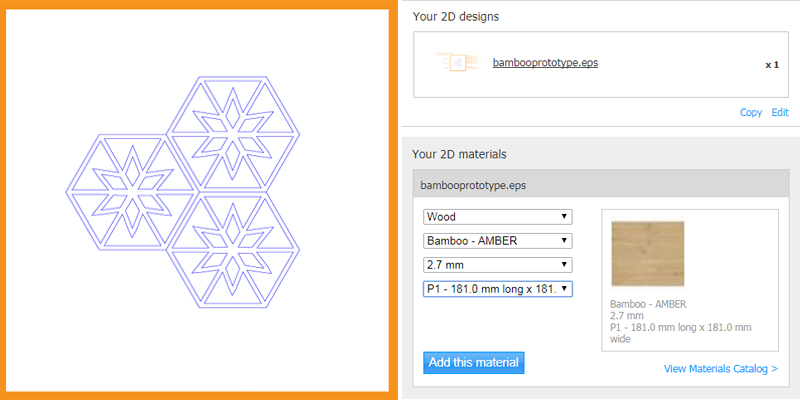 Getting the first real samples is exciting! And maybe even a bit nervous. After prototyping in cardboard, we had a good idea of what the final product would look like. But you never know until it's in hand.
Will the products look as great as you hope? This is also how your customer will feel—so this is the time to ensure you have everything right for holiday sales so they'll be delighted when receiving their order.
Here are the first bamboo samples of our snowflakes decorations. They look amazing!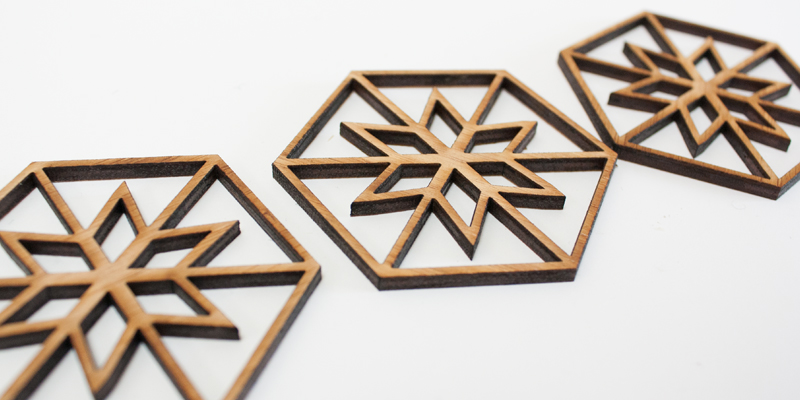 Initiate User Testing
Now it's time to let potential customers try out your designs for one final confirmation that you're on the right track. We needed some feedback not only of the design of the snowflake ornaments but also on the type of string that could be used for hanging. So we provided several hanging options and asked which they liked best.
We got in touch with friends, family members and our local gift store owner and his customers. They loved the design, and we were able to take pre-orders with the simple twine hanger (our favorite string style). This worked out perfectly because the twine not only fits with the natural aesthetic but it also only costs two cents per decoration.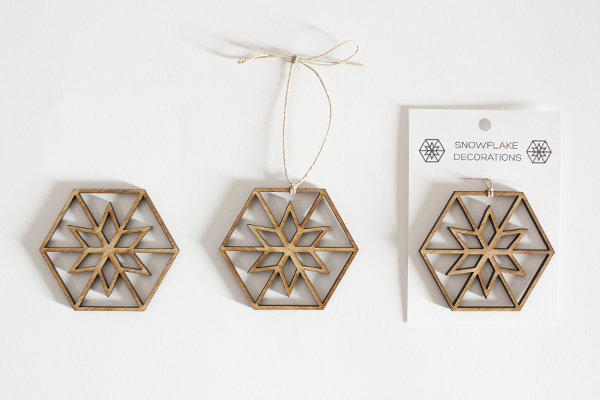 Getting these pre-orders are gold! Not only do these orders confirm that our design is great and we have buyers that are ready now, but they also give us confidence moving forward. Because we have a good indication that we're on the right track, we reduce the chance of wasting any time or money on a product that doesn't appeal to buyers.
So now that the product design is 100% finalized, it's time to think about how to package it.
September Goal 2: Packaging Your Product
Packaging is almost as important as the product itself. It must not only protect the product but also appeal to buyers while showcasing your brand. And with our snowflake example, the packaging also must have the capacity to easily be displayed via hanging.
Because our target audience is comprised of environmentally conscious buyers, using any kind of plastic was out. And we also want to keep the price low so that the packaging doesn't eat away at the overall profits.
Continuing with the minimal theme that we've used throughout the process, we designed a basic card backing from recycled materials that costs $0.22 each. Low cost and looks great!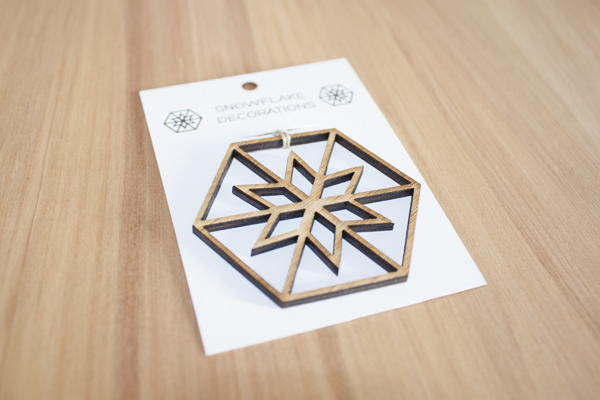 With the product line ready to go, it's now time to calculate the costs and set the final price.
September Goal 3: Setting A Profitable Price
Before we can kick off our holiday sales process, we must finalize the retail and wholesale pricing. To start, we used a simple "cost-plus margin" pricing model to ensure profitability.
Step 1: Calculate Total Production Cost at Various Order Volumes
In this step, we collect all our costs to determine how much we'll need to invest at the various order quantities.
Total Production Cost = Making + Materials + Shipping + Packaging Costs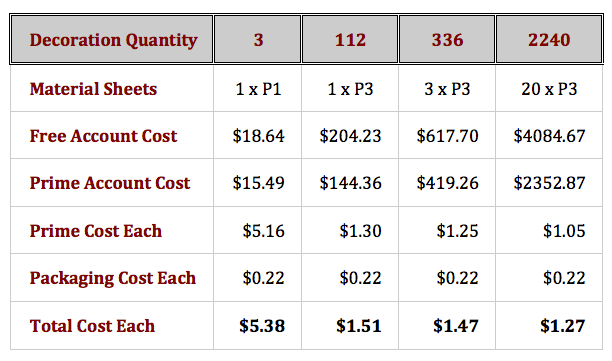 Step 2: Calculate Profitable Pricing
Now that we know all of the costs, what's it going to take to be profitable?
A standard pricing ratio acceptable to retailers is 1:2:4.
$1 of cost means a $2 wholesale price, means a $4 retail price.
In other words:
Profitable Retail Price = 2 x Wholesale Price = 2 x Total Production Cost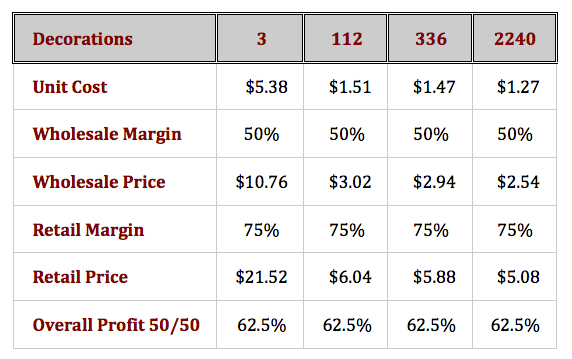 To make a profit, this model shows the retail price must be between $5.08 and $21.52 per decoration to retain a profit margin of 62.5% (assuming a 50/50 split in sales across both retail and wholesale channels).
Step 3: Set A Retail Price That Feels About Right
Using the information above coupled with knowing the competitive market price for Christmas decorations is around $6 each, a retail price target of $5.99 is a good place to start.
With this model, here are what profits would actually be: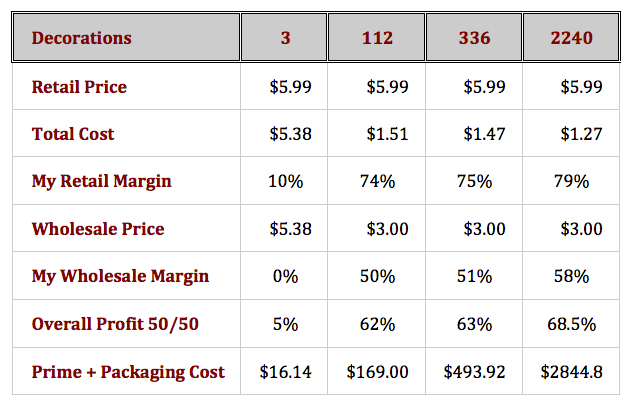 This third table reveals several important things:
1. Minimum Order Size
To hit a 62% overall profit margin, we'll need to order and package at least 112 decorations at $169 per order. This is a good place to start the business.
2. Most Profitable Order Size
To hit a 68.5% overall profit margin, we need to order and package at least 2,240 decorations at $2,844.80 per order. This is a good next step once there's a reliable stream of retail and/or wholesale orders.
3. Minimum Wholesale Order Size
To go above a 0% wholesale profit margin, we must sell to retailers in a minimum batch of 112 decorations at $169 per order to hit the desirable 50% profit margin.
4. Tough Retailer Negotiation
If a retailer will only pay a wholesale price of less than $3 per decoration, they must order at least 2,240 ornaments for us to retain a decent profit margin.
5. Taking A Tiny Step First
It is possible to order and package just three decorations at $16.14 and sell them retail at a 10% profit margin, which is really nice to know if we don't want to spend $169 at the next level up. However, it is not possible to sell this small order size at the $3 wholesale price because it is a net loss.
Of course, for those just getting started you can relax some of the 1:2:4 pricing "rules" to align with your specific situation and desired profit margins. But they're a great place to benchmark what is actually going on with your cash flow until you get more sales and experience.
Profiting From On-Demand Inventory
Continuing on the path of keeping costs low, what would happen if we decided to keep stock digital until we had customer orders? This way there would be zero cost until a sale is made and cash is collected.
The third table above shows that we can order just one set of three snowflakes at $16.14 to fulfill three $5.99 retail orders at a 10% retail margin. But we would make nothing on a wholesale order, which indicates that we need to set a minimum wholesale order size of at least 112 pieces. And to maintain healthy profits in general, we might like to produce at least 224 pieces so there is additional stock on hand for fast delivery.
Without profit, we can't continue our passion of making things for others. But with profit, we can create all kinds of new possibilities. And so can you!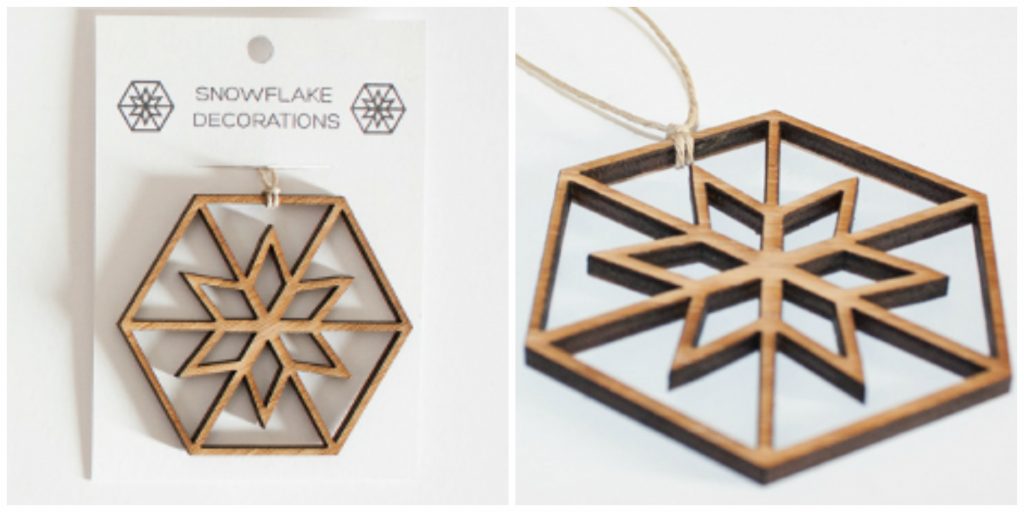 Stay tuned for next month's installment of the holiday sales series where we'll start promoting our products. It might seem early, but starting holiday season promotion in October is a great position for your business to be in. In Part 3, we'll dive into the various methods of promotion so you can choose the one that not only appeals to your target audience but is also most suited to your strengths.
But for now, get started on the three September goals we've just gone through. This will ensure that you have plenty of time to order inventory, make the proper packaging and determine the ideal price point so you're all ready to start the promotion phase next month.
Good luck!