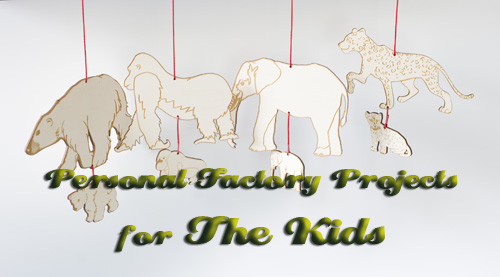 Plus make-your-own Kid Stuff with FREE files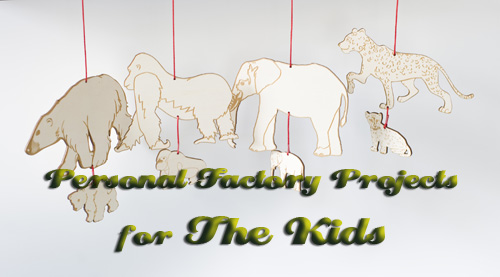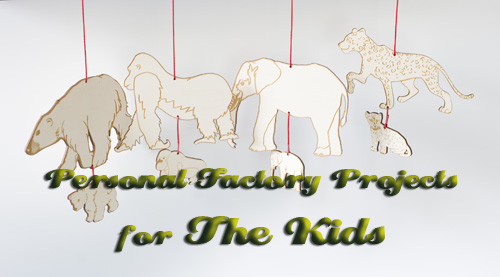 Got kids? Know someone who does? There are always some running about, squealing, getting in the way and demanding treats. At least that's what I hear. So what can you do? You can 1) ignore them, 2) tell them to get back in their cupboard, 3) buy them something plastic from the nearest department store, 4) buy them something that didn't get assembled by their peers in a third world country somewhere, 5) make them something yourself. The good news is that we can help with the last two.
Ideas, inspiration and free stuff after the jump:
Games and toys
For cerebral enhancement you can laser cut a chess set from 3mm acrylic of the color of your choosing. As a bonus, occupy the kids by getting them to assemble the pieces themselves. The prolific scribbler and fractal artist Mr Velocipede has created various sets of a Scribbling Engine based on the wonderfully addictive Spirograph. Wood Marvels offers an extensive collection of a variety of flat-pack plywood toys to be laser cut or CNC milled, which will. There something for every little person – from a budding palaeontologist to a pilot, architect or builder. Should you be after a doll house, why not get something less conventional – a Lighthouse laser cut from MDF, perhaps?
Kids' room
When conventional seating isn't exciting enough, there is always the option of a Rocking Horse, although someone should design a rocking dinosaur or bear or maybe even giraffe. Because really, when does one get to ride those in real life? If under-the-bed monsters are an issue, why not scare them off with a Rocket Light? Everyone knows that bedroom monsters have a fear of rockets. The rocket light is cut from super-durable polypropylene, so even the scariest of monsters can't destroy it. A child's room needs a clock, and Decoylab offers an amazing range of laser cut bamboo clocks in shapes of cute animals.
Free files
All gift giving should come with an MIY incentive. Few are as enticing as free files that you can download to make your own stuff for kids. Grab a file, make as is or personalise it to create a more unique plaything. Construction sets are a certain success with kids of all ages. In this uncertain economic environment, it's never too early to teach children to save. We decided that piggy banks are too yesteryear, so Ponoko's Rich Borrett designed a Sheep version for 3D printing instead. It looks way too cute and cuddly to be smashed with a hammer. It would be rude to leave out extra small baby children, so we have a laser cut Animal Mobile. It's not quite a jungle because polar bears would get seriously overheated at that latitude. Finally, there is a super-quick corrugated Cardboard Rocket from Ponoko's Josh Judkins. There's one for US cardboard and one for NZ.