Retail Ready with Decoylab

As promised in December, this year we've started a regular feature focussing on small businesses.  This year's first interview is with Maiko Kuzunishi who has earned a worldwide following with her Decoylab range of beautiful eco-friendly and quirky clocks.  Maiko also creates jewellery that visually echoes her clocks, and more recently she added additional products for the home to her selection of existing and ever-evolving designs
Getting Started
• What made you decide to start your own business?
It was the emptiness I felt inside after dedicating 8 years of my life to working for design companies. Some say "In order to find what you want, know what you don't want first." That's exactly what I did. The career oriented mentality, competing for "Best" designs, working endlessly on computer for seemingly unimportant projects – those are the things I no longer wanted. In 2006 I resigned the company and decided to "take a break." I had no idea what was in store for me but took a step to move away from what I did not want.
The first year was chaotic to say the least but I eventually figured out that I wanted to be a mom and I began imagining doing what I love doing and making a living. Some sort of a paradigm shift happened soon after and both things manifested (at the same time actually). I did not imagine making clocks for a living but it was exactly what I wanted. After that, my focus has been to not waste my time (life) on something I cannot pour my heart and soul into.
Read the full interview with Maiko after the jump:
• How did you decide on the clocks?
I've experimented with many different products. Since I've been a graphic designer / illustrator, I was focusing more on products that I can put my graphic images on. I've made melamine plates, T-shirts, calendars and I currently offer brooches, coasters, clipboards, tea towels etc. But by far the clock is my main focus.
The clock business came about because I had a light bulb moment while putting together calendar designs one year. It was an image of cuckoo clock I've made and I thought it would be funny to put a clock motor behind it and turn it into a functional clock. I then posted both calendars and few clocks on Etsy. Then orders for the clocks started pouring in. I knew immediately that there was something special about the clock direction and that it could be a niche market, so I decided to focus on that and wanted to challenge myself to see how far I can take this.
As I started making more and more clocks, it began to bother me just how much waste it produces while making products. As a responsible inhabitant of this earth I wanted to do my best to minimize waste and choose materials for product and packaging that are more friendly to our environment. If the waste was unavoidable I wanted them to be either renewable, reusable, biodegradable or recyclable. Which is why most of my clocks are made from bamboo now.
• What skills did you already have when you started your business and what did you have to learn?
I had graphic and web design skills which helped to give my business a 'professional' appearance from the start. Also as cliché as it sounds, I followed my heart and trusted my instinct. I learned the rest of 'technical stuff' as I went. I went to see an accountant and found out what I needed to set up my business legally. I learned how to bookkeep, price my products, handle difficult customers etc.. All by trial and error.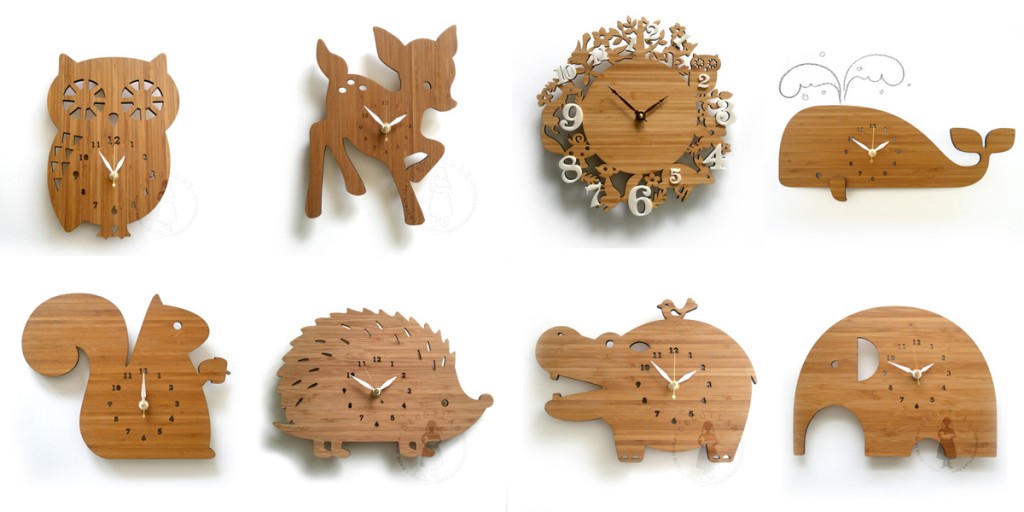 Business as Usual (or unusual)
• What is the most challenging part about running your own business?
The most challenging aspect is keeping a certain level of detachment where I can step back and have an honest perspective of myself from an areal view when things become hectic. I have to remember that this is all a game that I've created, and that while I take what I do seriously, I can't get too rigid with my rules and ways of thinking.
• Do you generally create small production runs or make to order?
I do both. The best part of using Ponoko is that you can make as many or as little of products as you want. Therefore it can be demand based. It allows me to experiment and be flexible with my designs and I do not have to waste money on designs that are not so popular. Typically, my wholesale is made to order. I carry certain amount of stock for each design for individual sales.
• How do you balance your creative drive with entrepreneurial requirements?
I aim to balance, but truth is it's usually one way or the other. (so I guess in a grander scheme of things it's balancing itself out?)
I look at my business like I look at my 4 year old daughter. They both have their own wants and needs. A lot of times, I have to attend to their needs before I can attend my own. I can pour my heart and soul into both of them because I LOVE them and that also gives me strength to get up in the morning and give all I've got every single day. But I do get tired, exhausted and grumpy because my needs are not met. — I'm learning as we speak. — I am figuring out that the only way to get my needs met is to make time for myself. That means putting everything aside and dedicate a chunk of time to play.
Makin' the Money
• What type of selling outlets are your products in?  Shops, online?
Lots of places. I have a distributor in Australia who covers the entire Australian region for sales. I have Etsy shop and my own shop. And I have dozens of online retail shops that I dropship products for and lots of wholesale relationships with retail shops (small to large companies) all over the world.
• In what ways do you promote your business? Facebook, Twitter, G+, Flickr, print media?
I have faith in social media and much trust in people who would talk about what they love to have in their homes. I myself do not have enough time to invest in Twitter or Facebook as much as I would like to, so I do not actively promote my business in those areas. It may sound strange but it's not my goal to sell LOTS of clocks. Quality product and meaningful transactions are very important to me so I'd rather sell smaller QTY to people who really want and love them.

Sage Advice
• Have you made any business decisions that you regret?
Absolutely not. 🙂
I've made many mistakes but regretting is not something I do.
• What would you say is the key factor to your success?
Key factor to my success, is that I define what success is for me. I feel victorious and successful when I overcome obstacles. I feel successful when I achieve my goals. It's not difficult to be successful when you are making up your own rule and marching to your own drum beat.