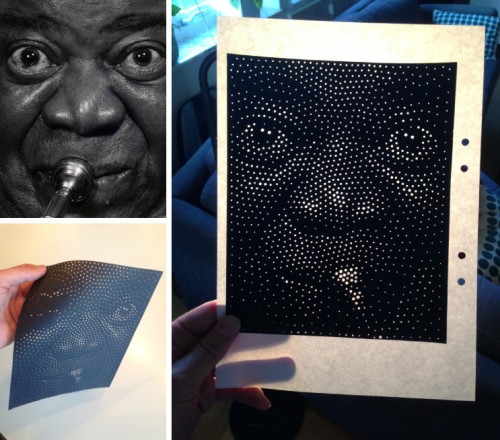 Going dotty over laser cutting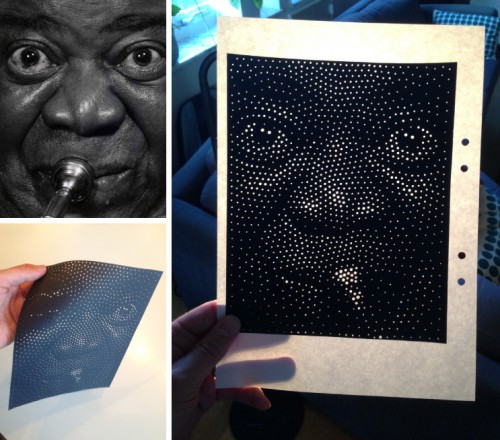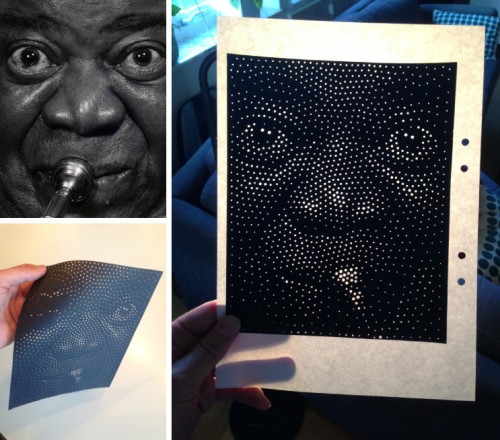 When Jens Clarholm built his impressive DIY laser cutter, he was well aware of the limitations imposed by the low powered laser. While it may not cut through wood or steel, it does do a very neat job of cutting paper.
One great way he has explored this is by having a play with StippleGen2, a nifty program from Evil Mad Scientists. The program uses a special algorithm to convert an image into tiny dots. There are a number of ways to manipulate how it does this, as the calculations are repeated over and over again and the final graphic is refined. StippleGen2 is easy to use and a lot of fun.
For this experiment, Jens chose an iconic image of Louis Armstrong playing the trumpet.
After letting StippleGen2 crunch the numbers for a while I imported the resulting vector graphic file into inkscape and generated the G-code so that I could use my laser cutter to cut the image into black paper.
The cutting process took a little over 2 hours, which isn't too bad when you consider that there are over 1000 holes in this particular image.
There is a lot more that StippleGen2 can do, so if you are intrigued by Jens' experiment you can have a go with StippleGen2 yourself or learn more about Jens' DIY laser cutter here.
via JensLabs