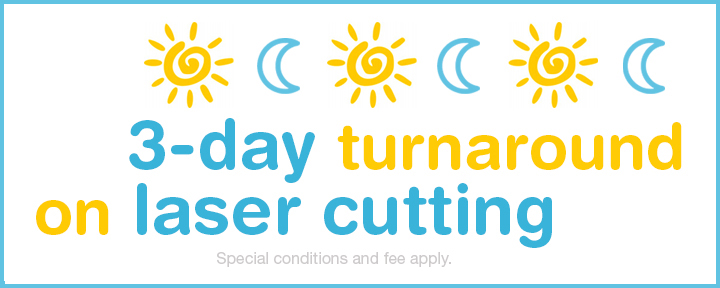 By popular demand, 3-day turnaround has been extended!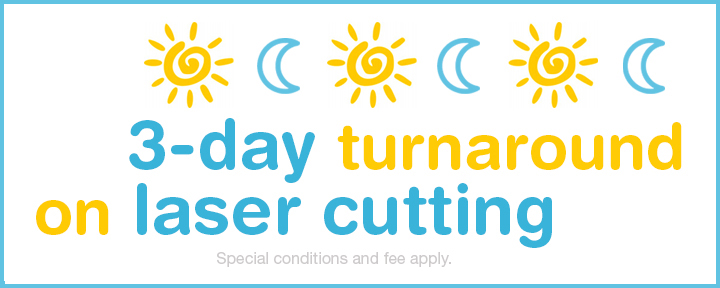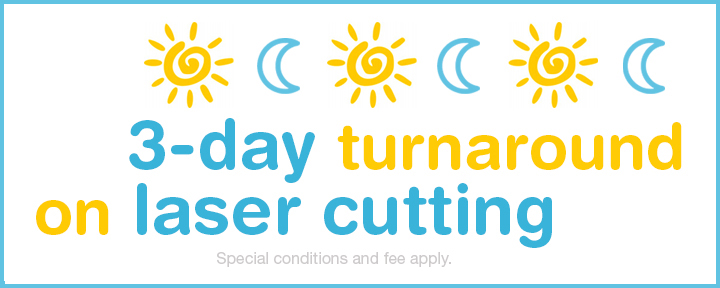 How to get 3-day turnaround on your order:
---
1. Upload your file, and place your order.
2. Type "3DAY" in the *special shipping instructions*—not the coupon code field—AND include your PAYPAL email address!
3. We will email you a PayPal request for a fee based on your order amount (see fees below). If for any reason we can't get your order out (such as out-of-stock materials or your files literally take 4 days to make) we'll email to let you know and work something out.
3-day turnaround fees:
---
• Orders up to $50 = $10 fee
• Orders from $51 to $100 = $20 fee
• Orders from $101 to $150 = $30 fee
• Orders from $151 to $200 = $40 fee
• Orders from $201 to $300 = $60 fee
• Orders from $301 to $500 = $100 fee
• Orders from $501 to $1000 = $150 fee
• Orders over $1000 = contact us at service-at-ponoko-dot-com
Good news, people! Our trial period offering 3-day turnaround worked out great! 25% of all orders upgraded to 3-day turnaround. The fees we collected offset the extra work hours, and we managed to turn out 3-day orders while simultaneously bringing our general lead times down.
The tech team is already at work integrating a 3-day turnaround option into the Ponoko site. We've had several people contact us asking if we could extend the deadline for them, so we've decided to just keep processing 3-day orders manually until this feature goes live.
Thank you SO MUCH for your support. If you've got any questions on 3-day turnaround, email service-at-ponoko-dot-com