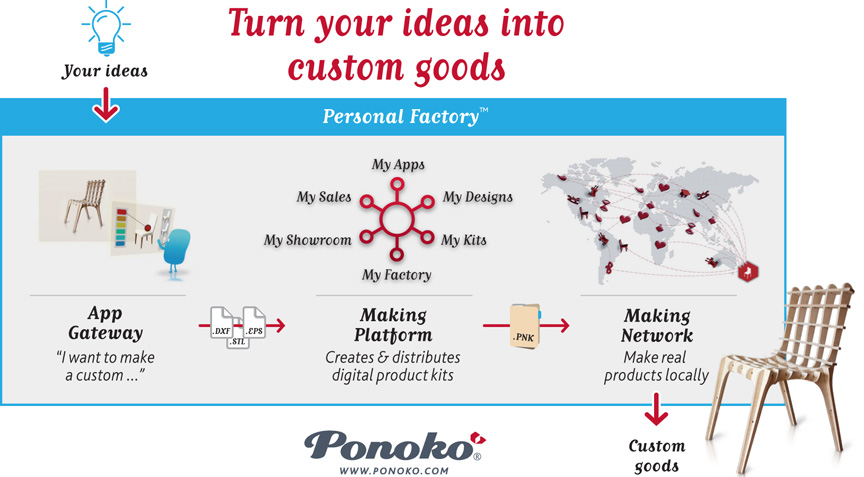 Making apps & CNC routing are here!
Today I can proudly and confidently say that Ponoko is at the leading edge of the digital making industry.
From day one, we envisioned Ponoko creating a platform that would change the rules on who was able to make things and the way things were made.
This goal is being achieved by connecting a network of people who want to design and customize their own products with a network of digital manufacturing technologies that can make products on-demand closest to the point of consumption.
Today Ponoko expands both of these networks with the release of Personal Factory 5.
Personal Factory 5 is the biggest advancement of the Personal Factory platform since we launched in 2007, and in a moment you'll see I mean that literally. :- )
The 5th release of our platform gives a larger group of people the ability to create their own products in more ways.
I'm talking about apps. More specifically, 'making apps'…

Personal Factory 5 introduces the App Gateway — a wonderfully diverse directory of 'making apps'.
The Personal Factory App Gateway brings together 3 creative forces: creative consumers, software developers, and the Personal Factory platform.
It is a directory of 'making apps' that have been built on Personal Factory. These apps enable creative consumers to design and customize their own products, get an instant price, hit "Make it", and get their individualized designs made locally and on-demand.
I'm really excited that the first 'making app' available on the Personal Factory App Gateway is Autodesk 123D …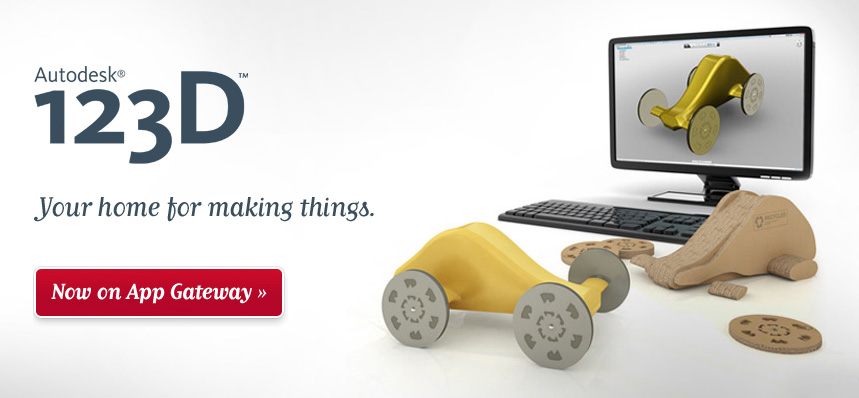 Autodesk 123D is a free 3D modeling tool combined with content and making services.
It's a great design tool both for beginners and more advanced makers — easy to use, precise, and built specifically for you to make things.
You can find Autodesk 123D on the Personal Factory App Gateway right now. Make your own models, download and customize one of the native 123D files, or get a prefabbed assembly kit like this elephant …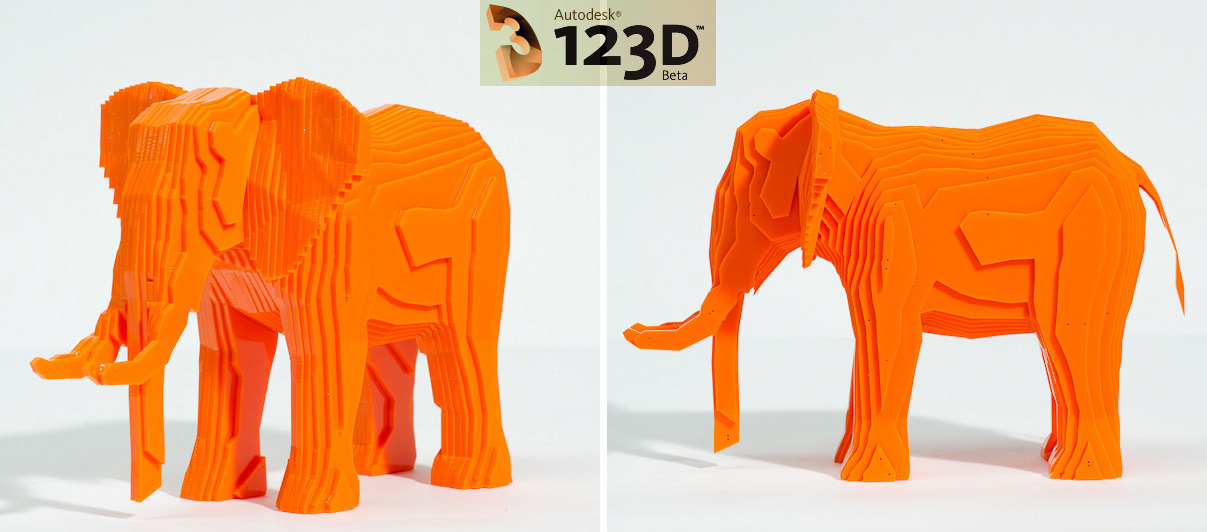 (If you're interested, you can read more about the Autodesk Ponoko partnership).
There are also other 'making apps' coming soon: customized lighting from Fabripod, custom furniture from SketchChair, and architectural models from Gehry Technologies, just to name a few.
And we're inviting creators of 'making apps' to build many more using the Personal Factory API …


The Personal Factory Developer Program is designed for creators of 'making apps'.
Software developers – large and small – can join the Personal Factory Developer Program to create and distribute 'making apps' using the Personal Factory API and App Gateway.
The API gives you the opportunity to create product design and customization tools without having to set up manufacturing and distribution channels.
And when you've completed integrating your apps via the Personal Factory API, you can then submit your apps to be distributed on the Personal Factory App Gateway.
What 'making apps' do people want?
To get some great ideas on the kinds of products people want to customize with an app, we've been gathering app suggestions and public votes on the most popular app ideas.
Developers can check out the kinds of 'making apps' people want, and the rest of us can suggest app ideas and vote for our favorites.
Now here's what I mean when I say Personal Factory 5 is big …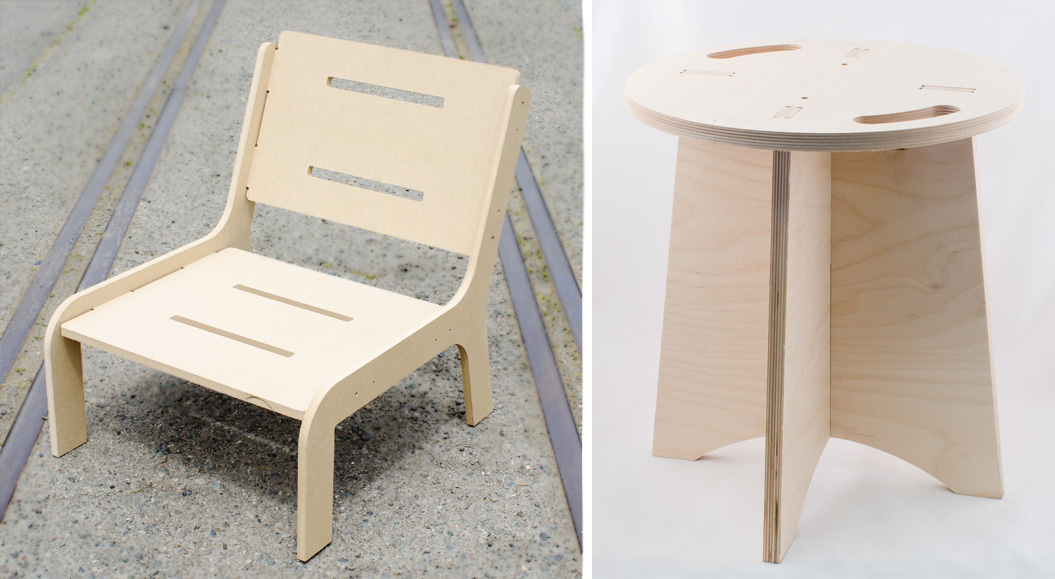 Personal Factory 5 also introduces CNC routing  — you can now design, customize, and make big things.
This is something I know many of our makers will be happy to hear. The new CNC capabilities of Personal Factory open up all kinds of new making possibilities, not least of which is the ability to make bigger stuff.
To give you an idea, our own industrial designer, Dan Emery, has created the fantastic lounge chair pictured above, and designer Bill Young made the side table. (You can see Dan's 3D printed / laser cut Exclamation Lamp sitting there too!)
CNC expands our current lineup of digital making technologies which also includes 3D printing and laser cutting.
Combining these methods with our ever-growing catalog of materials and electronic components, people can truly create almost anything.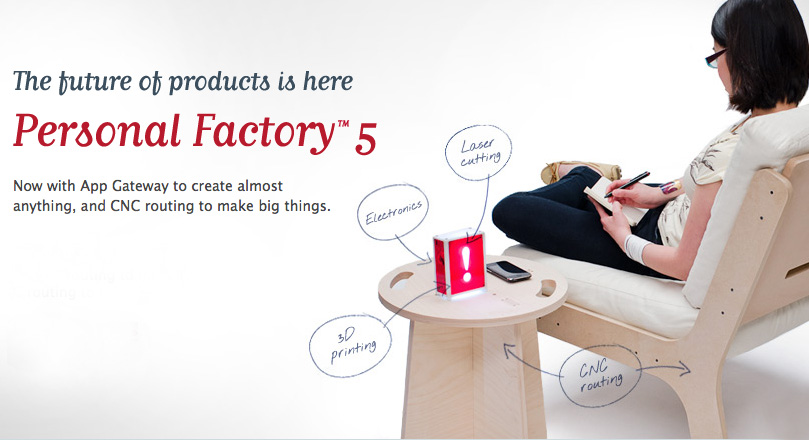 Personal Factory 5 is the world's most advanced platform for the mass customization of goods.
Version 5 is a milestone in the evolution of Ponoko and our vision of powering digital making for every maker, business, school, and home.
We're connecting software developers with people who want custom products with the App Gateway. We've formed a partnership with a major US company, Autodesk. We've added yet another fabrication method, CNC. And last week we welcomed a new member to our advisory board, Wired editor-in-chief Chris Anderson.
I look forward to seeing what makers will create with these new tools and what 'making apps' developers will create with the new Personal Factory API for inclusion in the App Gateway in coming months.
And if you will be attending this year's Maker Faire, May 21-22 in San Mateo, stop by the Ponoko booth or the Autodesk booth or the Google booth to see some of this exciting stuff in person and chat with myself and other members of the Ponoko team.