Architectures of Control recently reported on some interesting pieces from the New Designers show in London. Dan Lockton's blog carries some great discussion on design to influence behaviour and as such he often finds some excellent examples of customised design, or design for a very specific need or user.
The one that caught my eye as an attractive bit of design, with a peculiar function, was Jennifer Hing's 'Push' Table. Best described by this picture: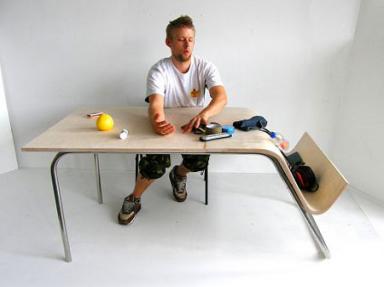 Not a design suitable for or needed by everyone by any means, depending on your desire to tackle untidyness at a causal level or not! Hing talks about her process in this way:
"I design around people's natural behaviour, bending objects around the fine details of living."
Its interesting what results one gets when you bend the object in response to behaviour, as opposed to the usual model of the all-powerful unseen designer, despite his or her best efforts, bending behaviour by designing objects-for-all.
Dan, always the usability expert, puts it like this:
"[the table] intentionally afford users what they'd like to do anyway, at just the right moment:"
I don't doubt that we all want to clear our desks by sweeping things over the edge, but I personally feel the need to bar myself from doing so, preferring to tidy up. This kind of product inherently splits the mass market down the middle, so is much better suited to smaller scale production: I doubt it would make it to the mass market, being just that bit too esoteric – yet for me, products like this could excel in a more distributed, 'long tail' market, where manufacturers can indulge users who desire bespoke products, while still having the economics make sense. And for this to happen, lighter-weight, more direct production processes and open sourcing, such as that demonstrated at Ponoko, are essential.