Make It Shareable. With An Idea For Amazon.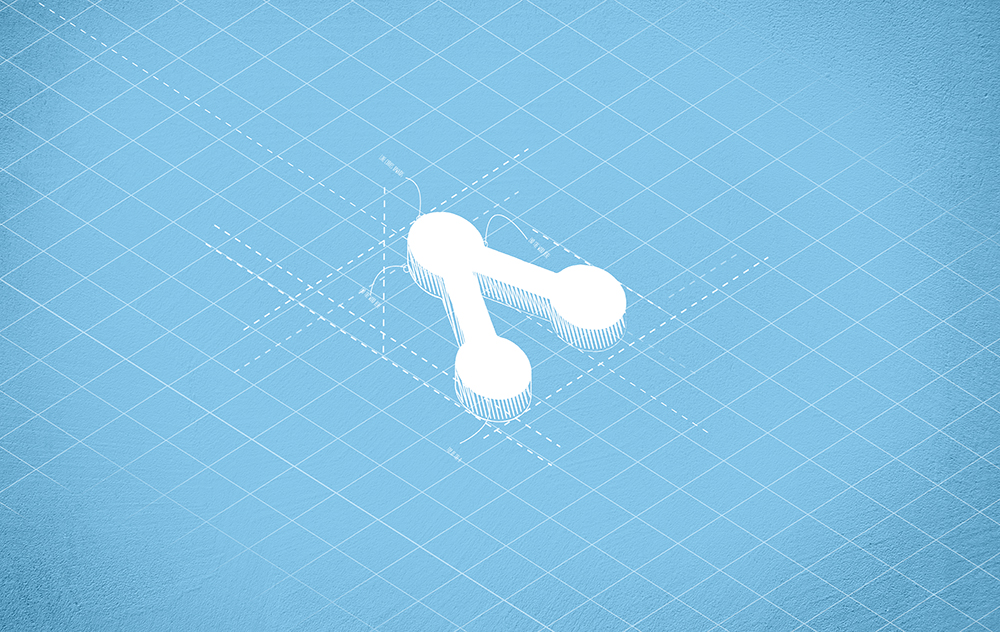 Buzzworthy. Shareable. Viral. Qualities so desired by event managers that they'll work all year long to create an experience so interesting, so captivating, so significant that attendees are compelled to share their opinions about it before, during and after the event.
It's a monumental task, one where much attention is spent on food and bev, logistics, keynote speakers, education forums and networking parties. Rightfully so. All of these attributes go into creating the collective "event experience."
But what typically isn't in this strategic conversation?
Promotional products.
Swag Is Shareable
We've talked throughout The 12 Immutable Laws Of Event Marketing Swag series about how event swag is often an afterthought. With mere weeks before an event, there's often a panicked "I must have some kind of giveaway!" moment, and a quick product search in a catalog or online ensues.
But this late in the process, strategy is forgone and you must settle for what's available in a rush. And this typically means a generic product picked out of a catalog. No design. No alignment with brand DNA. And no emotions to tap into to create a sincere experience.
But by incorporating event swag early into your event planning process, you can design products that have the specific purpose of enhancing the event experience so that attendees not only share your event socially but they include the promotional products in their social shares, creating an even stronger bond with your brand.
Can swag really help create buzz during events? To find out we took on a challenge to design actual product ideas for event giveaways for some of the world's best tech brands as examples. The goal is to create truly custom promotional products that fit the example brand like a glove by baking in the DNA of the brand + audience + event.
Additionally, the products designed must achieve a measureable marketing goal, be different from every other promotional product at the event (read: be different than the competition), be different from every other promotional product the brand has used at events before, and it must be packable in carry on luggage—because what good is it if recipients can't take it home with them!
Keep in mind there is no endorsement of any products by the brands represented. We're simply trying to tell a story of what IS possible by using brands and events that you know and understand. So check this out:
Event Marketing Swag Idea: Laser Cut Robot Kits
The Brand: Amazon
The Event: Amazon Web Services re:Invent
The Audience: Developers
The Marketing Goal: Create word of mouth at the event, to entice others to the booth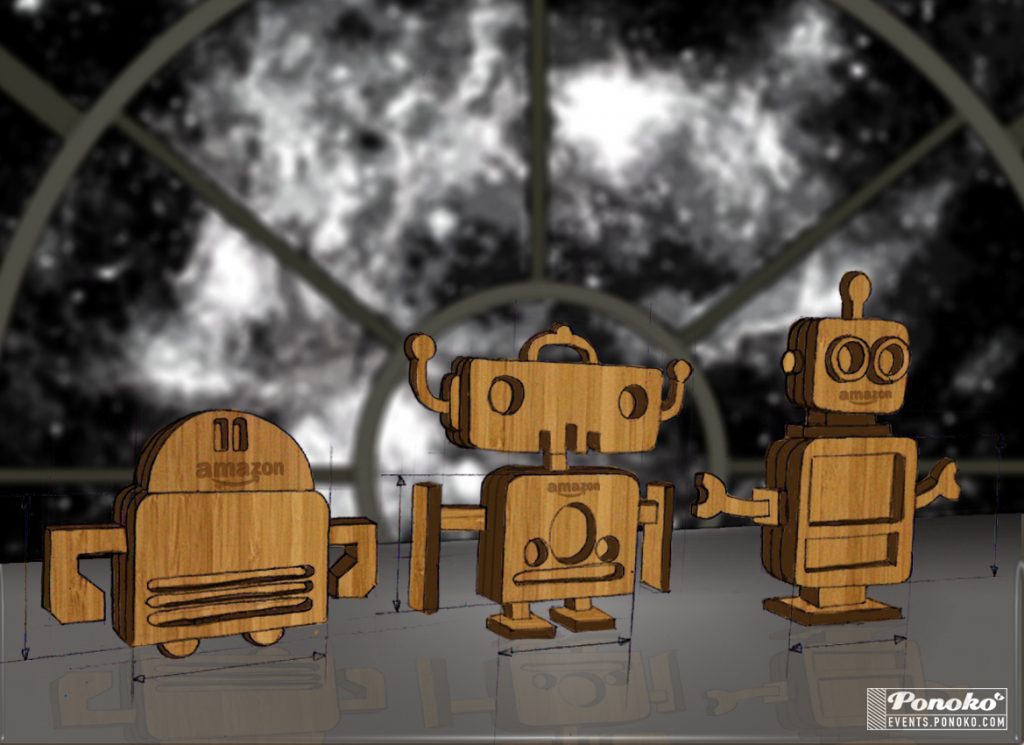 Robotic droids are a hot topic. Hot! Whether you like Transformers, Star Wars droids like the new BB-8 or the real-life robot Wally that delivers food and bev to guests at the Residence Inn, robots being integrated into our lives is no longer science fiction.
So what better way to get some social buzz at Amazon Web Services re:Invent than to tap into the trend with promotional laser cut robot kits.
AWS re:Invent is a global customer and partner conference that gives small businesses access to tools previously only available to big companies. They do the hard work and help you scale your business. It's kinda like having your own personal droids.
To showcase this theme, the laser cut robot kits would be displayed in the tradeshow booth to get the conversation started. Imagery of a cloud galaxy far, far away could be used to set the scene.
Fun marketing copy could be created to further the messaging:
Say hello to EC3, S3 & RDS. These are the AWS droids you are looking for. Tweet what you'll do with your favorite droid using #AWSdroids & we'll send him to you.
This idea works for a number of reasons. First, it taps into the popularity of droids featured in movies such as Star Wars as well as the real conversations people are having about the future of AI.
Second, it creates conversation at the event—both online and in person. People see other people's tweets and want to get in on the action. Using a hashtag such as #AWSdroids helps track these conversations and gives the opportunity for on-site interaction with attendees who are tweeting.
Third, offering to send the laser cut robot kits is useful in lead generation (must have address to mail) plus it eliminates an inventory issue of stocking the kits in the booth and frees up tradeshow staff to talk to customers about their business instead of managing the kit giveaway process.
Use Promotional Products As A Catalyst For Creating Event Buzz
How can you keep attendees engaged before, during and after the event? With some damn good planning—and the right swag.
Did you know that almost equal numbers of attendees and wishful attendees talk about the event in the days and weeks prior? Yep. It's true.
In fact, Buffer did a year-long study of more than 25 million social media posts from 50 of the most popular events—everything from music festivals to endurance races—and learned that 40% of social posts occur pre-event and 42% happen on site. So it's just as important to get social prior to the event as during it.
How can you incorporate promotional products into your social media marketing to generate this kind of buzz? Some ideas:
Host A Twitter Poll
In the pre-show planning stages, narrow down your swag choices and ask attendees which one they'd most like to receive at the event. Not only does this start conversation around the event, but it also gives you important insight into what branded merchandise will be successful. Learn how with this Twitter poll tutorial.
Create Teaser Content
Once you determine the kind of swag you'll use, start hinting at what it could be. Take close-up photos that just show a portion of the item and ask attendees to guess what it is. Give hints about size, color, function, etc. Have fun with it! Retweet people's guesses and ask others if they think the guess is correct. When someone does guess correctly, give them a big social shout out and show the product in full. You could even give an iTunes gift card to the winner as added thanks for playing along.
Share Behind-The-Scenes Photos
The Buffer study found that anticipation and excitement accounted for 14 percent of the total posts shared on social media about events—the largest single percentage among any type of pre-event tweet or post. "Sharing behind-the-scenes pics and stories well before the event begins is a great way to boost conversation and engagement," writes Rachel Grate in the Buffer article Event Marketing 101: How To Keep Attendees Engaged Before, During And After Your Event. "These brief glimpses can help make a personal connection with possible attendees. By producing the type of content that event enthusiasts are already posting, you can join and help shape the online conversation."
Have A Photo Booth
Once at the event, use a photo booth to help attendees share their event experience. Encourage them to include your swag in the snaps and have fun. Also add a branded banner to the bottom of the photos to make them special to that event.
Create A Post-Show Swag Photo Contest
After the event, have a contest for the best photo showing your swag back in the real world. Narrow down the contenders and have your audience vote on the winner—and then give them something special.
So what do you think? Can using swag strategically create buzz around your event participation? With creating buzz as a goal, will you change how your swag is designed?
Let's get the conversation started. We'd love your feedback and constructive criticism in the comments. Also let us know what promotional products you've received that have really made you say "WOW!" Got ideas on what event swag you've never seen but would love to receive? Let us know that, too.
"There are lots of reasons that things go viral," says Kala Linck, community and content manager at Duct Tape Marketing. "More often than not, viral content pulls an emotion out of the reader or viewer. Making sure your content is relevant, refutable and/or relatable is a good way to start inviting those emotions that will make people want to share your content."
The beauty of promotional products is that they can tie into these emotions. You have the opportunity to create that little something special to make the event—and the promotional gifts—uniquely you. Something unexpected. Something your attendees haven't seen before…but would love to have. Something that gets people talking. Buzzing. Who wouldn't want to share that?
This is the eleventh in a series of 12 Immutable Laws Of Event Marketing Swag. For links to each law as they are published, check out the article that started it all: "How To Reinvent Your Event Swag Strategy: 12 Immutable Laws Of Event Marketing Swag."