Ponoko laser cut Kickstarter trains you to fall asleep. Eyes closed, now breathe…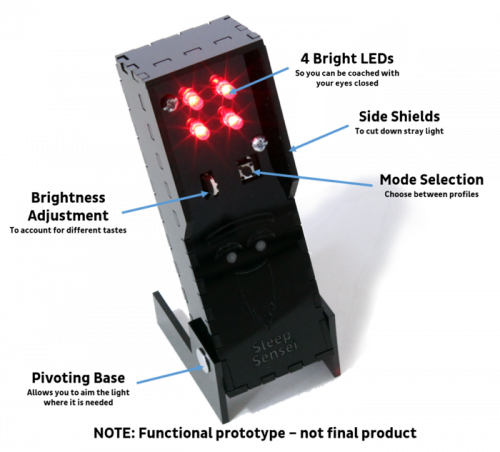 Chasing those Z's is about to get a whole lot easier thanks to this nifty innovation from Jeremy Wilson on Kickstarter. The Sleep Sensei sits on your nightstand and gently guides you towards a deep, restful sleep.
How does it do this? To some insomniacs, such an achievement may sound like pure magic, but there is some serious science behind the device. Jeremy's own insomnia saw him trial numerous sleep aids before he set out to use his Arduino skills to sort out their collective shortcomings.
The functional laser cut prototype pictured above is at the core of this Kickstarter campaign, with the final design yet to be revealed. The key technology has all been sorted out already, as can be attested by an overwhelmingly positive outcome from product trials on real sleep-challenged volunteers.
"The Sleep Sensei primarily helps those with sleeping problems caused by stress or an overactive mind at bedtime."
If you are one of those creative over-achievers who just can't stop their mind racing at the end of the day (we probably all know at least a few people who fall into that category!) then head over to Kickstarter to discover more about The Sleep Sensei.
via Kickstarter