Pop-up record player keeps customers in the groove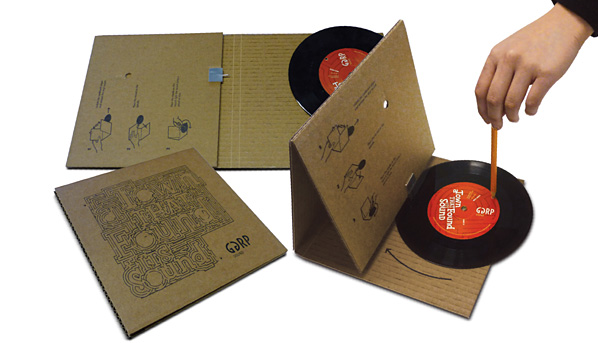 For a promotional product to make a lasting impression it can help to find a clever way to surprise and delight the recipient. Take this example from Canadian ad agency Grey who created a memorable direct mail product that references the client's historical association with vinyl records.
A very basic but fully functional record player folds out from a sleeve containing the 45rpm single. Manually operated, the hollow space in the folded card amplifies the sound. According to Geoff Dawson from Grey:
"It's actually shocking how good the sound quality is, it took a long time of playing with different materials and designs to get the audio just right".
For a little more on the Grey player, check out the brief review on Modular 4.
Here's another take on the same concept, this time in the form of a rather charming wedding invitation featuring more refined graphics and a custom song for the recipient to spin. Have you seen something like this before? Let us know in the comments section below.
Taking inspiration from these examples, the Ponoko Personal Factory can be used to make simplified interpretations of other familiar domestic products. This is a great way to get your message across at high volume and low cost.