Demonstrating the impact of changes in scale for laser cutting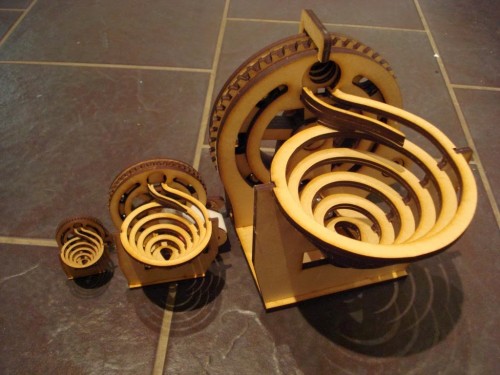 Those two guys who just can't help adding their own magic touch to laser cutting have been at it again. Martin Raynsford and his enthusiastic colleague Dominic Morrow kicked off the New Year by revisiting an old favourite project: the laser cut Marble Machine.
This time around, they gave the scale a twist – first sizing things up, and then scaling right down to something definitively cute and tiny.
As you can see in the following videos, the Marble Machines are a neat example of how easy it can be to resize an object for laser cutting.
"I've been telling people that one of the joys of CAM is that if you want a different size you just scale everything to 200% and recut it, so I did just that… and it works perfectly"
Just be sure to double-check before cutting! Martin and Dominic were careful to take into account all parameters including material thickness and the size of the marbles. For the Massive Marble Machine, two layers of 3mm MDF were laminated to create the required 6mm material thickness. It uses a 20mm ball bearing from another past project.
Going in the other direction, the Mini Marble Machine is so small that you need an implement to turn the teeny little winder that activates the mechanism.
Watch those marbles go round and round in a few short videos after the break.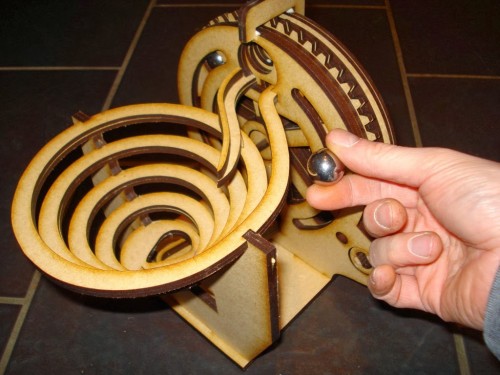 Massive Marble Machine (also featuring a cameo from the original 1:1 scale version)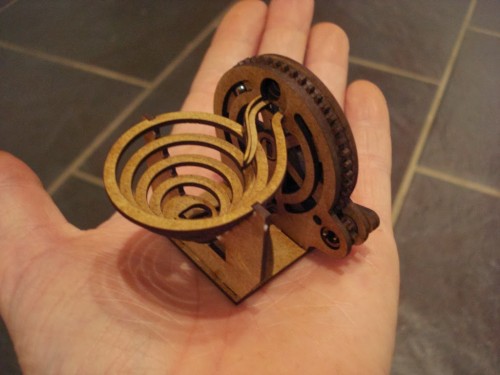 Mini Marble Machine: sure to win over more than a few hearts!
To find out what else Martin and Dominic are getting excited about, check out their new laser cutting venture called Just Add Sharks.
via Martin Raynsford