replaces old clear Superfine Plastic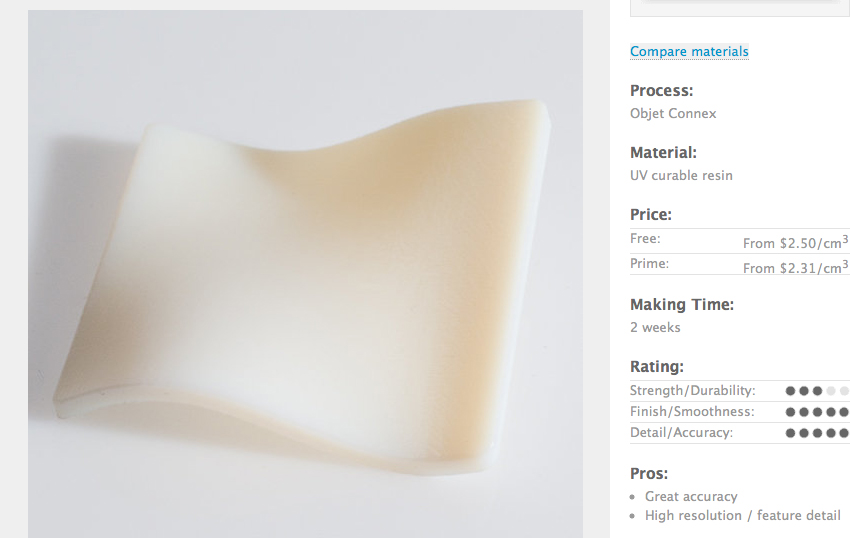 We've added a new 3D printing material to the Ponoko catalog:
Superfine Plastic in white.
This material is has a very smooth, milky white finish and excellent accuracy and detail. It's not quite as durable as our Durable Fine Plastic, but it uses the same dual resin build technique that allows for interlocking, hinged or nested objects. The second resin, a gelatin support material, is removed with a high pressure water spray.
Take a look at the Superfine Plastic White material page for full details and design tips for getting optimal results from this material.
And you can pick up a sample of our new Superfine Plastic White for $4.50.

---
Please note:
Superfine Plastic White will be replacing our clear Superfine Plastic. The old Superfine Plastic will no longer be available after as of November 27.
You have until 11:59pm on November 27th Pacific Time to order with the old Superfine Plastic material, after which you'll have to swap your designs across to the new material.
So what are the differences between these materials? Obviously the color, but also our new Superfine Plastic White is stronger and cheaper than our old Superfine Plastic. The 3D printing method is also a little bit different:
Superfine Plastic was being produced on a 3D Systems Project machine, and uses a wax support material which is melted away during post production. It is a translucent yellow-ish color.
Superfine Plastic – White is being produced on an Object Connex machine, and uses a jelly-like support material which is removed with a high pressure water spray in post production. It is (unsurprisingly) a white / natural color.
Questions or comments about this change can be submitted on the forums.