Before there were inkjets, at the dawn of digital art…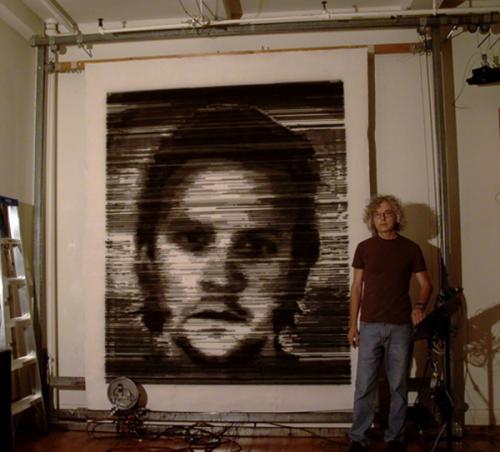 Having developed a career as a video artist and painter, Anton Perich was earning his keep working for Andy Warhol when he had a vision of the future.
I dreamed of a machine that would paint. No more hand made paintings, but machine made, with sharp electric lines, on and off, like Morse code, short and long.
It was in the late 1970s that this dream became a reality. The components for the painting machine were all sourced or salvaged from local bargain stores in the famous Canal Street strip in NY.
Consisting of an array of photocells wired to airbrushes and then mounted on a motorized scanning unit, Anton's contraption would have earned him some serious cred even amongst today's hardcore hackers.
Click through for a video that shows the Electric Painting Machine in action, as projected images are transferred onto giant canvasses.  
…and how about that music collection?!?
It is well worth exploring Anton's body of work a little further, if you like what you see so far. With the machine running for almost three decades, the collection of paintings has some real depth to it.
I had my first show of electric paintings at Tony Shafrazi Gallery in 1979. I am still painting with this machine every day. It keeps breaking and I keep fixing it all the time.