A miniature "Strandbeest" by Theo Jansen.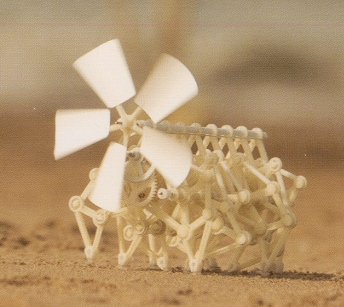 This "Animaris Ordis Parvus" is a miniature version of one of the "Strandbeests" Theo Jansen has been making since 1990. He calls them "a new form of life," and his ultimate goal is to set them free on beaches to live independent lives. Over the years he has improved their ability to survive independently with mechanisms to avoid water, store energy, and endure storms.

One of the most impressive things about these creatures is that they use no electronics whatsoever. They are purely mechanical and get their power from the wind. This is made possible by the ingenious walking system Jansen has developed that requires extraordinarily little power to move huge constructions.
The miniature version is for sale for 35 euros ($50), and you can learn more about the Strandbeests on their site and in the TED talk from Jansen below.
Via i.materialise