The Story of twitter-follower-counter Twixie
Recently we wrote about a nixie tube + laser cutting competition that came about from a fascinating design project by Adam Meyer of bildr.  Now you get to find out about the designer and his quest to create a nixie-tube twitter-follower-counter for his electronics DIY site.
As a keen DIY electronics user, Adam had been purchasing from SparkFun for about two year before he came across a link to Ponoko on SparkFun blog.  The thought of combining electronics with laser cut parts gave Adam an idea for a design competition that would draw more followers to his site tweets.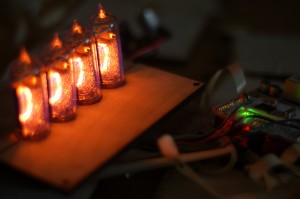 How would you describe your creative process? I went to design school for Industrial Design, so a lot of my process is derived from that. It usually involves a mix of tinkering and sketching until I feel something click. From there is a lot more sketching and modelling to perfect the idea.
What Ponoko material/s do you use/ have you used/are interested in using and why? I love wood, and even more so when it is mixed with electronics. I used the Maple Veneer Core for this project. It was a hard choice between that and the Euromaple plywood, but I love the color of maple, so I went with that. I see myself sticking with wood and felt for awhile.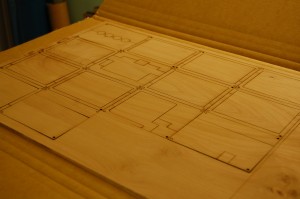 What SparkFun components did you use? The brain of the twitter counter is one of SparkFun's Arduino Pros. I had an ethernet shield on top of it, and I needed a small enough Arduino that would allow the ethernet port to sick out, so it could lay flush with the outside of the case, but I also needed something that would be pin compatible with the shield, so the pro it was. I think this is my go-to Arduino from now on.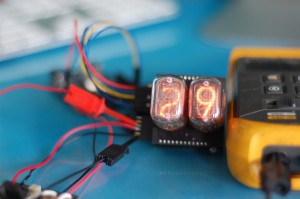 Have you been surprised by anything in the Ponoko process: positives/negatives? I did something stupid originally. I placed my order for the laser cutting at 1am just before bed. When I woke up I realized that I never included a way to break it apart and get the parts inside of it. So I emailed Ponoko to cancel the order. Catherine from customer service emailed me back and said I could just send her the updated files so I wouldn't lose my place in line. The new cuts cost $2 more but they just waived the extra cost. I was amazed at the customer service.
Then, when I got the package, I was so happy. Im really picky about stuff, especially this kind of thing, but the quality was just so good… I couldn't say anything bad about it.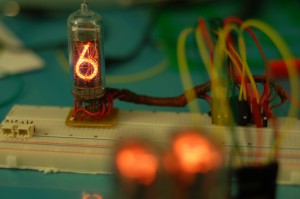 Any other Ponoko/SparkFun projects in the pipeline for you? Actually.. yes, in a way. The competition we started asks the question: What would you do with a nixie tube display and Ponoko laser cutting? The best idea wins a an Arduino-nixie display kit, and $50 to Ponoko to make it happen.
Do you have any tips for other users? It is too easy to mess up something when you are designing on the computer. Measure 5 times before you order. And print/cut it out on paper to make sure it is going to work.
You can learn about this project in beautiful photographic detail here.