the latest and greatest talent from RISD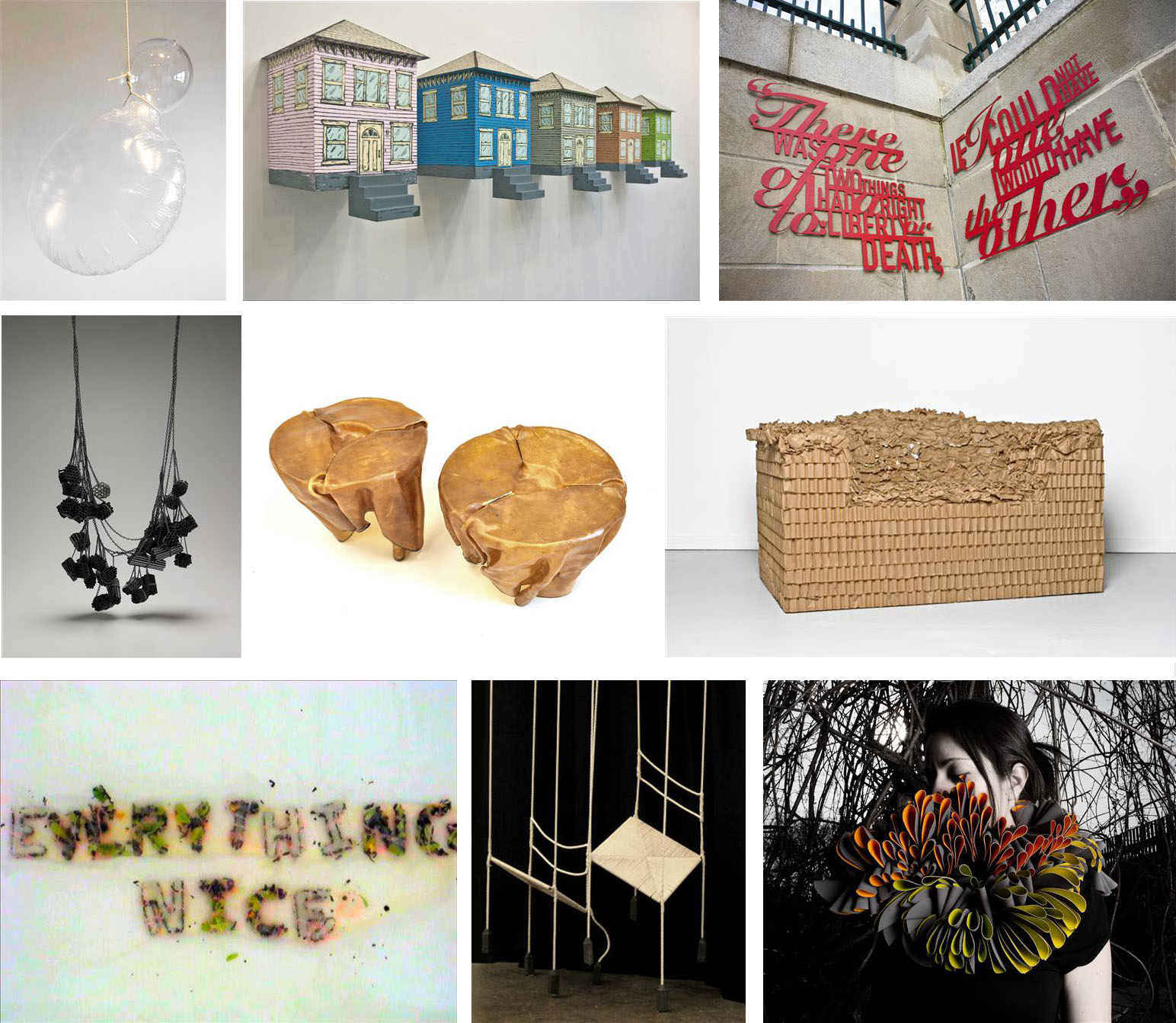 There is a lot to be inferred and questioned from viewing an entire graduating class' body of work. Student theses reveal underlying trends, indicate future movements, and divulge the pulse and pattern of what is to come. Certain schools have earned the reputation of producing particularly influential artists and designers; one such school is the Rhode Island School of Design. The work of this year's RISD MFA graduates is viewable at the RISD online galleries. There are portfolios from 13 departments: Ceramics, Digital and Media, Furniture, Glass, Graphic Design, Industrial Design, Jewelry and Metalsmithing, Landscape Architecture, Painting, Photography, Printmaking, Sculpture, and Textiles. Read on for the highlights.
The four graduates in Furniture have very distinct styles, but a unifying theme of movement and sculptural sensibility. These objects communicate animation and an evolution or change over time through use. Pete Oyler's paper chair will continue to crumple as it supports you, as your cat scratches it; and it will look natural — not trashed. His stretchable bands and pegs create customizable storage and displays. The tables from Micaelan Davis look like hides draped over an invisible form, heavy leather folding and drying out. And maybe that's what they are? His weighted rope chairs are furniture marionettes that, from the looks of them, are functional. While the sculptural work of Eli Levenstein has an obvious fine art direction, some pieces look as if they will shift around at any minute while others invite manual rearrangement. Michael Green produces a range of movement and form—from Boccioni-esque wave crashes to the weightless billowings of a jellyfish. All together, the work is anything but stagnant. Perhaps with the increase in interactive technologies, the expectations and demands for responsive objects is entering the realm of furniture. How far off before user interface designers are working on dining room tables?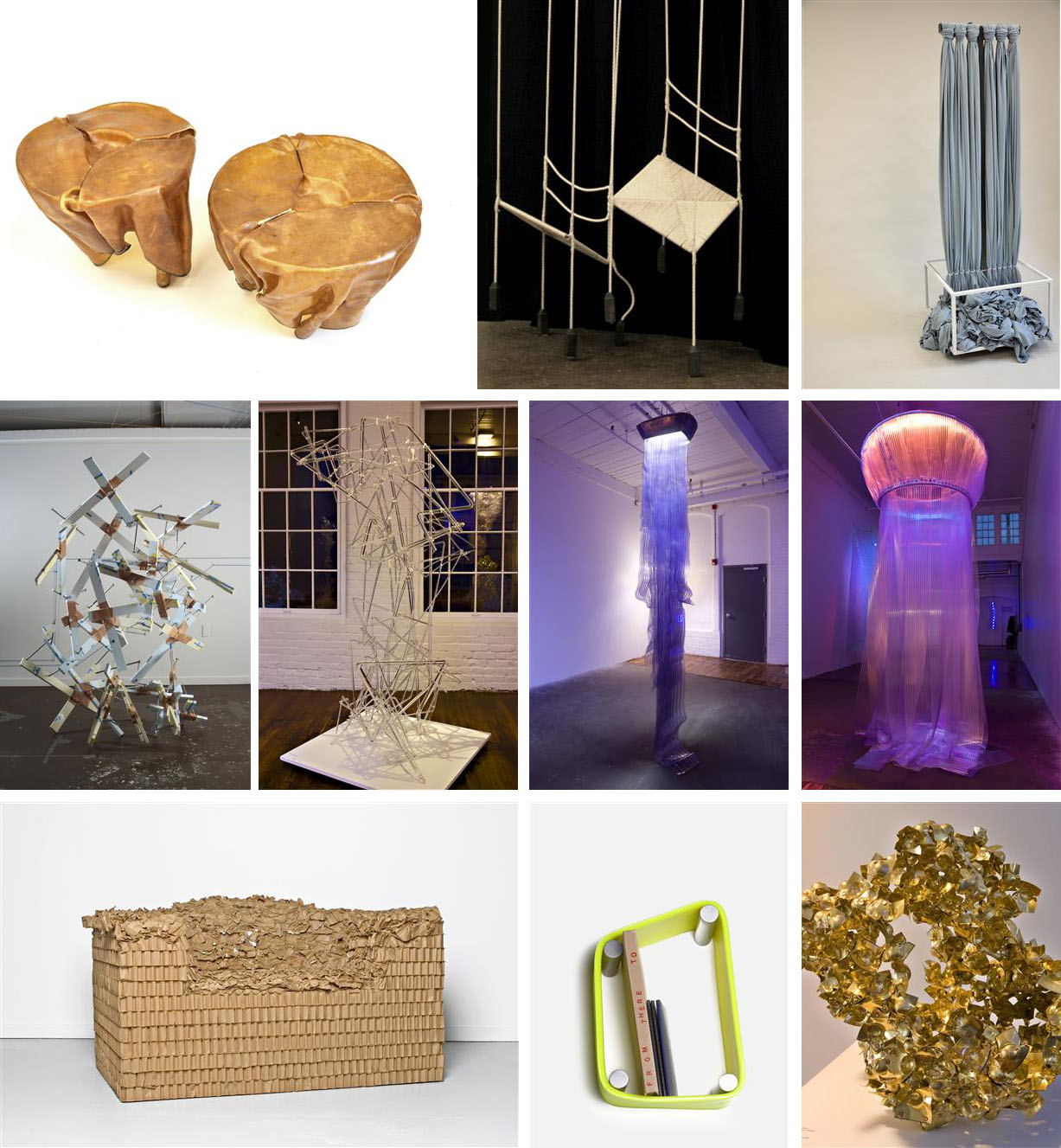 There is just one Glass graduate, Stefanie Pender. Her work too evokes a temporality, a form that has been momentarily frozen in its process of change, in its becoming something else.

Process is the product in the work of these Graphic Design grads. Lauren Mackler's messages will be swept off the floor or sandblasted off the wall eventually. Jennifer Magathan gives precident to editing over content, letting highlights and corrections create the design. "Alternative ways of marking time" was the driving theme behind Eleanor Kung's thesis. Instead of directly informing, Hannah Volfson's posters point out the ambiguity/ever-changing nature of the facts. Angela Guzman uses movement and color to create an emphasis and flow. Katherine Harris embraces the fractal structure of information networks requiring the viewer to "experience the whole by participating in its parts". And Elana Joy Wetzner shows off beautiful visions of fractal, crystalized, and otherwise rhizomatic forms growing and breaking, floating and exploding.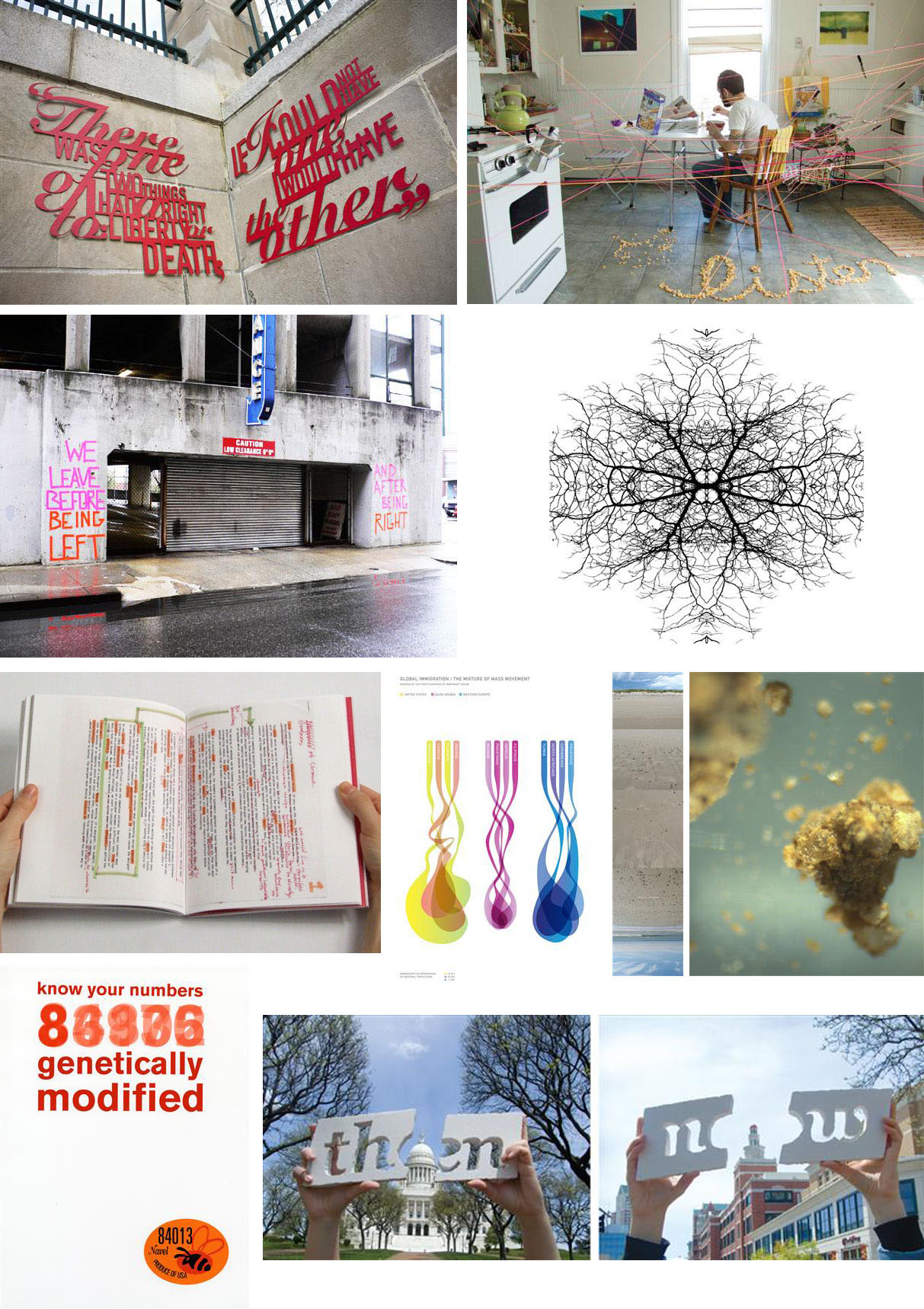 Six jewelry makers working with a variety of materials create a cohesive theme of nature's metamorphoses. Maurie Polak "ecourages the viewer and wearer to consider their own personal evolution and metaphorical cocoons," with her animalistic yet elegant jewelry. Circular layers are threaded together in Mariana Acosta Contreras' pieces with titles like "Blossom" and "Rebirth". Cheryl Eve Acosta creates a metaphor between human life and aquatic life with her wearable art. "Through electroforming in an acid based bath she finds a symbolic way to connect her process to her inspiration through a process rooted in a watery birth." Gwen Oulman-Brennan explores the process of breathing in her delicate, colorless forms. In Lauren Tickle's work, "repetitive processes are used as agents of transformation to gain a better understanding of one's relationship with grief". By simply but carefully clustering them, Yong Joo Kim infuses small vernacular objects of limited use into beautiful pieces of jewelry.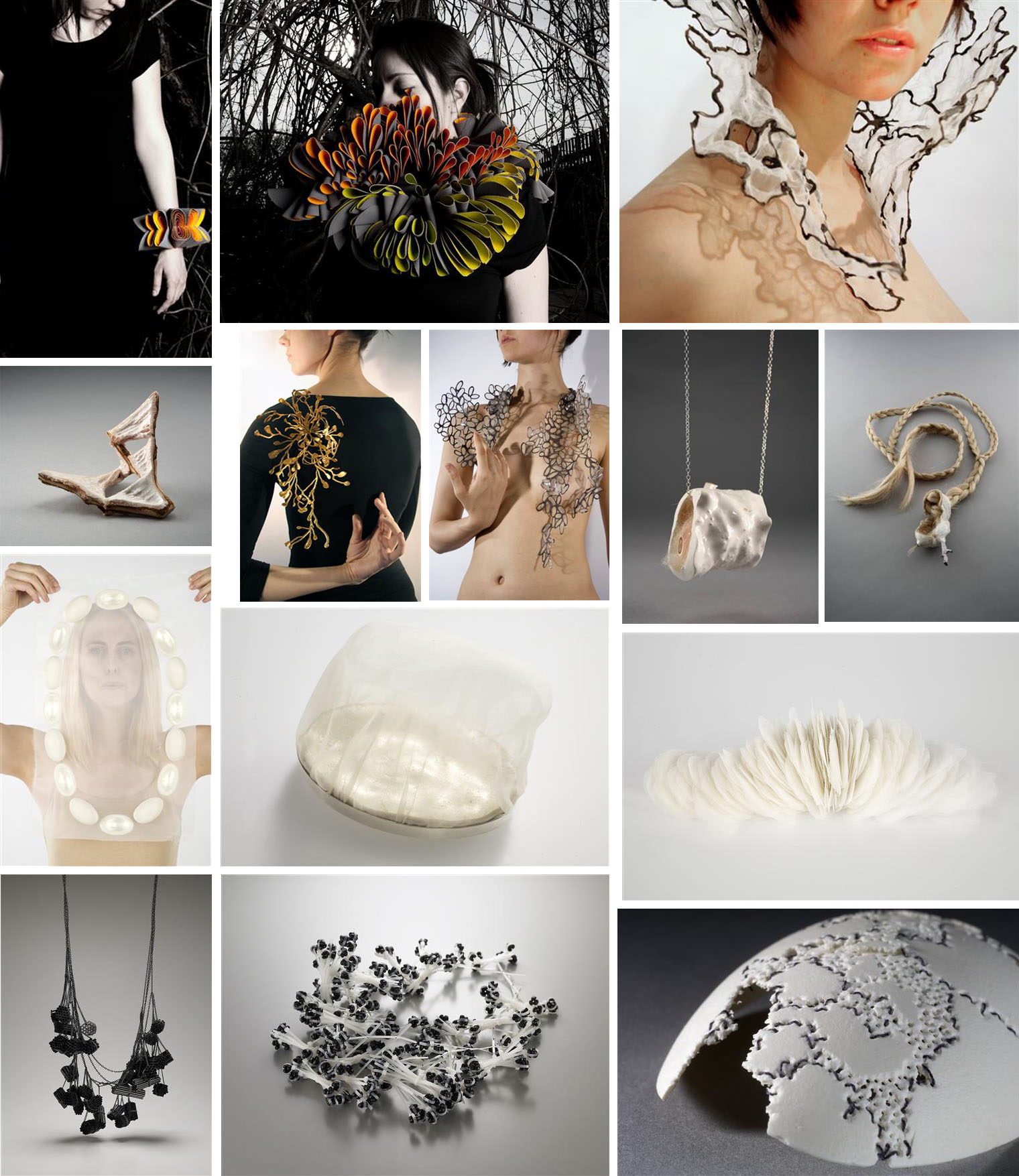 Work in digital media cannot be judged on stills alone. But the fact that there are thirteen MFA graduates in Digital + Media as opposed to the two in Industrial Design, I think speaks to the themes running through all of the work: change over time, multiplicites, and interaction.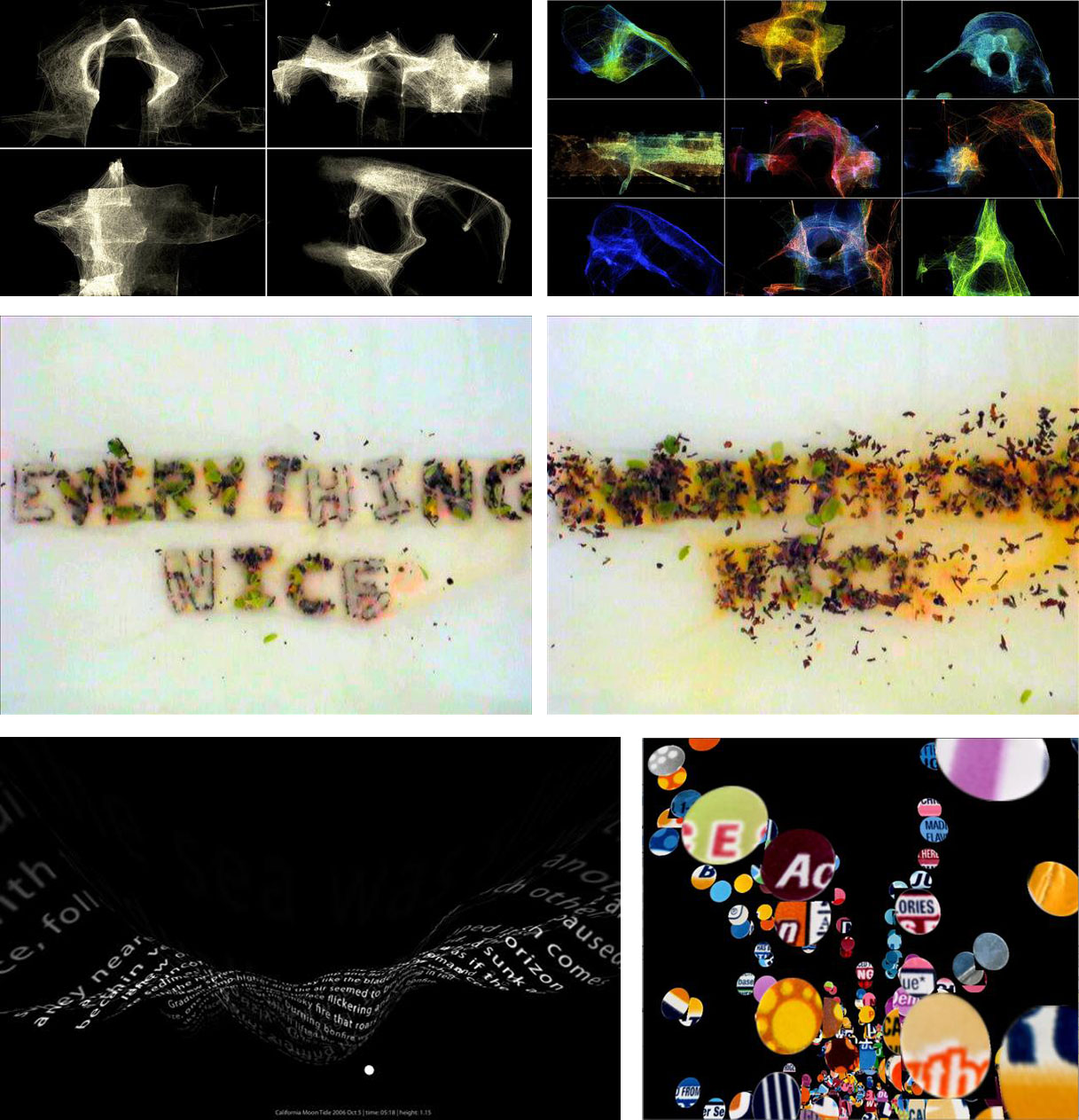 Finally, I want to feature the work of Printmaking student Luke O'Sullivan. Not for any of those themes above, but because it is super cool and could have been done with a laser-cutter.