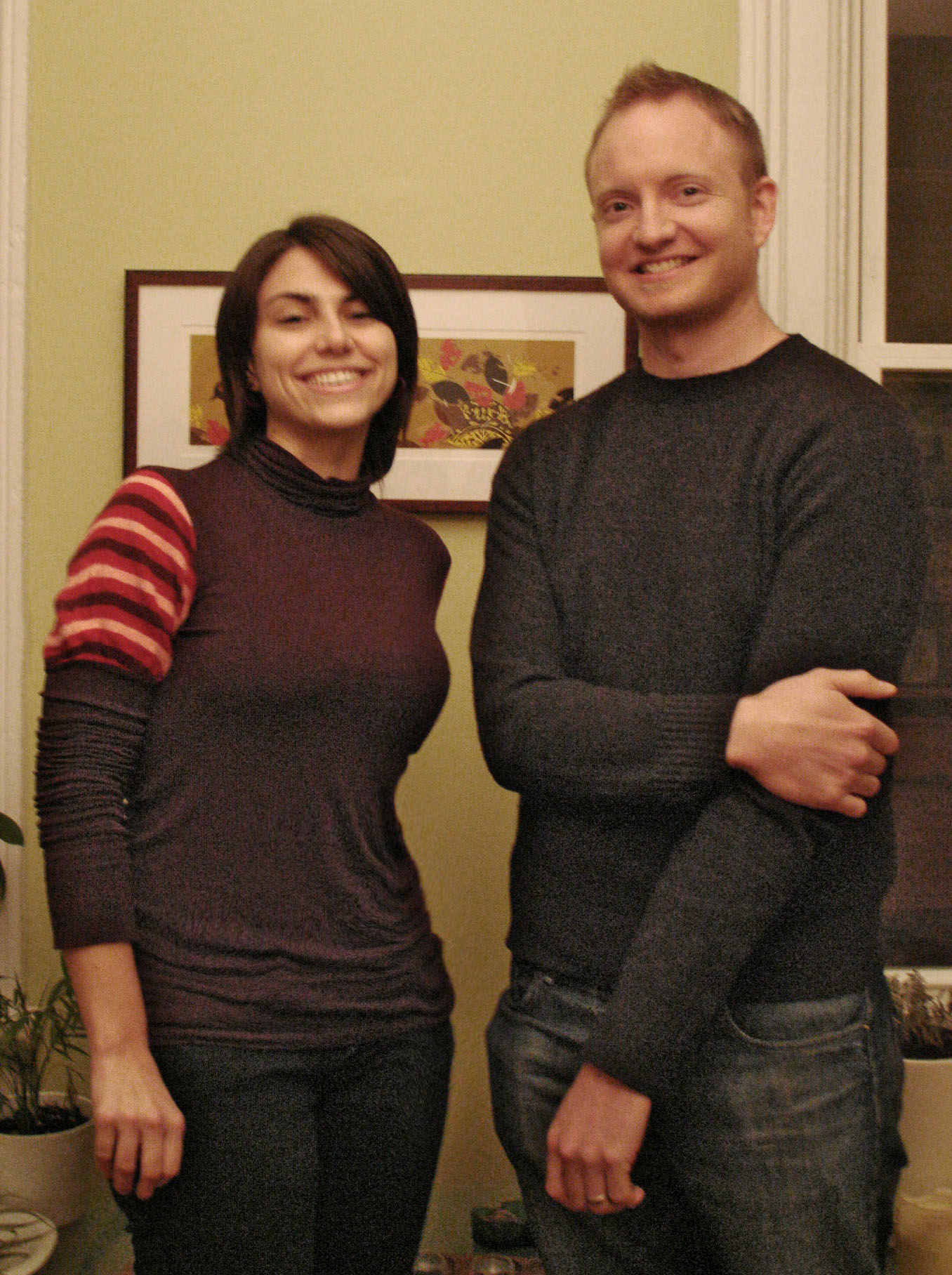 Chicago designers Maria Lalli and Nate Lynch met with me in Maria's beautiful apartment. (That's a Charlie Harper illustration behind them.) Having all three served time at the Bullseye, we briefly reminisced on those fast, fun and friendly days when speed was life. Today, Maria is working at a Chicago design consultancy (and possibly releasing some personal jewelry designs in the future!) and Nate is founder of theNate.com, a strategic design consultancy. With my recent bargain, a Griffin iTalk for eleven bucks off Amazon, Maria and Nate shared their experiences and thoughts on being a designer.
Me: So just for some background information; where did you go to school?
Nate: University of Cincinnati, industrial design.
Maria: Same thing.
Nate: That's how we know each other.
Me: How long has your design career been going?
Nate: Since birth… No, actually, I count at when I started interning. So 7 years I guess.
Maria: Our school has a co-op program; each year in school you also have a job.
Nate: Yeah, you spend three months at school and then three months at work. So you end up with six three-month internships.
Me: Wow. What do you think was the most invaluable thing you got from those internships that you wouldn't have learned in school?
Maria: I was able to compare a corporate design experience to a consultancy environment and found where I felt most comfortable. Also, just knowing what goes on in the workplace, how designers interact with other members of a team, the variety of ways ideas become products — those were the kinds of things they can't teach you in school.
Nate: A year before I was set to graduate, the economy took a dive and the job market began to crash. Much like it's doing right now. I was working for a firm in Boston, and they had to lay off a handful of people. I didn't lose my job as an intern, but it was an eye opening experience talking to my now-unemployed coworkers. I no longer had an idealized view of my profession. I think it prepared me more for the realities of my soon-to-be post graduate life than any of my academic experiences. From that point forward I made it a priority to have a greater understanding of the business of design, something that has helped me maintain a balanced approach to every project I encouter with my own strategic design consultancy.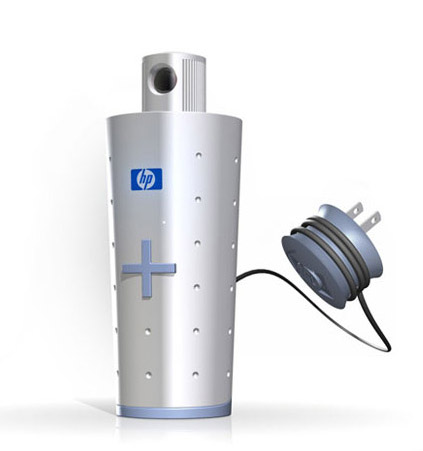 (above: portable projector from theNate.com)
Me: What results do you really strive for with your design?
Nate: I'm very user focused. I'm not a form wizard, but I'll try to make things look aesthetically appropriate. If something doesn't need to look super-futuristic, then I don't think it should.
Maria: My work is almost always tailored the clients needs. But for myself, sustainability is very important. So whenever I can bring that to the project I do.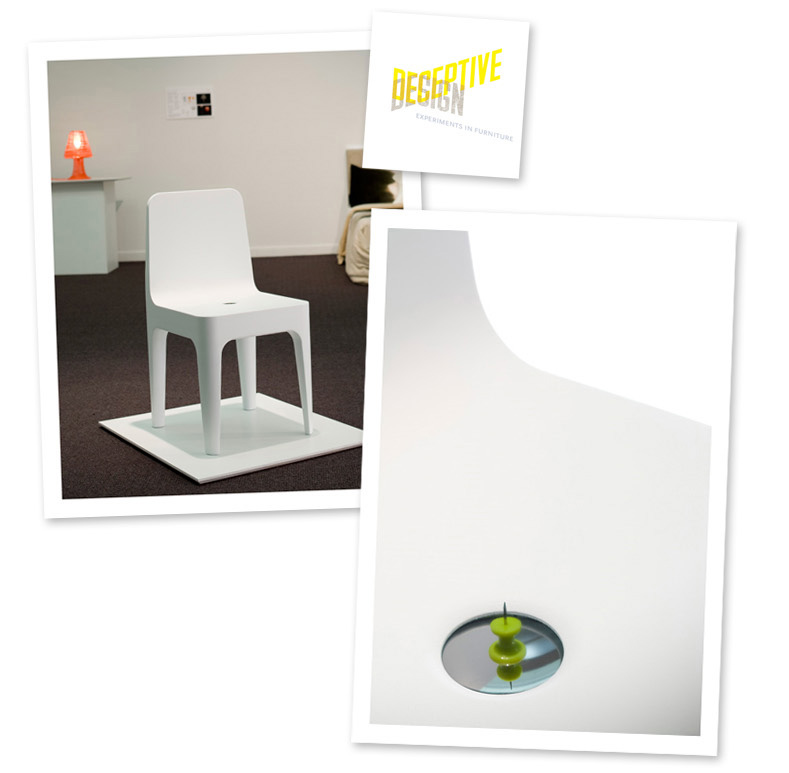 Me: How did you find out about the Deceptive Design show?
Maria: I taught for a year at the Art Institute, and Helen Marie Nugent told me about it. Then it was listed at IDSA.
Nate: I saw it on IDSA, and I'm always looking for ways to collaborate.
Me: What was the process like while working together?
Maria: We did a lot of sketching, but we went back and forth. We did modeling, a foam core mock up and a little FDM version of the chair. I like doing all of those things and not doing it all with one technique. Some of the thinking you need to do happens with different techniques.
Nate: The way I like to work is not very linear. It's not like you sketch and then you do 2D stuff and then you do 3D stuff. You jump around to use whatever tools are best for the job.
Me: Maria, you said you were teaching for a year? Can you talk more about that experience?
Maria: The designed objects program at SAIC is relatively new and much different than my experience at the University of Cincinnati. In the intro class I taught, many of the students didn't have design as their primary school focus (much different than my experience) so the process of designing for another person or user was foreign to them. Since the school is more art-focused, there were students who were more willing to experiment with materials and processes, which was exciting.  I think SAIC has a great facility and the resources available to the students are pretty impressive.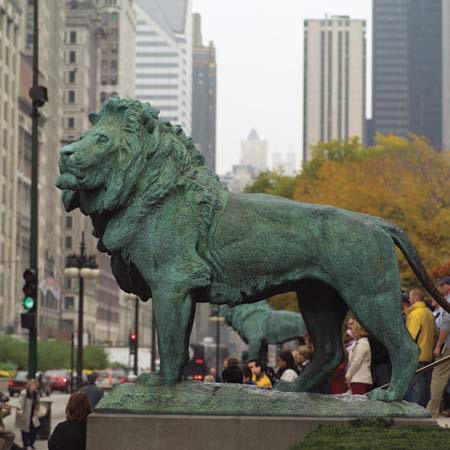 (above: lion statues outside of the Art Institute)
Me: What sorts of projects are you currently working on?
Maria: Right now my sister is in Tanzania in the Peace Corps, and were trying to think of a project to work on together. We'd been thinking about doing baby slings that could be constructed there to help provide jobs. But we're still exploring options, maybe set up a non-profit.
Me: One of the reasons I'm interviewing a lot of local designers is to promote the Chicago design scene. Especially after the election and with the city's bid for the Olympics, Chicago is gaining some international recognition. So do either of you have a favorite thing about living here?
Maria: I've been here for almost four years. One of my favorite things —that the world witnessed on election night— is the view when you're standing in Grant Park and you turn around and see the skyline. It's stunning; just really beautiful.
Nate: I've lived here for two years now. This is the first city I've lived in that has mass transit. And while the CTA sometimes gets a bad wrap, it's still pretty great. I was riding the El one morning recently, and the driver was informing us of the time and the weather (This makes everyone laugh.) and everyone kind of chuckled and thought, ya know this is the greatest Blue line ride I've ever had.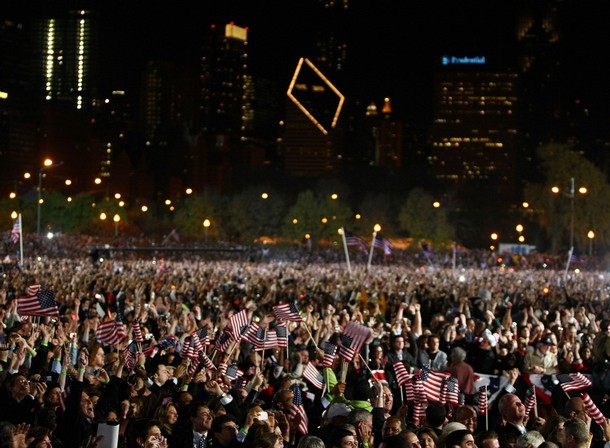 Thanks to Maria & Nate. Be sure to check out Nate's portfolio and stay tuned for news on Maria's jewelry. You can contact Maria: mdlalli[at]hotmail[dot]com