In a previous post we introduced you to Monika Desai of Sole Envie, shoe customization entrepreneur. Monika is about to participate in the MIT Smart Customization Seminar. For those of us that could not make it there, we have asked a few questions to get her background, and take on mass customization.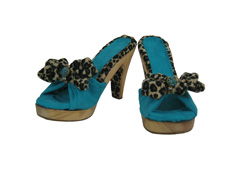 Your inspiration for launching an online shoe customisation portal was born out of the experience of having bespoke shoes made for your wedding, what were you doing prior, and what was it about the process that drove you to make it a career move?
My interest in customization stems from a lifelong frustration of not being able to find shoes for my small feet (manufacturers don't even make shoes in my size) and my own personal experiences with having custom clothing and jewelry made on trips to India, where my parents are from. I always enjoyed the process of seeing my ideas come to life and the compliments that followed.
I didn't start thinking about customization as a business until my wedding. Determined to find a pair of shoes that fit, I commissioned a pair of custom-made shoes. While fit and comfort were my main motivations at first when I was having the shoes made, the process of choosing my own leather, textures, colors, trim and ornamentation struck me as a really gratifying part of the whole experience. Around the time that I was having my wedding shoes made, I gave a gift certificate to my sister in law for a "design your own" handbag company called 1154 Lill Studio. It was like being a kid in a candy store with all the fabric options available and we had a lot of fun mixing and matching different fabrics to create our perfect bags. In fact, receiving the handbag a few weeks later was really just the icing on the cake. The experience itself was enough to satisfy me!
I started thinking that there had to be a way to offer custom-designed shoes in a scaleable manner, making it available to a wide audience of women who cannot afford bespoke shoes. I wanted to provide women everywhere the same thrill I felt when designing my own shoes. I started researching the concept and found there was a gap in the market for custom-designed shoes and a growing trend for mass customization products in general. All the major sneaker programs had custom shoe programs but there were no major players offering customized women's fashion shoes.I had always wanted to start a company and I decided the time was right to start Sole Envie.
Once I made that decision, I never looked back. I started taking shoemaking classes in NYC to educate myself on how a shoe was made because until then, I had no idea what went into a shoe. It turned out to be a lot more complex than I thought and I gained a newfound respect for the craftsmanship that goes into shoes. I then went on to develop an entire collection of shoes and put on a fashion show during Boston Fashion week last year. Taking the shoemaking classes, developing the collection and establishing a strong network of mass customization and shoe industry people really helped me understand what challenges and considerations would be involved in starting a custom design shoe business from a manufacturing and logistics standpoint. It also gave me the knowledge and credibility I needed in order to talk to potential manufactures and suppliers which is an area I've been focused on over the past year.
Prior to Sole Envie I worked in Marketing for 13 years working at various companies ranging from small starts ups to large corporations such as Discover Card. A large part of this time was spent marketing to consumers through online channels.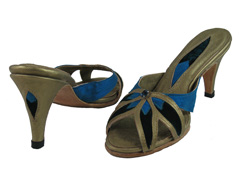 How important to you is the online social community, and how will this be represented on your site?

The online social community is going to be the heart and "soul" (ha ha no pun intended) of Sole Envie. It will be an extremely important aspect of what we offer. One of the main tenets regarding customization is based around people's desire for personal expression. They want to create something unique and to be able to share and be recognized for what they have created. When talking about women and shoes, this holds especially true. What woman doesn't love shoes and doesn't want to be complimented for having good taste? Why not leverage that desire and create a forum where they can do just that? I'm a member of a shoe club called Hello Stiletto, a nationwide "offline" social network with more than 12,000 members. Women get together a few times a month at different venues just to have an excuse to wear and show off their favorite shoes. At the end of each event, a signature pink carpet is rolled out and shoe club members compete for the title of "best in shoe." The women go nuts over this and it's the highlight of the event. We want to duplicate the same kind of involvement and excitement that we see at these events online – at Sole Envie. Sole Envie will more than just another e-commerce site that sells shoes, we want to be a destination for shoe lovers and give them an outlet to express themselves. We believe that by developing a thriving community and by also doing our part by listening to them, engaging them and showing them how they are shaping Sole Envie's products and offerings, this will go a long way to building brand awareness and loyalty.
The Sole Envie site will have a number of standard social networking features like profiles, mini feeds, favorites, and connections as well as our own special features – for example giving users the opportunity to share their creations and have them rated and commented on by the community at large, writing feature stories on the highest rated designers, and opportunities to crowdsource and monetize designs. Of course we'll have easy tools to allow users to post their creations to other social networking sites such as Facebook, My Space, and Stylefeeder. One thing we hope to use to create buzz in the community is to have celebrity guest stylists.We've also got some other ideas that involve using the community to help customers make buying decisions and close the sale that we're keeping close to our chest right now.

You are to give a presentation at the MIT smart customization seminar, without giving away any trade secrets, what do you believe is the most critical issues in realizing a mass customization enterprise?

Without a doubt, on the back end, establishing an efficient, cost effective and rapid turn around manufacturing process, including the supply chain and logistics, is one of the most critical issue for a mass customization company. Tied to the manufacturing is good design that lends itself to "batch sizes of one" manufacturing.
On the consumer side, developing an intuitive and friendly user interface is key. Developing a configurator that provides a fun shopping experience that guides the user into making a purchase by giving suggestions and advice is crucial. Also, there's s a fine balance between having too many or not enough options to choose from and figuring out that sweet spot on how many to give a customer is important in preventing customers from falling into the black hole of indecision.
Guaranteeing customer satisfaction is important in any businesses of course, but companies that produce mass customized goods have to ensure that their customer is going to be happy with the final product that they created when they see it in person. Most companies that are offering mass customized goods cannot offer the same kind of generous return policies that a traditional manufacturer can. MC companies can lower this risk by using good imagery on their configurator and by providing guidance to their customers while they are designing. Sole Envie is going to have the added challenge of ensuring satisfaction around fit and comfort. Finding ways to ensure good fit and comfort, online, is going to be extremely critical for Sole Envie and will be our biggest factor for success.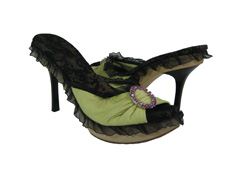 Stay tuned for more….