To quote Jonathan Ive, Apple's Senior Vice President of Industrial Design the new Macbook is "More Beautiful Internally Then Externally".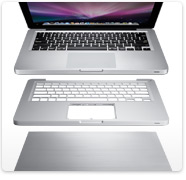 What is definitely interesting as far as the manufacturing process is concerned is that the housing is engineered from one piece of aluminum using what is basically CNC (Computer numerical controlled) to machine the unit. This means greater accuracy of build, greater strength and durability from less weight. As is often the case with Apple product we are left thinking, why wasn't this done long ago?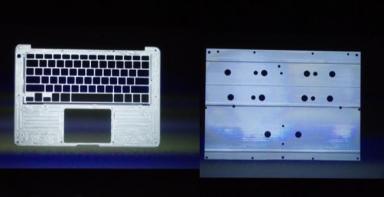 This will also simplify the design process for future iterations as changing internal components will mean the housing will not need to be retooled, simply change the CAM file driving the design.
With this in mind one could theoretically customize their own macbook housing with a 3D scan, modifying the design and use rapid prototyping technologies to make their own Mac Hacked housing. Perhaps this will be an entry point to Apple embracing Mass Customization but I cannot imagine Ive giving up the reins on his beautiful internals.