dezeen blog: Golden Time Cupboard by Lola Lely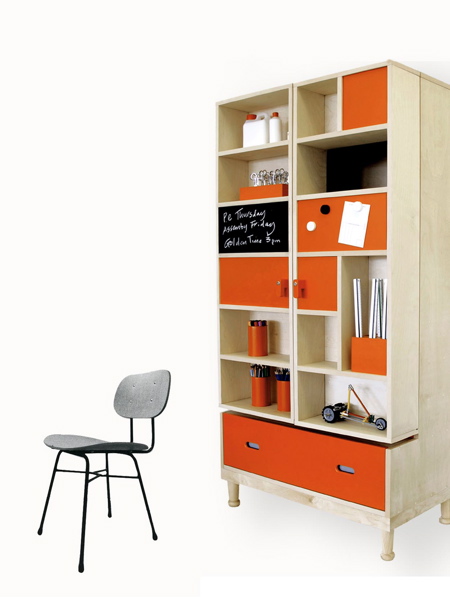 This past week I took my family on a week-long road trip down the North Island from Auckland to Wellington. Along the way we stopped off in Rotorua to soak in the hotpools, went prawn fishing outside of Taupo (yes, believe it or not, you CAN fish for prawns, but they're damn hard to catch since they grab the food off the hook with their pincers!!), and checked out the native birds and deer at Staglands to the delight of my budding 5-year-old bird expert. We also enjoyed the charming city life of Wellington and my boys had a great time at Te Papa.
All good things must come to an end however, and after a very long and windy 6 hour drive back to Auckland, it was nice to be back home. The place had been cleared away and cleaned before we left, so it was nice to just drop our things and fall onto the couch. Before long though, I'd say in about 15 minutes, my sons got their second wind, rediscovered their toys and books and had the place littered with lego blocks, meccano and k'nex pieces, stuffed toys of native birds, random toys, paper, scissors … You get the idea. It was our "Golden Hour" of our trip – much like the "Golden Time" at kindergarten and primary schools, when at the end of the day, children can wind down by some quiet free play.
The problem with OUR golden time is we have all their toys stuffed into clear storage boxes under their bed or stacked along the wall. So if they want something, they basically turn the whole box upside down and dump everything onto the floor to find the one toy they want. There has to be a better way to organize their things, right?
Over at dezeen, I saw this post on graduate student Lola Lely's Golden Time Cupboard, purpose-built and designed for independent classroom play at early childhood schools. Although it's designed as classroom furniture, we'd definitely put this in our sons' rooms. I really like the different ways toys and art supplies can be stored. Especially the "hidden" shelf behind, something my sons would really get a kick out of. Lely gets it right in making the way toys are stored to be fun – much more motivating to put things away in a fun secret spot instead of being dumped in a bin. It's all very functional but very hip and cool (unlike stacks of plastic storage boxes). I think the only thing you'd have to do is have a sturdy step ladder for your child to reach the top, or customize one in a lower and wider version for easy access for the shorties.