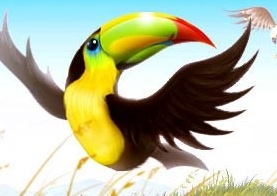 For all you creatives looking for more tools to add to your palette: The toucan, er, the Aviary has landed. Worth1000.com, contest site and gallery of artistically photoshopped images, has launched their new collaborative online tool suite Aviary :
Aviary is a platform ecosystem for people who create. It is organized around a suite of rich internet applications geared for artists of all genres. From image editing to typography to music to 3D to video, we have a tool for everything.
And they literally do. Fourteen in fact. The full range of tools includes an image editor, a swatch generator tool and community, a pattern generator tool and community, vector editor, 3D modeller, audio editor, music generator, video editor, desktop publishing layout editor, word processing for creative writers, painting simulator, database network and search engine, a smart online application that can identify complex data about an image based on its pixel pattern, and a custom image product creator that can integrate with other websites. That was a mouthful! Best of all, they're creating a multimedia marketplace for users to sell the creations they make with their tools.
From the reviews and comments on TechCrunch and Webware I think most people agree that this is an ambitious project, not just for the sheer number of tools but tools competing against desktop apps like Adobe. I think many are excited to see and try it out. They are rolling out each tool as they're completed. To keep updated or to try for a chance to be a beta user, check out their blog or request an early bird invitation.